Column: Capitals still finding their footing — and their identity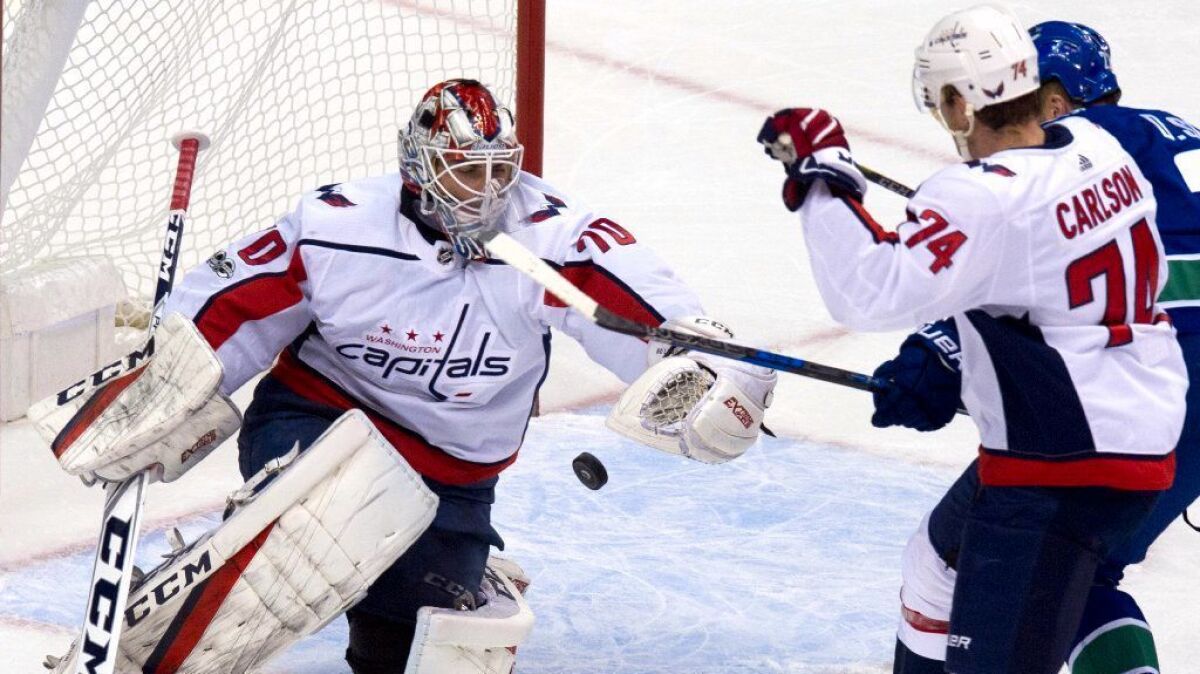 What we learned in the NHL over the past week of play …
The Capitals may find a new identity
After losing some of their scoring depth last summer the Washington Capitals have realized they might have to shift gears. "Maybe we've got to grind it out, if you will, instead of wanting to play the wide-open game," Coach Barry Trotz said last week after a loss at Vancouver. After winning at Edmonton and losing 2-1 at Calgary, the Capitals (5-6-1) are still finding their footing. Separately, kudos to Alexander Ovechkin for buying a coat and hat for a man Ovechkin had seen without a shirt on the street in chilly Edmonton. He downplayed questions about his good deed. "I think if you see a guy like almost naked out there in that kind of temperature, I think every human can do something, you know?" Ovechkin told reporters.
Bad beginnings, bad ending
The New York Rangers have had slow starts in several games, a fault that resurfaced Saturday when they fell behind Montreal 3-0 and were outshot 19-2 in the first period. They eventually pulled even at 4-4 but lost, 5-4. "We're 3-7-2. That's alarming to me right now," coach Alain Vigneault said afterward. He also blasted his team's lack of "compete," harsh criticism for hockey players. With goaltender Henrik Lundqvist slipping — he has a 3.12 goals-against average and .900 save percentage — the Rangers will have a tough time making the playoffs. At this pace Vigneault might be gone before playoff time, anyway.
Sabres' Jack Eichel has a breaking point
Frustrated by having a goal disallowed due to goaltender interference, Eichel snapped his stick over his right knee as he trudged to the locker room after a 3-2 loss to San Jose on Saturday that dropped the Sabres to 3-7-2. To make matters worse, the game fell on his 21st birthday. The Sabres are testing the ingenuity of first-year coach Phil Housley and stretching the patience of fans who have waited too long to see progress.
Schedule has been unkind to the Penguins
The defending Stanley Cup champions have played back-to-back sequences four times. They've lost the second game all four times and have been outscored by a cumulative 29-7 in those second games, including a 7-1 thrashing at the hands of the Winnipeg Jets on Sunday. What's up next for the Penguins? Back-to-back games at Edmonton and Calgary on Wednesday and Thursday.
Miller's time arrived
Goaltender Ryan Miller made his Ducks debut on Sunday after recovering from a wrist injury. He was superb, stopping nine shots in overtime and 34 overall before saving three Carolina shootout attempts to secure the Ducks' 4-3 victory. But their injury woes continued. Center Ryan Getzlaf was hit in the face by a puck and was to be evaluated on Monday. Defenseman Sami Vatanen (shoulder surgery) played his first game on Saturday at Tampa and Hampus Lindholm (shoulder surgery) has played three games, helping compensate for losing Cam Fowler to a knee injury.
Follow Helene Elliott on Twitter @helenenothelen
Get the latest on L.A.'s teams in the daily Sports Report newsletter.
You may occasionally receive promotional content from the Los Angeles Times.