Column: Ducks could put Ryan Getzlaf and Corey Perry back on a line together for more than old times' sake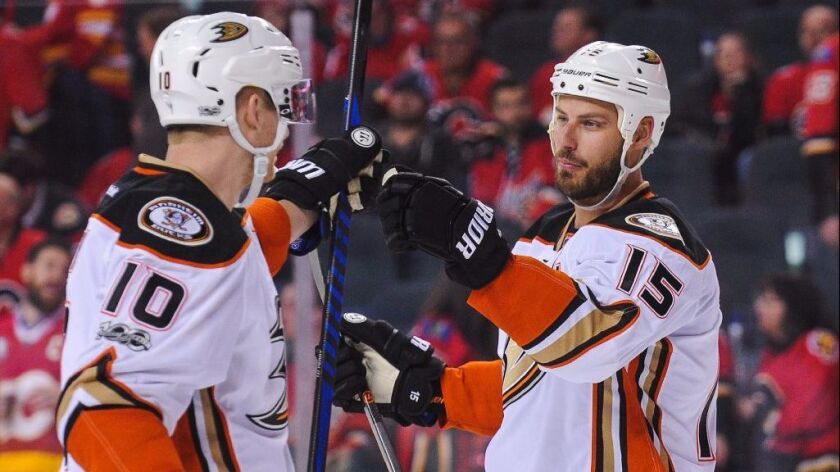 Reporting from Kelowna, Canada —
Randy Carlyle has mellowed with age and experience, but the Ducks' coach hasn't become soft enough to make lineup decisions based on sentiment.
His explanation that he had reunited center Ryan Getzlaf and right wing Corey Perry in practice on Tuesday "for old times' sake" didn't convince anyone, though Getzlaf briefly played along.
"Old times' sake. That's Randy," Getzlaf said, smiling.
Carlyle's reasons have nothing to do with nostalgia and everything to do with practicality, mixed with a dash of wishful thinking.
In an era when lines rarely stay together long, the tandem of Getzlaf and Perry endured enough for them to be dubbed The Twins. They were linemates on the Ducks' 2007 Stanley Cup championship team and won gold medals for Canada at the 2010 and 2014 Winter Olympics, with the spot to their left filled with a variety of left wings.
Bruce Boudreau, the Ducks' previous coach, split them up during each of the last two seasons but the separation never stuck. This season, Carlyle separated a productive Getzlaf and a struggling Perry and was rewarded on one front when right wing Patrick Eaves, acquired from Dallas on Feb. 24, developed strong chemistry with Getzlaf and scored 11 goals in 20 games.
But with Eaves off the ice for a second straight day because of a leg injury he suffered in Game 3 of the Ducks' second-round playoff series against the Edmonton Oilers, Perry flailing through a season-long scoring slump, and a pivotal game looming Wednesday as the Ducks try tie the series at two games each, Carlyle pulled out his old playbook. He put Getzlaf and Perry back together, with Rickard Rakell on their left.
"For today," Carlyle said, but he conceded Eaves was unlikely to return Wednesday.
Reuniting Getzlaf and Perry makes too much sense for Carlyle not to do it.
Perry, whose 19-goal output was his lowest in a full season since 2007, and Getzlaf, a dominant force since he was revived by the team's late-season bye week break, have a familiarity that could jolt Perry out of his slump while giving the Oilers something to adjust to and worry about. In a series between two closely matched teams, even the smallest move could turn into an edge that makes a difference.
Perry looked pleased about the switch during practice at Prospera Place in the British Columbia resort town of Kelowna, the Ducks' getaway during the two-day break between games. "Pears is always happy," Getzlaf said.
Not so much this season, at least until Tuesday. "We'll see what happens," Perry said. "It's a line I'm comfortable with. We played a lot of the year together and we had some good success in past years as well."
It's worth a shot.
"It looked like he had some jump in his step," Carlyle said. "When things aren't going well for Corey Perry, I believe, he's not around the puck. And he's not physical. He's a guy that's earned his living from the top of the circles down. He's been a world-class player in providing offense from those areas, from behind the net bringing the puck to the front of the net, somewhat of a pest to the goaltender; that's his role. And when he doesn't do that, then he's losing his effectiveness.
"And that's what we're asking him to do: be around the puck, let's not play one-on-one hockey out over the blue lines, move the puck and drive the middle lane. And that's not any different than anybody else on our team."
Perry didn't have a goal in the Ducks' seven-game first-round loss to Nashville last season, and he has one goal in these playoffs — the overtime tally that capped the Ducks' comeback from a 4-1 deficit against Calgary in Game 3 of the first round. He's weary of discussing his scoring woes and seems baffled by them.
"I just play hockey. Whatever happens, happens," Perry said. "I've said all season, if the team's winning and we're still playing hockey in May, that's a good sign.
"I've had my chances to score. The puck hasn't gone in the net. I've had my shots. You look at my shot totals and they're up there, where they normally are," he added, and he's right.
Perry scored 34 goals last season on 215 shots. He had the same number of shots this season. "It's being in the right spots. It's going to the net. It's creating chances," he said.
Getzlaf said Perry hadn't approached him for slump-busting advice, but it's not something they'd normally discuss in the course of their friendship. In any case, he said he has faith in Perry's ability to perform when called upon.
"He knows that he has my support all the time," Getzlaf said. "There's not a lot for me to say to him. He's been through his ups and downs as a player, like all of us. I expect him to play his best game [Wednesday]."
That surely would make it one for old times' sake.
Follow Helene Elliott on Twitter @helenenothelen
---
Get the latest on L.A.'s teams in the daily Sports Report newsletter.
You may occasionally receive promotional content from the Los Angeles Times.