NHL teams' goalie choices may be make or break for the playoffs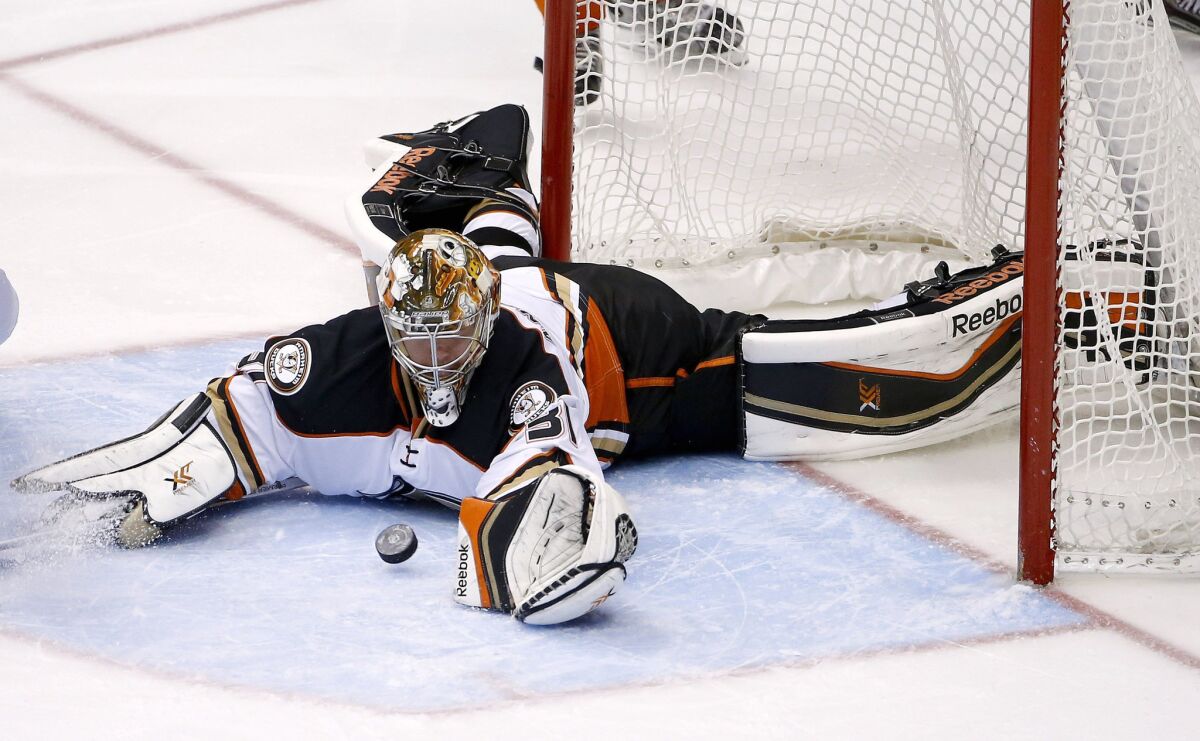 Red Wings Coach Mike Babcock told reporters Monday he had to "try and take all the emotion out of it" while choosing goaltender Petr Mrazek over an experienced but struggling Jimmy Howard to start Detroit's first-round Eastern Conference playoff series against Tampa Bay.
Blues Coach Ken Hitchcock said he would "flip a coin in the next couple of days" to determine whether rookie Jake Allen or Brian Elliott will start for St. Louis against Minnesota in its Western Conference playoff series. Hitchcock was joking. Maybe.
Ducks Coach Bruce Boudreau's decision to start Frederik Andersen against Winnipeg was made for him last week when John Gibson sustained an upper-body injury. Gibson didn't practice with the Ducks on Monday, and Boudreau declined to update his status.
Goaltending has been a source of mystery, debate and wonderment in the NHL this season, and those elements are carrying over into the playoffs. Although many teams are sure of their starters, some — for instance, the Blues or Vancouver Canucks — could go either way. And several will start goalies who weren't on their rosters when the season began.
When injuries forced the Ottawa Senators to turn to undrafted 27-year-old Andrew Hammond in February, no one could have imagined he'd compile a 20-1-2 record and save their season. In 24 games, Hammond had a 1.79 goals-against average and .941 save percentage, becoming the focal point of a spirited playoff drive that ended up matching the Senators against the Montreal Canadiens.
At the opposite end of the ice will be Carey Price, who could use a shopping cart to carry all the awards he will win this season. But despite Price's otherworldly performance — including a franchise-record 44 wins for a franchise that has sent more than a few goalies to the Hall of Fame — he flailed against Ottawa this season. Price's overall experience should lift him and the Canadiens past playoff debutant Hammond and the young Senators, but stranger things have happened in the playoffs.
Price didn't provide insight into his thinking Monday, "offering replies that would have embarrassed even vanilla," according to the Montreal Gazette. Asked about the Senators, who eliminated the Canadiens in the first round in 2013, he complimented their speed and tenacity but stayed with cliches.
"I'm not worried about how anybody else is playing," he said. "I'm just worried about what I have to do."
Injuries and illnesses had left the Minnesota Wild in bad shape when General Manager Chuck Fletcher acquired goalie Devan Dubnyk from Arizona for a third-round draft pick on Jan. 14. Dubnyk had shown flashes of excellence while playing for a bad Edmonton team, but he bounced among three organizations last season before signing with Arizona as a free agent. He was playing decently when the foundering Coyotes dealt him to the Wild, where everything suddenly clicked for him.
Dubnyk started 38 straight games and was 27-9-2 with a 1.78 goals-against average and .936 save percentage. That allowed the Wild to surge, earn the first West wild-card berth, and give Dubnyk his first taste of playoff hockey.
"You start five years and don't get there, you just want to be part of it really bad," he told the St. Paul Pioneer Press. "You see how hard you have to work, and it feels good to get here. You realize how good of a group we have and a real opportunity to do something good."
The Wild will play the Blues, who face an interesting situation. Allen has never played an NHL playoff game; Elliott was shunted aside last spring after the Blues acquired Ryan Miller in a failed shot at the Stanley Cup. Hitchcock identified Elliott as the playoff starter a few weeks ago, but Allen played well enough to reopen the decision. The Blues are under pressure to go deep in the playoffs after two straight first-round exits.
"You've got one guy that's got a heck of a season in Elliott and another guy that's had a heck of a month in Allen. We've got no problems," Hitchcock told the St. Louis Post-Dispatch. "Whatever guy we go to, it might depend on the opponent…. We'll base it on what we think is best. But if we've got to change, we'll change. We won't hesitate."
Winnipeg goalie Ondrej Pavelec, who has played parts of seven NHL seasons, will make his NHL playoff debut riding a streak of three straight shutouts. Eddie Lack will also make his playoff debut if the Canucks consider Miller, who signed with them last summer, too rusty to start against Calgary after losing nearly two months to a knee injury.
Pittsburgh's Marc-Andre Fleury has plenty of playoff experience, but some of that recent experience wasn't good: After the Penguins won the Cup in 2009, he had four straight playoffs in which his save percentage was below .900. He rebounded to .915 last spring in the Penguins' two-round effort, and he will have to excel again to prove he has banished those playoff demons.
Reputations are made in the playoffs, especially for goaltenders. The next postseason star might be starting Wednesday or Thursday, or he could be sitting on the bench, a postseason version of Dubnyk or Hammond.
Twitter: @helenenothelen
---
Get the latest on L.A.'s teams in the daily Sports Report newsletter.
You may occasionally receive promotional content from the Los Angeles Times.