Column: Teemu Selanne to become the first Duck to have his jersey retired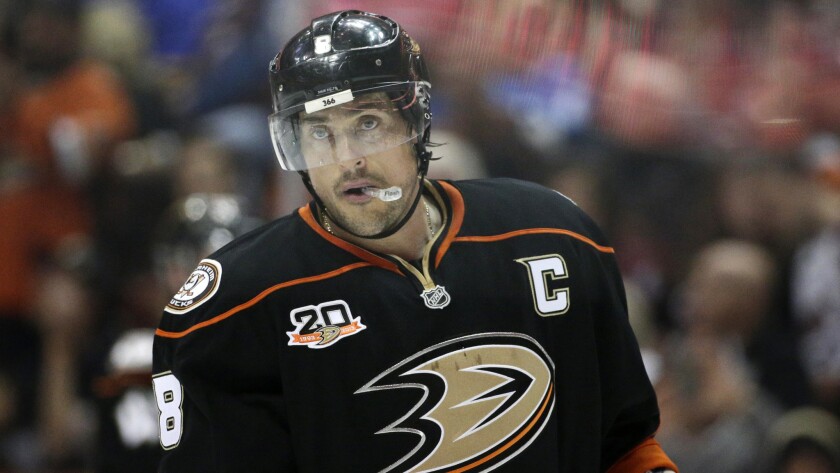 Teemu Selanne was late to everything, sometimes so tardy his Ducks teammates would tell the bus driver to leave the practice rink without him. He'd ride back to the hotel in the equipment truck, fuming, but never for long. And no one could be angry with him, so sunny and fun-loving was his nature.
"He called it 'on time' because he was the last guy," Ryan Getzlaf said.
Funny, then, that the man whose timing was off chose the right moment to retire, when fans wanted more of him, even if Coach Bruce Boudreau played him less.
The Finnish-born right wing hung up his skates last May at 43, three months after he enjoyed one last glorious star turn by winning a bronze medal at the Sochi Olympics and earning MVP honors over rivals young enough to be his sons. If he didn't skate off into the sunset with a second Stanley Cup title — the Ducks lost to the Kings in the second round of the playoffs — he still went out a winner, a singular personality who on Sunday will become the first Duck to have his jersey retired.
"I knew I could play more, but I think it was perfect timing, that year with the Olympics. It was good that I decided right away so I could leave everything there," he said. "In the playoffs, it's tough to lose because it's over like this," he added, snapping his fingers. "You can't really plan when is the last day. That was a little tough, but after a couple days with that, everything was a lot of joy."
Some days he plays golf, others tennis. Some days both. Being free to take his three teenage sons to hockey tournaments or his 7-year-old daughter to soccer or cheerleading is his greatest pleasure. He also does some promotional work for the Ducks and visits his Laguna Beach restaurant a few times a week.
"I wake up in the morning and I don't have to take a few first steps and think, 'Where does it hurt?' " he said. "When you play so many years and the life is so disciplined and there's a certain schedule, not having that is great."
When the Ducks raise his No. 8 to the rafters of Honda Center, they will commemorate more than the 15 seasons he played for them and 21 in the NHL, or the 684 goals and 1,457 points he scored with the deadly aim and pure speed that earned him the nickname "The Finnish Flash." Those statistics — and his seemingly untouchable rookie record of 76 goals for the Winnipeg Jets in 1992-93 — guarantee him Hall of Fame admission.
Sunday's ceremony also will honor the deep relationship he built with fans, especially here. Often when he was late for the bus or dinner, it was because he felt compelled to sign every piece of paper a fan thrust at him and pose with everyone who wanted a photo. He couldn't disappoint anyone. Fans knew how much he loved the game and loved him for it, some to the extremes of requesting his chewed-up chicken bones in a Winnipeg restaurant or tattooing his likeness on their bodies.
"He's a pretty special player and person. I've played with a lot of guys, not a lot who have the connection to the fans that he has," said Scott Niedermayer, his teammate on the Ducks' 2007 Cup championship team and now a Ducks assistant coach. "That's one of the great things about him, beyond the stats."
Selanne still lives in Orange County and envisions staying here indefinitely. "I call it my Happy Place," he said. "The Ducks organization has been so important for me. That relationship we have had is something really special. I'm very thankful I was able to play for a long time, and I had my best years here. The people, the fans, they have treated me so well here."
He treated them well, beyond scrawling the autograph he had practiced as a bored schoolboy in Finland. Speaking to a group of reporters last week, he mentioned he'd been contacted by a boy who had been born prematurely and was treated in an incubator Selanne bought for a children's hospital. Selanne, a former kindergarten teacher and frequent visitor to children's hospitals, purchased it without publicity except a sign.
"Now that he's old enough he sent a letter and said thanks for — I didn't save his life — but that's what he said," Selanne said. "When you get that kind of stuff, that's what it's all about."
That generous, happy nature enhanced the shock value of some passages in a biography of him that was released in Finnish in September. Selanne blasted Boudreau for denying him ice time in critical situations and not playing him in Game 4 of the team's first-round playoff series against Dallas, and he criticized Getzlaf for not interceding on his behalf. He sounded bitter, just another athlete unable to accept his decline.
Selanne quickly apologized, saying he meant only to be honest about the philosophical differences he had with Boudreau. "I could probably say something a little differently," Selanne acknowledged, also blaming poor translation for mischaracterizing his remarks.
He and Boudreau have spoken and hugged. "I have no hard feelings," the coach said. Getzlaf also holds no grudge. "Teemu was at an emotional time, like everybody else, and when it was written, he kind of got carried away with some things," Getzlaf said.
In any case, the book shouldn't overshadow Sunday's celebration. Sixty of Selanne's friends and relatives from Finland will attend, as will his idol, Jari Kurri, and former Ducks teammates and executives. Reclusive former linemate Paul Kariya, Selanne's polar opposite in personality but perfect hockey complement, said he won't be there. That's Selanne's lone regret. "My mission is getting him back to hockey because I think he has a lot to give," Selanne said.
Selanne's speech will be unscripted, and he vowed not to cry the rivers of happy, relieved tears he unleashed when the Ducks won the Cup. "I'll try to be tough," he said.
No need. This is the time to yield to sentiment and appreciate the power of one man's joy to light up a hockey rink and the world around him.
Twitter: @helenenothelen
Times staff writer Lance Pugmire contributed to this report.
---
Get the latest on L.A.'s teams in the daily Sports Report newsletter.
You may occasionally receive promotional content from the Los Angeles Times.