7 Images
High school athletes with famous bloodlines
Shareef O'Neal
Crossroads' Shareef O'Neal, the son of basketball great Shaquille O'Neal, takes part in the Jordan Brand Classic in April 2018.
(Tim Clayton / Corbis via Getty Images)
Maya Brady
Maya Brady, UCLA-bound senior softball player at Oaks Christian is the niece of New England Patriots quarterback Tom Brady.
(Eric Sondheimer / Los Angeles Times)
Karros Brothers
The Karros brothers, Kyle (left) and Jared are baseball players at Mira Costa and the sons of former Dodgers first baseman Eric Karros.
(Eric Sondheimer / Los Angeles Times)
KJ Martin
KJ Martin of Sierra Canyon dunks the ball during a state championship game in Sacramento on March 1.
(Nick Koza / For The Times)
Nick Montana, Trevor Gretzky, Trey Smith
Oaks Christian teammates Nick Montana, the son of Football Hall of Famer Joe Montana, Trevor Gretzky, the son of Hockey Hall of Famer Wayne Gretzky, and Trey Smith, the son of actor Will Smith, take part in a practice session in 2008.
(Mel Melcon / Los Angeles Times)
Scottie Pippen Jr.
Sierra Canyon's Scottie Pippen Jr. drives to the basket during a playoff game against Mater Dei on March 5.
(Wally Skalij / Los Angeles Times)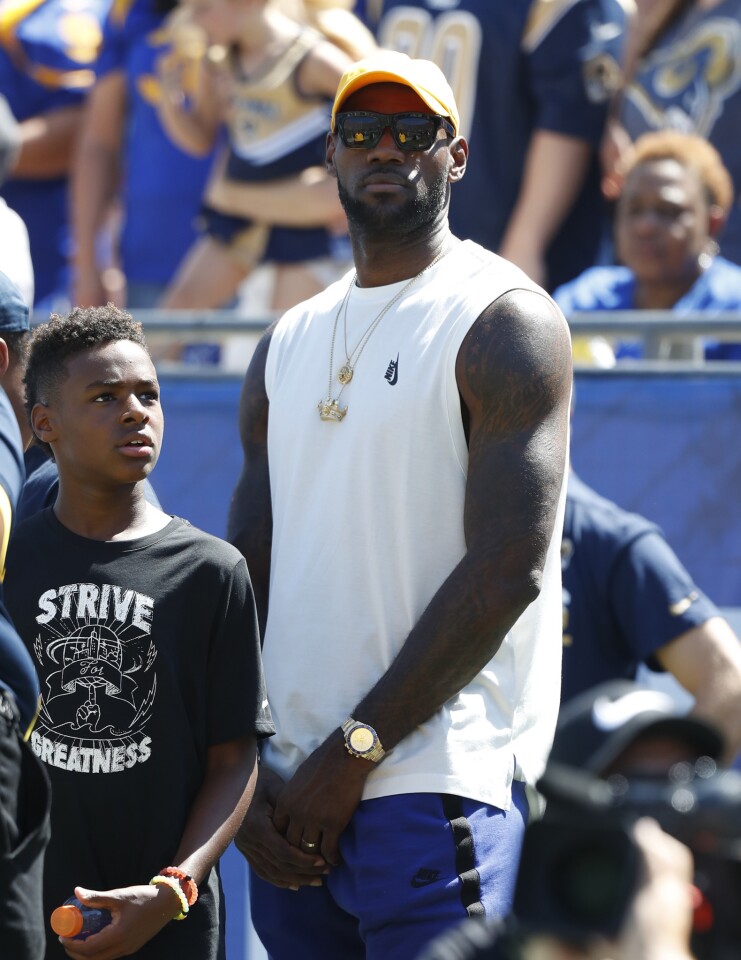 LeBron James, Bronny James
LeBron James and his son, Bronny James watch from the sideline during a game between the Los Angeles Rams and Seattle Seahawks in Sept. 2016.
(Kevin Terrell / Associated Press)