Maple Leafs' struggles a cause for concern in Toronto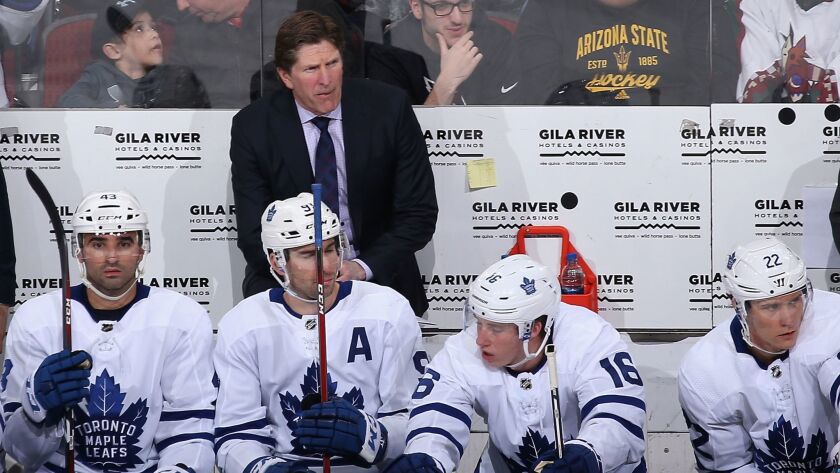 Here's what we've learned from the past week in the NHL:
Anxiety hits the center of the hockey universe
That would be Toronto, where the Maple Leafs are trying to recover from a week that can be described as somewhere between shaky and alarming. They were outscored 23-15 in losing 6-2 to Tampa Bay (no huge shame there), 5-4 to Chicago (some shame), falling behind Philadelphia 5-2 before rallying for a 7-6 win, and losing 6-2 to league-worst Ottawa, which is inexcusable. While the Maple Leafs have gone 5-4-1 in their last 10 games the Boston Bruins have gone 7-3-0 to gain a tighter hold on second place in the Atlantic Division and home-ice advantage in the teams' just-about-certain meeting in the first round of the playoffs. It seems strange to call defense a weak spot for a team that has 43 wins and a plus-43 goal differential, but team defense is a vulnerable area for them. "Obviously, we've got to recommit to being better defensively," coach Mike Babcock told reporters after the team's practice Monday. "We're giving up a little too much on the rush here the last little bit." They're at Nashville on Tuesday but then face five straight nonplayoff teams, giving them a chance to sort themselves out. Or not. Nervous times could be ahead.
The Coyotes are still howling
There are almost as many reasons the Arizona Coyotes shouldn't be occupying a playoff spot than reasons they should: their goals-per-game average is near the bottom of the league, their power play has ranked around 20th and their depth has been challenged by constant injuries that have cost them about 350 man-games. Among the missing is goaltender Antti Raanta, who has been out of the lineup since Nov. 27 because of a lower-body injury. But fueled by resilience, excellent penalty killing and coach-of-the-year-caliber work by Rick Tocchet, the Coyotes passed Minnesota last week and took the second West wild-card playoff spot. They are 13-8-2 since the start of February. "The calling card of our season is we bounce back," general manager John Chayka told Arizona sports radio station KTAR-FM (98.7). "We've played playoff hockey for the last two months, basically." They haven't played real playoff games since 2012, when they reached the West finals and lost to the Kings.
Coach of the year will be a tough choice
As noted above, Tocchet must be in the conversation for the Jack Adams Award, given annually by the NHL Broadcasters' Assn. to the coach "adjudged to have contributed the most to his team's success." And a case can be made for Craig Berube in St. Louis, who replaced Mike Yeo on Nov. 19 and has steered the Blues into third in the Central Division. But the favorite should be Barry Trotz, who has guided the New York Islanders to a statistical tie for first in the Metropolitan Division with the Washington Capitals, the team he led to the Stanley Cup last June. The Islanders are ahead because of their better goal differential (plus 33 to plus 23). "I don't think there were many people who thought that would be the case," Trotz told Newsday. Recently they've missed center Casey Cizikas (lower-body injury) and defenseman Johnny Boychuk, who took a blow to the head on March 9, but they're still marching to Trotz's winning tune.
Au revoir, Montreal?
The Canadiens' playoff chances took a big hit last Saturday with their 2-0 loss to the Blackhawks. The extra knife twist was applied by Chicago goalie Corey Crawford, a Montreal native who made 48 saves to help put his hometown team in a precarious position. The Canadiens, in a 4-6-0 slide, are three points behind Columbus, which holds the second East wild-card spot. The highlight of their week was the ceremony they staged before Saturday's game to honor Carey Price for earning his 315th win and breaking Jacques Plante's team record for wins by a goalie. Plante's son Michel was on hand for the occasion and gave Price a gold goalie stick. There probably won't be much else for the Canadiens to celebrate this season.
Odds and ends
Pittsburgh, which has won only six of its last 10 games and is battling for a postseason spot, might be without forward Evgeni Malkin for a while. Coach Mike Sullivan said Sunday that Malkin's status is week to week because of an upper-body injury, which apparently occurred when he was cross-checked a day earlier by St. Louis defenseman Robert Bortuzzo. Dallas goalie Ben Bishop, who left a game last Thursday with a lower-body injury and interrupted a personal shutout streak of 230 minutes and 53 seconds, is scheduled to be in uniform for the Stars' game against Florida on Tuesday, according to a video posted on the team's web site. … Nashville Predators forward Austin Watson was reinstated by the NHL as he enters the follow-up phase of the league's substance abuse program. Watson started the season on suspension and was suspended again Jan. 29 as he entered the second stage of the league's substance abuse and behavioral health program. Watson served a suspension for the first 18 games of the season after pleading no contest last July to domestic assault.
Sign up for our daily sports newsletter »
---
Get the latest on L.A.'s teams in the daily Sports Report newsletter.
You may occasionally receive promotional content from the Los Angeles Times.