Willie O'Ree, NHL's first black player, is elected to Hockey Hall of Fame
Willie O'Ree played only 45 NHL games and recorded a mere 14 points, but he made an impact on hockey that has lasted for decades.
O'Ree, who became the first black man to play in the league when he debuted with the Boston Bruins in the 1957-58 season, was rewarded for his pioneer status and his still-energetic efforts to popularize the game among minorities by being elected to the Hockey Hall of Fame, part of a six-person class that was announced on Tuesday.
O'Ree, 82, will be inducted into the Hall on Nov. 12 in Toronto. He will share the stage and the honor with goaltender Martin Brodeur, the NHL's career leader in wins (691) and shutouts (125). Brodeur, a three-time Stanley Cup champion with the New Jersey Devils and four-time winner of the Vezina Trophy as the league's top goalie, was elected in his first year of eligibility.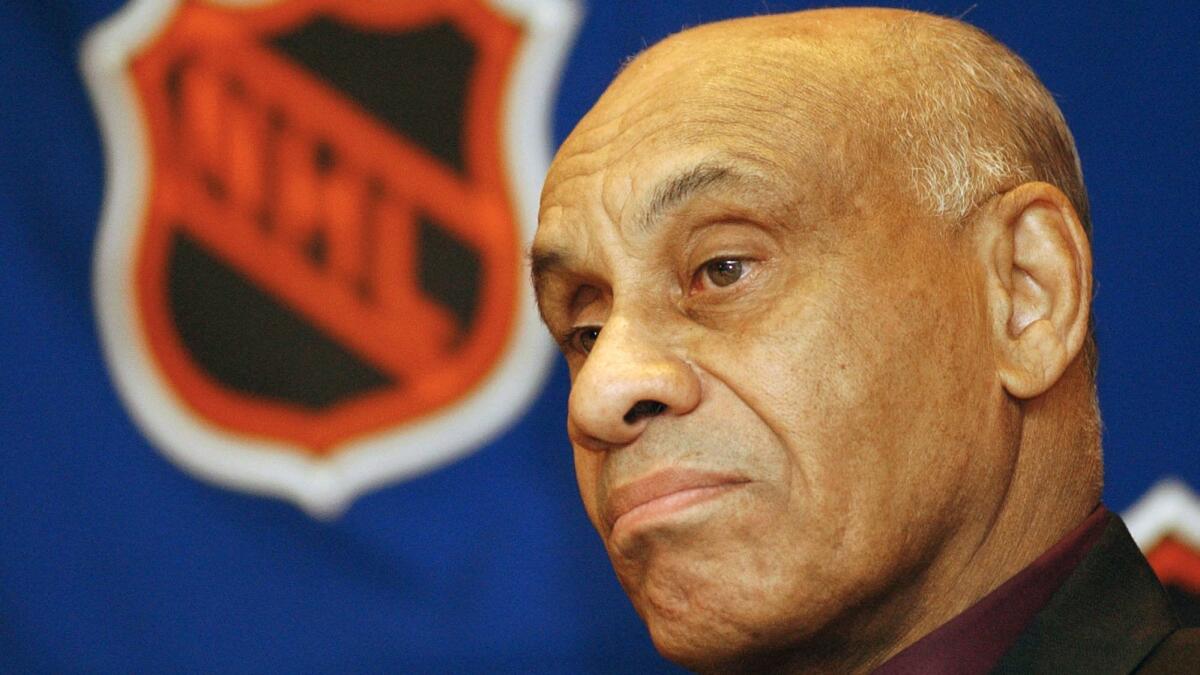 Also elected were NHL Commissioner Gary Bettman, five-time NHL All-Star Martin St. Louis, four-time Olympic champion Jayna Hefford and Russian star Alexander Yakushev.
"This honor would not be possible if I had not rejoined the league in 1996," O'Ree said in a statement released by the NHL. "I was given a second wind to give back to the game and I am honored to be recognized."
O'Ree, a native of Fredericton in the Canadian province of New Brunswick, got only two brief looks at the NHL level, playing two games in the 1957-58 season — 11 years after Jackie Robinson broke the color barrier in Major League Baseball — and 43 games in 1960-61. He was a prolific scorer in the minor leagues and spent almost all of his lengthy minor-league career with the Los Angeles Blades and San Diego Gulls of the old Western Hockey League. It wasn't generally known then that he had lost the vision in his right eye during his junior hockey days because he compensated for the loss so well.
His post-playing career has been even more significant. He has actively promoted diversity in the sport and has been an NHL ambassador for the last 20 years.
This season, the NHL honored his contributions by creating the Willie O'Ree Community Hero award to recognize, "an individual who — through the game of hockey — has positively impacted his or her community, culture or society." The first recipient was Darcy Haugan, who was killed in the bus crash that took the lives of 16 people associated with the Humboldt Broncos junior team.
There were about 30 black players in the NHL last season. One of them, Philadelphia Flyers forward and former King Wayne Simmonds, wrote a touching piece in the Players Tribune in April discussing his own experiences and crediting O'Ree with paving the way for him and others.
"I got the chance to meet Willie for the first time during my rookie year with the Kings, and I was exactly like the little kids who come up to us for autographs after games. I was totally speechless," Simmonds wrote. "I was meeting my hero. For every single kid who was ever told to 'stick to basketball,' Willie was like the first man on the moon. He wasn't just a hockey player. He was an astronaut.
"He was, and continues to be, an inspiration for everyone who loves the game."
Bettman has been commissioner since 1993 and the league has grown from 24 franchises to 31 during that time. "This is not something I was focused on and I'm speechless and grateful to be included with this group," said Bettman. "I'm particularly honored to be part of a class that includes Willie O'Ree."
St. Louis, though not drafted, played 17 seasons in the NHL and recorded 1,033 points. He was a member of Tampa Bay's Stanley Cup championship team in 2004 and Canada's gold medalist team at the 2014 Olympics.
Hefford set scoring records in minor hockey in Kingston, Canada, that have never been surpassed — by either a male or female hockey player. She had a stellar career at the University of Toronto and was a member of four Olympic gold medal-winning teams for Canada.
Yakushev established himself as one of the world's best players at the 1972 Summit Series and won Olympic gold medals in 1972 and 1976.
Get the latest on L.A.'s teams in the daily Sports Report newsletter.
You may occasionally receive promotional content from the Los Angeles Times.