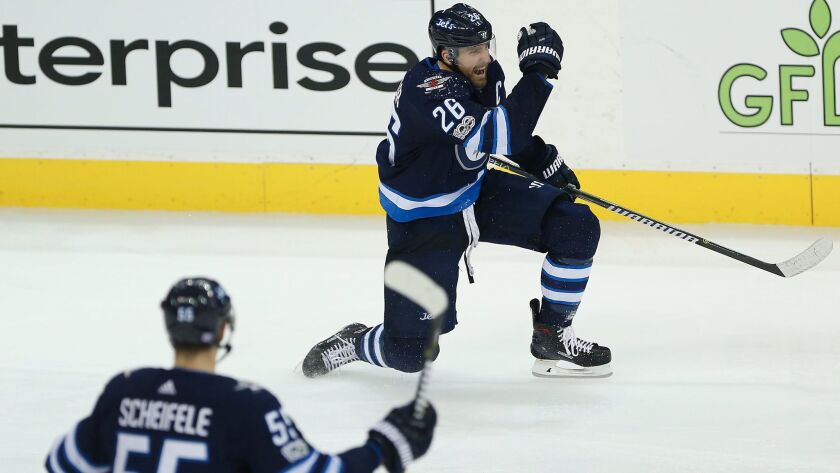 NHL still looking overseas
Speaking before the Colorado Avalanche and Ottawa Senators played two games in Stockholm, Commissioner Gary Bettman outlined his plan for expanding the game outside North America. "The vision and hope is to establish a more regular and predictable presence for our international events," he said. The NHL had that "regular and predictable presence" when players represented their homelands at five Winter Olympics, but the man who canceled one season and shortened two others during league-imposed lockouts said he didn't want to disrupt the season for the Games in Pyeongchang, South Korea, in February. National pride was a powerful motivation for players at the Olympics and they wanted to return; traveling to Europe for a couple of weekend games is less compelling. This positions Bettman to use participation in the 2022 Olympics in Beijing as a bargaining chip to get concessions in the next labor negotiations with the NHL Players' Assn.
Maple Leafs, Marner end slumps
Forward Mitch Marner, who produced 19 goals and 61 points as a rookie last season, scored a goal in Toronto's opener this season but was blanked for 17 games until Saturday, when the Maple Leafs completed a home-and-home sweep of the Boston Bruins. The Maple Leafs have a four-game winning streak even though Auston Matthews, last season's rookie of the year, has missed the last three games because of an upper-body injury.
The Jets are soaring
Winnipeg has been an early surprise, sitting in second place in the Central division at 9-4-3. The Jets have earned points in nine of their last 10 games (6-1-3) and have two scorers in the league's top 10. Blake Wheeler (five goals, 23 points) ranked third through Sunday's games, and Mark Scheifele (10 goals, 21 points) ranked seventh. More important, according to Wheeler, is the team's resilience. The Jets followed a weak effort in a loss at Las Vegas on Friday by rallying to beat the Arizona Coyotes on Saturday. "No matter how good a team you are, you're going to have games like that. The key is how are you going to come back from that," Wheeler told the Winnipeg Sun. "That's the biggest growth from our team. You get rid of the bad ones and come ready to play the next game."
Understudy is becoming a star in Montreal
The Canadiens called up Charlie Lindgren on Nov. 3 as insurance after No. 1 goaltender Carey Price sustained a lower-body injury. But when Al Montoya suffered a concussion, the Canadiens had to turn to Lindgren and he has handled the pressure well. In four straight starts the 23-year-old Minnesotan is 3-1-0 with a 1.24 goals-against average and .964 save percentage. "He puts in the work, and when guys see that, they want to work hard to help him," forward Max Pacioretty told the Montreal Gazette.
The Rangers have revived
After stumbling through a 1-5-2 start the New York Rangers have turned things around and have won six straight games. Their power play (nine for 23 over the last seven games) has provided a lift, with defenseman Kevin Shattenkirk as the catalyst. He has points in seven straight games.
Follow Helene Elliott on Twitter @helenenothelen
---