Hockey legend Ted Lindsay was a giant figure in the NHL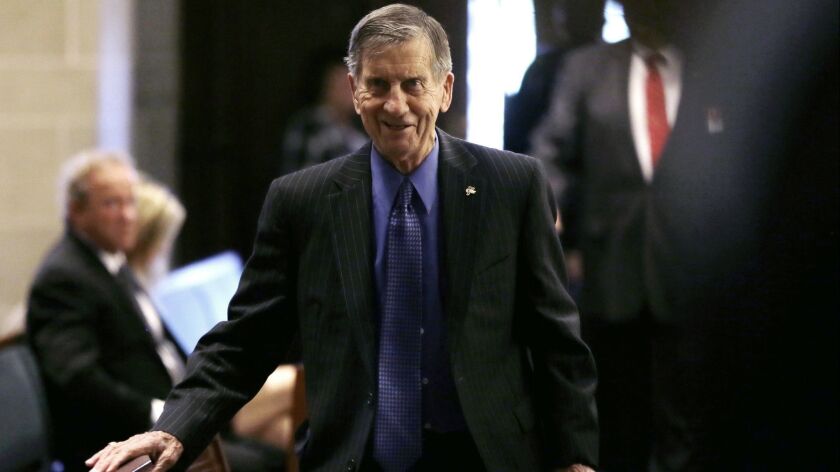 What we learned over the last week in the NHL:
'Terrible' Ted Lindsay was pretty terrific
Ted Lindsay, whose death at 93 was announced Monday, was a giant in a 5-foot-8, 163-pound body. A four-time Stanley Cup winner with Detroit, he played left wing on the famed "Production Line" with Sid Abel (later replaced by Alex Delvecchio) and Gordie Howe. Lindsay was a leader in organizing the first players' union, which cost him his captaincy and led to him being traded, and he's credited with being the first player to carry the Cup around the rink to show it to fans after the Red Wings won it in 1950. "I had it so they could read it," he said in 2013. "I wasn't starting a tradition. I was just taking care of my fans that paid our salary." In 17 seasons he had 379 goals, 851 points and 1,808 penalty minutes. One of 10 players for whom the Hockey Hall of Fame waived its three-year waiting period, he was active in raising funds for autism research and was a familiar sight at events around Detroit. The NHL Players' Assn. renamed its signature trophy in his honor and awards it annually to the most outstanding player as voted by players. Celestial shinny games just got a lot more rugged.
Last-place Senators rank first in turmoil
A few days after their hopes for a downtown arena fell apart and hours after they continued dismantling their roster by trading Mark Stone to Vegas, the Ottawa Senators added to a chaotically bad season Friday by firing coach Guy Boucher. General manager Pierre Dorion had given Boucher a vote of confidence Feb. 25, so it was surprising that he backtracked and made Boucher the seventh NHL coaching casualty this season. Assistant coach Marc Crawford, a former Kings coach, will replace Boucher the rest of this season. "It's nobody's fault but this is a business where you're judged all the time," Crawford said at a news conference. One of Boucher's faults was his reluctance to play the team's kids. "We weren't growing as a group and we weren't growing as individuals," goaltender Craig Anderson told sportsnet.ca. "This might be the change that is needed for our young guys to step up and start playing well, play the way that got them here." But they can't look to the draft for instant help: The Senators dealt their first-round pick to Colorado in the Matt Duchene trade.
The welcome mat was rolled up for Tavares
Still feeling scorned by John Tavares' decision to leave Long Island to sign with the Toronto Maple Leafs, New York Islanders fans gave him a relentlessly hostile reception during his first visit Thursday. A few burned his old jersey. Others threw plastic rats, held up insulting signs, and chanted, "We don't need you." Free agents come and go, but fans felt Tavares misled them by saying he wanted to stay before he walked away with no compensation to the Islanders. Throwing stuff was reckless but fan is short for "fanatic." They got the last laugh when the Islanders pummeled the Maple Leafs 6-1 and reached 81 points, one more than they earned last season. "They always made it tough on the opponent when I played here. They have their feelings and that's out of my control," a diplomatic Tavares told reporters. He got a warmer greeting back in Toronto on Saturday. The Maple Leafs changed the order of their introductions so he'd go last and his teammates skated away to leave him in the spotlight while fans roared. He had a goal and two assists in a 5-2 victory over Buffalo.
Sign up for our daily sports newsletter »
Coyotes, Bruins, Hurricanes surge as playoff chases narrow
It's a minor miracle (and product of the West's decline) that the injury-depleted Arizona Coyotes are contending for a wild-card playoff spot. They're two points behind Minnesota with a game in hand thanks to a six-game winning streak, a stretch highlighted by Brad Richardson's four-goal performance against Vancouver on Thursday. That's one more goal than he scored in 76 games last season. He has two career hat tricks, both against teams that traded him: Before he victimized Vancouver, he scored a hat trick for the Kings against Colorado on Oct. 23, 2010. "The Coyotes better not trade me," he joked. The Chicago Blackhawks' late and unlikely revival fizzled when they lost four of five games, including back-to-back road losses to the Kings and San Jose Sharks, and the Colorado Avalanche is teetering after two straight losses. The Vegas Golden Knights, fueled by back-to-back shutouts from Marc-Andre Fleury, have won four straight to take a firmer grip on third place in the Pacific Division and put distance between themselves and Arizona.
In the East, the Bruins' 12-0-4 streak has lifted them into second place in the Atlantic. Goalie Tuukka Rask is on a personal 14-0-3 run and hasn't lost in regulation since Dec. 23. Carolina has won five straight to take third in the Metropolitan, ahead of puzzling Pittsburgh and risk-taking Columbus. Blue Jackets general manager Jarmo Kekalainen loaded up at the trade deadline and kept impending free agents Sergei Bobrovsky and Artemi Panarin but his team lost consecutive games.
---
Get the latest on L.A.'s teams in the daily Sports Report newsletter.
You may occasionally receive promotional content from the Los Angeles Times.