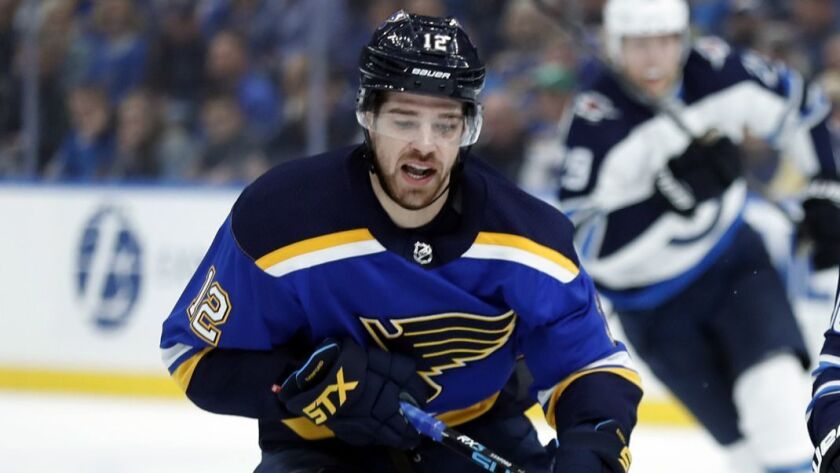 Reporting from st. louis —
Greetings from St. Louis, which is enjoying quite a sports weekend. The Cubs are here to play the Cardinals at Busch Stadium, not far from Enterprise Center, where the Blues will face off against the Boston Bruins on Saturday in Game 3 of the Stanley Cup Final. A street party/festival will be held near the arena as part of the pregame festivities, and fans at the Blues game will be given bracelets that will make them participants in a light show. They'll also get blue rally towels.
Tickets on the 100 level of Enterprise Center were priced at $1,200 each by online resellers as of early Saturday afternoon. Seats in the 300 level, upstairs, were going for more than $800 each. The demand is understandable, especially since the Blues are in the Cup Final for the first time since 1970. They are 0-6 at home in the Final, having lost their two home games in 1968, 1969, and again in 1970. The Blues' 3-2 overtime win in Game 2 on Wednesday at Boston was the team's first-ever win in a Cup Final contest.
Blues coach Craig Berube confirmed that Zach Sanford will be in the lineup in place of Oskar Sundqvist, who was suspended by the NHL for a hit in Game 2 that left Bruins defenseman Matt Grzelcyk with a concussion. Sanford, who's listed at 6 feet 4 and 207 pounds, will center for Alexander Steen and Ivan Barbashev. "He's got some experience this year in the playoffs. He's a good defensive player, penalty killer," Berube said of Sanford, a Massachusetts native who grew up a Bruins fan in New Hampshire.
Cheering for the Bruins is such a habit for Sanford's family that his mom applauded when they scored a goal in Game 1. "But she turned around quick," Sanford said.
Sanford hasn't played since the third game of the Blues' first-round victory over Winnipeg, but he knows his job will be to continue the team's plan to muscle the Bruins and wear them down. "That's been a lot of my mentality trying to get ready, is just being ready for that physical game," he said. "Being one of the bigger guys, I think I need to bring that and be throwing the body around and getting in on the forecheck, and if I can do that and help out I think we'll be pretty successful."
In place of Grzelcyk, who stayed home in Boston, the Bruins will deploy John Moore, who played in four games of their first-round series against Carolina and one game in the East final against Carolina. Moore stands 6 feet 2 and 210 pounds, giving the Bruins more brawn as he replaces the 5-foot-9, 174-pound Grzelcyk. Moore said he's not worried about getting up to speed when he gets back in.
Sign up for our daily sports newsletter »
"I think as a team we've had the next-man-up mentality really all year, and it's not John Moore against the St. Louis Blues," he said. "And the strength of our team is how together and how close-knit this group has been. … I'm just focused on coming in and doing my job and helping the team win."
He also deflected a question about whether his wait had been difficult. "You can shape the narrative in a variety of different ways, but right now I have an opportunity to play in the Stanley Cup Final, and if you would have told me that in the summer I would have signed up for that a hundred times out of a hundred," he said. "So, I'm ecstatic to be in. Obviously, I hate to see [Grzelcyk] go down, but now it's my time to go to work."
---