Kings ready to hit the ground running, but this road is a process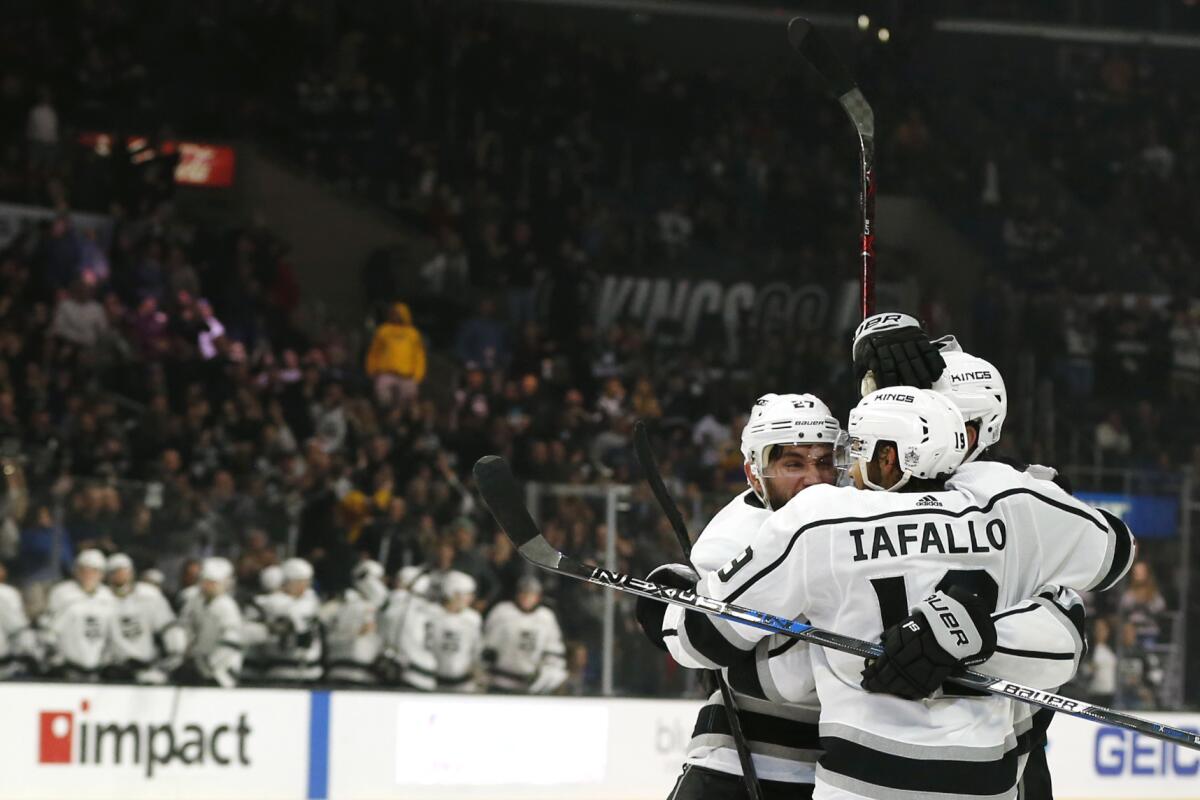 Kings president Luc Robitaille paced the stage and tried to soothe an anxious fan base. General manager Rob Blake clicked through a powerpoint, preaching of the organization's new-found synergy and swelling prospect pool.
New coach Todd McLellan stepped behind the podium and opened with a couple laugh lines, then delivered the stump speech for his new job.
In the wake of a dismal 2018-19 season, the Kings' brass took the stage at The Novo at LA Live on Friday night for the franchise's annual "State of the Kings" season-ticket holder event and tried to put a finger on exactly what state the team is in.
"We always use the word, we got to contend — we want to be a contender," Robitaille said. "To contend, it takes a process. You need to build."
McLellan opted for a racing metaphor: "I don't know how fast we're going to run the marathon," he said. "But we're running it."
Last summer, Los Angeles wagered that its aging, albeit two-time Stanley Cup-winning core would keep on contending. Drew Doughty inked an eight-year extension, Ilya Kovalchuk was lured back to the NHL from Russia on a three-year deal, and the team set out with its sights on an extended spring run.
Commissioner Gary Bettman says the NHL won't exercise its option to reopen the collective bargaining agreement with players. The move may prevent another lockout.
Their legs gave out instead.
The Kings finished a distant last in the Western Conference, made a mid-season coaching change, and succumbed to the franchise's worst record in a decade.
"We weren't stable last year," Blake said. "It was up and down, players were in and out.
"When that competitive spirit, that competitive level dropped last year – and it dropped to an unacceptable level – we knew we had to speed up the process."
Yet, the Kings were more cautious as they tried to recalculate the club's future this summer.
Rather than staging a fire sale, they held onto Doughty, Anze Kopitar, Dustin Brown, Jonathan Quick and other faces of the franchise locked into hefty contracts.
They made marginal offseason moves – buying out veteran defenseman Dion Phaneuf; signing younger players including Cal Petersen, Michael Amadio and Alex Iafallo to new contacts; adding depth pieces in forward Martin Frk and defenseman Joakim Ryan – and gave new coach Todd McLellan a lucrative five-year contract for about $25 million.
Most of all, as they enter a season of vague potential and varying expectations, they left themselves open to a world of possibilities – insistent they're focused on a short-term rebound while they ostensibly wait-and-see if they need a full-scale rebuild.
"We want to build a contending team around the cornerstone pieces that we have in place," Blake said. "They've won before. They took the team, they built it up. They won a championship. Now it's time they give that leadership back.
"There's going to be some ups and downs. There already has been."
The team is "getting close" to agreeing on a new contract for restricted free agent Adrian Kempe. "I'm not concerned it's going to drag on," Blake said ... Prospect Gabriel Vilardi is still dealing with a back injury and isn't expected to take the ice during training camp ... Derek Forbort also has a back issue and might be delayed to start training camp ... The Kings announced that plans for a Staples Center renovation are set to be unveiled in October. Also, the Kings will wear white '90s era throwback jerseys twice this season.
Plans of 'major' renovation of Staples Center
Los Angeles Kings and AEG Sports chief operating officer Kelly Cheeseman announced that plans for a "major" renovation of Staples Center are expected to be unveiled in October.
Cheeseman made the announcement during the Kings' annual "State of the Franchise" event Friday, saying the renovations will "be focused on … the fans, focused on building a generation of Kings fans."
Staples Center is entering its 20th year of operation. The building opened in October 1999, replacing the Great Western Forum as the home for the Kings and Lakers, and the Los Angeles Memorial Sports Arena as the home for the Clippers.
"We're looking forward to celebrating a year that recognizes an arena that's had unprecedented success," Cheeseman said. "More success than any other arena in the world. Success that [the fans] have all made a big impact on with the Kings."
Get the latest on L.A.'s teams in the daily Sports Report newsletter.
You may occasionally receive promotional content from the Los Angeles Times.