Column: 'We're getting close to something really significant.' Women's hockey awaits big moment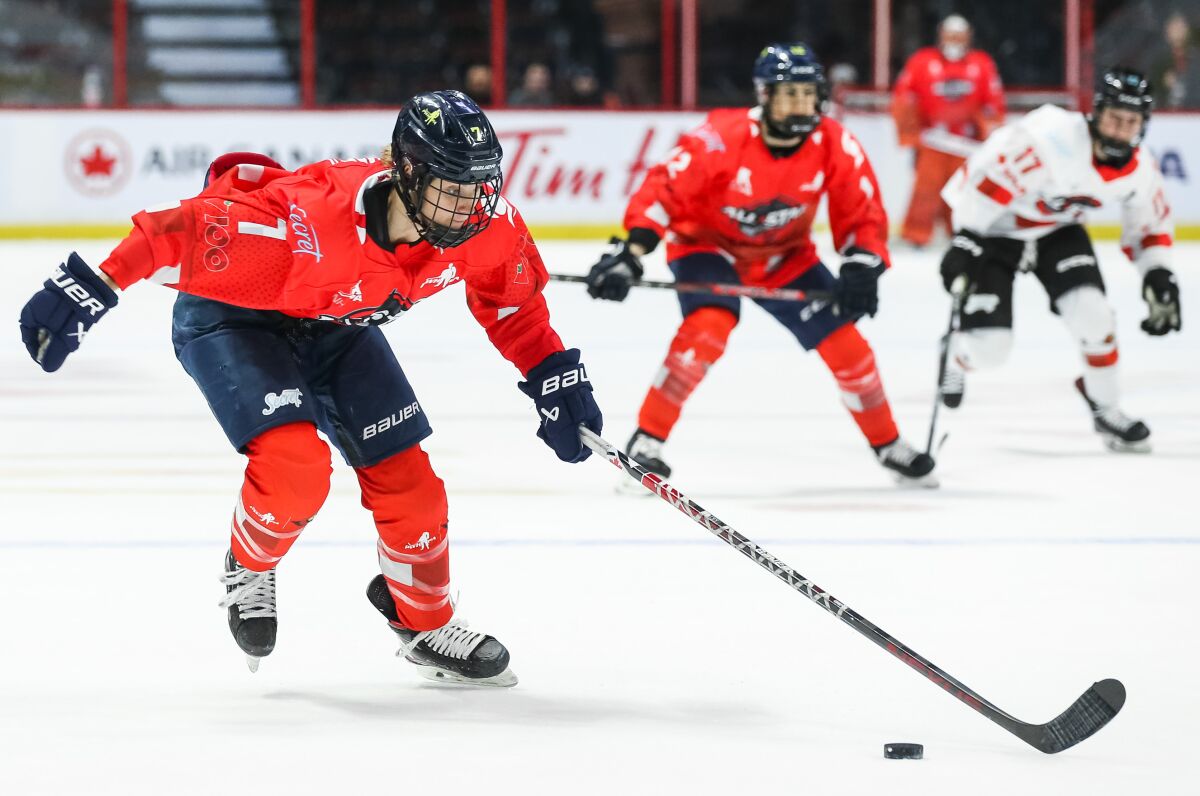 With an alphabet soup of vanished leagues littering its history, women's professional hockey is still awaiting its big moment. The Professional Women's Hockey Players Assn. believes that moment is imminent.
The evolution of women's pro hockey has been slowed by a lack of funding and philosophical splits that divide players whose best chance for success is in uniting. Leagues born amid great optimism have discovered the harsh realities of a game that's expensive to operate and remains a niche sport to many Americans.
Financial woes sank the Canadian Women's Hockey League in 2019. The National Women's Hockey League lost most of its stars the same year when they boycotted to protest a lack of health insurance and being paid too little to make hockey their only job. The NWHL continues as the seven-team Premier Hockey Federation, but without most of the elite American and Canadian players.
That breakaway group formed the nonprofit PWHPA, which barnstorms around the U.S. and Canada and will stage its championships in Southern California this weekend. The PWHPA, which last year enlisted Billie Jean King's investment and consulting firm and the group headed by Dodgers controlling owner Mark Walter to explore launching a new league, is poised to announce a six-team venture, according to a report recently aired by "Hockey Night in Canada."
Nearly 50 years after Congress passed Title IX, female athletes are still scrambling for a fair shot in the male-dominated world of sport. In hockey, top Americans and Canadians train with their national teams part-time; the rest of the season, they have only a small pro league that offers twice-a-week practices, weekend games and thin salaries.
"That report was not completely accurate but there's some accuracies in it," said Jayna Hefford, a four-time Olympic gold medalist for Canada who is the PWHPA's lead operations consultant.
"There's a priority on doing the work and not getting ahead of ourselves. We have a lot of momentum in what we're doing. We have a lot of confidence in the work that's been done and the work that continues to be done, and the investor group we're working with, I don't think we could find a better one. We're excited and we do think we're getting close to something really significant."
The PWHPA has four teams, each named for a major sponsor. Its Secret Dream Gap tour will end with its first championship weekend, part of an effort this season to create "a league-like look to it in terms of consistent teams and standings and stats and playoffs," Hefford said.
"We have a lot of momentum in what we're doing. ... We're excited and we do think we're getting close to something really significant."
— PWHPA's lead operations consultant Jayna Hefford
No. 1 seed Team Harvey's (named for a Canadian fast-food chain) will face No. 4 Team Sonnet (insurance) in a semifinal at 4 p.m. Friday at Great Park Ice in Irvine, the Ducks' practice facility. That will be followed at 7 p.m. by No. 2 Team Adidas vs. No. 3 Team Scotiabank. The losers will play a seeding game at 6 p.m. Saturday at the Toyota Sports Performance Center in El Segundo, the Kings' practice facility. The winners will meet Sunday at Acrisure Arena in Palm Desert, home of the Coachella Valley Firebirds, the Seattle Kraken's top farm team.
The Kings and Ducks often put aside their on-ice rivalry to collaborate on promoting youth hockey, and both support girls' programs. Both also have hosted well-attended games that matched the U.S. and Canada women's national teams, the sport's two superpowers.
"The way I look at it, women's hockey is really developing, and any time we have a chance to help and to be involved, we have to," Kings President Luc Robitaille said. "To have an opportunity to host a final weekend in Southern California, which is the area we've been pushing to grow the game ever since [Wayne] Gretzky was here, I think it's a huge event."
The Professional Women's Hockey Players Assn.'s progress has been slowed by the pandemic, but the 'Dream Gap' tour injects the effort with hope.
His Anaheim counterpart agreed. "All the teams in Southern California look to move hockey forward," Ducks President Aaron Teats said. "Those opportunities to continue to show the girls playing today what the potential future for them is exciting and something that we want to make sure that we advance."
PWHPA players receive equal stipends, not salaries. In the new league, they'd earn an average of about $55,000 in salary. "That's a number that we looked at, that we believe is a sustainable model, but that's not to say that the final version of the league is going to be that," Hefford said.
She sees the longevity of the WNBA, growth of the National Women's Soccer League and healthy TV ratings for women's college basketball as reasons a women's pro hockey league can succeed.
U.S.-Canada Rivalry Series is good for women's hockey, but the sport needs more events and support if it's going to reach new audiences in L.A. and beyond.
"We definitely feel like the time is now. There is demand. There's interest," she said. "I think we're in a really good place. We're doing work. We're making sure that the foundation is strong. And of course, we want this to happen tomorrow but we can't compromise on the things that are going to make this league successful in the long-term."
NHL teams have helped PWHPA and PHF teams — the Arizona Coyotes will host the PHF championship March 26 at Mullett Arena — but NHL Commissioner Gary Bettman has held off endorsing one over the other in hope they'll realize they must work together. It will be tough enough for one women's pro hockey league to be viable in a crowded sports landscape. Two leagues competing for talent and uncertain resources would undermine both.
With superior talent and backing from King and Walter, the PWHPA has the best shot to establish a stable league. It might work by starting on a small scale. It might not work at all. Women's pro hockey deserves a smart, well-structured effort to determine if it can be viable and avoid adding ingredients to the alphabet soup of leagues that failed because of poor planning and unrealistic hopes.
Manon Rheaume, who played goalie in an exhibition for the Tampa Bay Lightning 30 years ago, is now a member of the Kings' player development department.
Get the latest on L.A.'s teams in the daily Sports Report newsletter.
You may occasionally receive promotional content from the Los Angeles Times.