Column: Rob Blake's path to Hall of Fame started with the Kings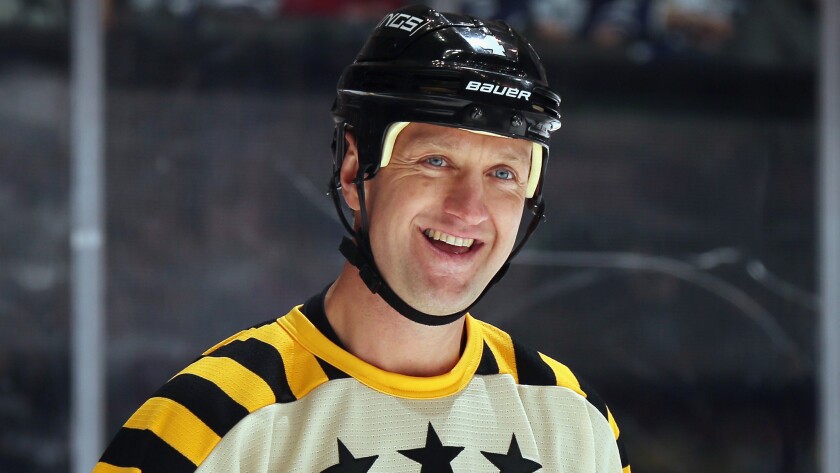 The Blake family ran a farm machinery business alongside the corn, wheat and soybeans they grew in Simcoe, Canada, about 90 minutes southwest of Toronto, and everyone was expected to pitch in. Robert and Sandra Blake's oldest son, Russ, and youngest son, Dave, could fix anything. Middle son Rob was destined for something different, a notion that became clear the day his father told him to reassemble a tractor his brothers had repaired.
"It's actually easy to put back together, just bolts and fitting everything. It took all afternoon," Rob said. "I put it all together and when he came over, I had a little box with a whole bunch of spare parts in it. I remember him just looking at me and shaking his head. He handed it to my brother and said, 'Fix this up.' I think from that point on they realized I wasn't the handiest of people."
Farming wasn't in his future but that work ethic inspired him to become one of the best all-around defensemen of his generation, leading to his induction Monday into the Hockey Hall of Fame.
Watching proudly in Toronto will be his father, who took on then-15-year-old Rob's tobacco-priming job so the boy could attend a Junior B tryout in Brantford and begin climbing the hockey ladder. His mother and brothers, who live on farms near each other, will be there, too. His contingent of friends will include Nelson Emerson, who worked on a neighboring farm and led Rob to Bowling Green University, where he blossomed into a dominant player after the Kings drafted him 70th in 1988.
'"The values and beliefs I live by, I never realized how important learning that on the farm was until I got older," said Blake, the Kings' assistant general manager and a colleague of Emerson, the club's director of player personnel.
"All the things I used to watch my dad and my brothers do, the preparation and hard work, it's the same thing I had to do, only I was doing it on the ice and not in the fields."
Blake, one of 25 players to have won the Stanley Cup, an Olympic gold medal and a world championship, is part of an exceptional class. Also to be inducted are Mike Modano, the highest-scoring American-born player in NHL history; Peter Forsberg, a two-time Cup champion with Colorado and 1994 Olympic gold medalist with Sweden; and Dominik Hasek, a six-time Vezina trophy-winning goaltender and 1998 Olympic champion with the Czech Republic. The late Pat Burns will be honored in the coaches' category and referee Bill McCreary will be recognized in the officials' category.
Blake, who holds Kings records for scoring, power-play goals, game winners and games played among defensemen and is their only Norris Trophy winner, indisputably earned this honor.
"For what he did for the game of hockey, the class he was off the ice, the leader he was in the dressing room, on the ice what he provided both offensively and defensively, there's no question," said Joe Sakic, Blake's teammate on the 2001 Cup champion Colorado Avalanche. "For a long time he was one of the top two, three, four defensemen in the league."
Former Kings teammate Tony Granato, an assistant coach with the Detroit Red Wings, said Blake's strengths extended beyond his 6-foot-4, 220-pound frame.
"He did everything," Granato said. "From a hockey side of things, the Hall of Fame thing is what he's done on the ice. The part that makes him special is who he is."
Blake was still very much a small-town boy when he signed with the Kings and had never traveled by plane alone until he came to Los Angeles in 1990.
"I remember the first time walking down the ramp at the Forum and then opening the dressing room door and there's my jersey between Wayne Gretzky and Larry Robinson," said Blake, who had idolized Robinson. "It kind of hit home then."
Blake became Robinson's defense partner and eager student.
"I think Gretz said it maybe in his first practice or his first game, 'That guy is going to be a Norris Trophy winner,' " Granato said, a prophecy Blake fulfilled in 1998.
Blake developed his trademark teeth-rattling hip check almost by accident, after he underwent two shoulder surgeries in three years.
"I couldn't hit with my shoulder anymore," he said. "Over four, five years it kind of developed into a different way and then it became effective."
There's an understatement.
"He hurt a lot of guys like that," Sakic said.
Blake, Darryl Sydor and Alex Zhitnik were young dynamos on defense in 1993, when the Kings lost to Montreal in the Stanley Cup final, and it seemed they'd be pillars of a perennial contender. But as owner Bruce McNall's finances crumbled, the team fell apart. The franchise was sold and fell into bankruptcy; Gretzky was traded in 1996 and management took a hard line on contracts early in Philip Anschutz's ownership.
Blake was set to become an unrestricted free agent for the first time in 2001. The players' association pressured players to go for huge contracts; the NHL pressured owners to resist big payouts. Blake wanted market value and wanted to play for a winner. Neither was going to happen in Los Angeles but he loved it the city and his wife, Brandy, is from the area.
"The thing that was probably most frustrating was we had different directions every other year. There was nothing anyone was sticking by," he said. "But I think it kind of goes back to being raised on a farm: I didn't move around. I didn't travel around. So once I got to L.A. it was like, this is where I'm supposed to be playing."
Until it wasn't. He said he was told during training camp in 2000 he wouldn't finish the season with the team. He then asked why he should continue as the team's captain if he wouldn't be staying.
When negotiations became public, Blake was branded as ungrateful for relinquishing the captaincy. He still has detractors.
"I've heard stories where they said I ripped the 'C' off and threw it on the floor and all that. Never happened," he said. "I never played a game without the captaincy, never once went in there and said, 'I don't want to be the captain.' This was a conversation regarding more negotiations for a contract."
He was traded to Colorado, where he won the Cup in 2001 and signed a new deal. He stayed through 2006, when Kings General Manager Dean Lombardi brought him back for two years. But the Kings were just starting to rebuild and Blake, seeking another shot at the Cup, signed with San Jose for his final two seasons.
He intended to step away from the game after he retired in 2010 but accepted an invitation to join the NHL's department of player safety. He enjoyed it but felt something was missing and eagerly accepted when Lombardi asked him to become the Kings' assistant GM in 2013. He works on the ice with the club's minor league players in Manchester, N.H., and retired recently enough to command respect from current Kings. The downside is he doesn't have time to coach his 13-year-old son Jack's hockey team. He and Brandy also have a daughter Brooke, 12, and son Max, 2.
"The best thing for me was to be able to come back to where I started and also see where the franchise has come to," Blake said. "There was a high period in '93 and there was probably the lowest period for the franchise after that, for four or five years. Now it's obviously as high as it's ever been."
He aims to keep it there. No problem, unless it involves tractor repair skills.
Times staff writer Lisa Dillman contributed to this story.
---
Get the latest on L.A.'s teams in the daily Sports Report newsletter.
You may occasionally receive promotional content from the Los Angeles Times.