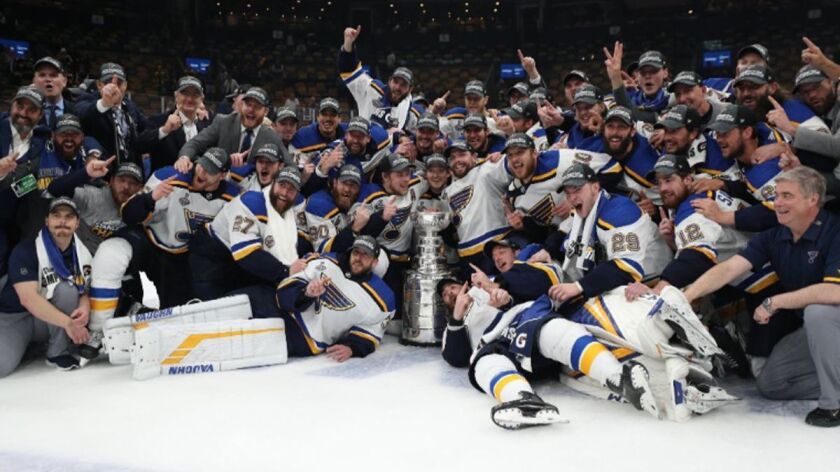 Reporting from Boston —
Dave Taylor never dared to touch the Stanley Cup for more than four decades in the NHL.
The unwritten rule is that you don't touch the most coveted trophy in sports until you've won it, and Taylor always respected that. He stood next to it at events but never put his hands on it before Wednesday.
"I'm part of the superstition," Taylor said.
Taylor finally lifted the Cup, as an executive for the St. Louis Blues, after they triumphed in Game 7 of the Cup Final, against the Boston Bruins. The former Kings player and general manager fulfilled a lifelong dream after a long wait as a player and executive.
"It was pretty special," he said. "I've been involved in the league now for 42 years. I've watched other people win it. It's nice to be a part of the club now."
Taylor got as close as the 1993 Final as a player with the Kings, a five-game loss to the Montreal Canadiens that stings Kings players to this day. As Kings general manager, Taylor put many of the pieces in place for their 2012 Cup team, such as the selections of Anze Kopitar, Dustin Brown and Jonathan Quick in the draft. But Taylor joined the St. Louis organization in 2010 and did not get his name on the 2012 Cup.
That will change. Taylor, vice president of hockey operations for the Blues, does pre-scouting for the team and works behind the scenes with former Kings teammate Larry Robinson, a senior consultant to hockey operations for St. Louis.
Congratulations to LA Kings legend Dave Taylor and the @StLouisBlues on winning the Stanley Cup 👏

— LA Kings (@LAKings) June 13, 2019
Taylor lives in Tarzana and is a regular at Kings games as a scout but he's traveled with the Blues for their playoff run. He watched Game 7 from the press box at TD Garden and made his way to the ice for the ceremony. After players took their turns with the Cup, Taylor finally grabbed the trophy that eluded him for so long.
"Once you get a grip on it, it's big and bulky," Taylor said. "But once you lift it, it's fine. It felt pretty good to hold it."
Sign up for our daily sports newsletter »
Twitter: @curtiszupke
---