Dustin Brown has been delivering the big hits longer than any other player in Kings history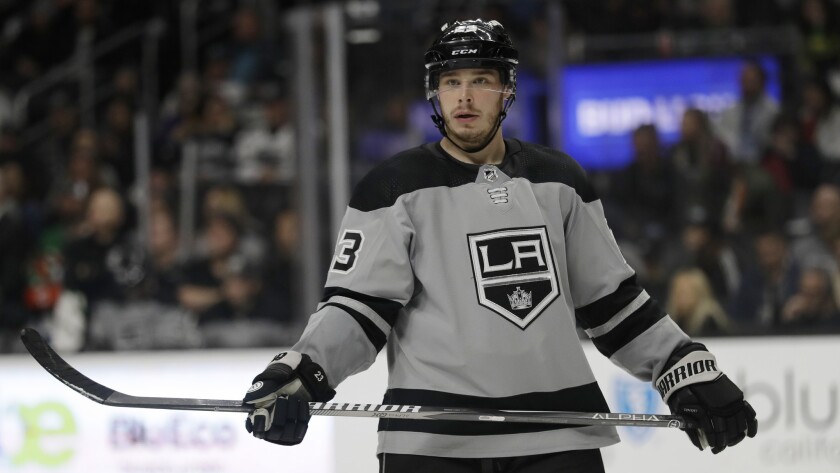 The Hit reverberates to this day.
Inevitably, when Dustin Brown finds himself talking about the Kings' mini-dynasty era with teammates and peers, the play that essentially started it all in 2012 becomes a topic. It was Game 3 of a first-round Western Conference playoff series when Brown lined up Henrik Sedin at the bench boards and unloaded on the Vancouver Canucks' star like a locomotive.
"It's brought up a lot, among players reminiscing about those times," Brown said. "That's one of those things that's always talked about. It's one of those moments that has a big impact on the game or the series, but the year [as well]. They're all good memories from that time. But that's one that sticks out for a lot of people."
If there's one play that captures Brown's career and what he means to the Kings, it's that hit. And so it arrives full coincidental circle that Brown becomes the franchise leader in games played Thursday when the Kings play Vancouver.
But Brown's legacy is far more layered than that. It's stretched through periods of doubt, on and off the ice, from the mountaintop of success to the concentric circles of losing. That's probably what makes it more meaningful that he will pass Dave Taylor's mark of 1,111 games that's stood since Taylor retired in 1994, a symbolic changing of the guard that Taylor is proud to see.
"I think it's about time," Taylor said. "I retired 25 years ago."
It's a neat through line that Taylor drafted Brown as Kings general manager in 2003. Taylor first saw Brown play for the Guelph Storm in the Ontario Hockey League. The bullish power was there, and it was scary, not just to Taylor.
Kings assistant general manager Michael Futa, then an assistant coach for the Oshawa Generals, also saw it up close in those games against a teenage Brown.
"It was frightening to watch, the timing of his body checks," Futa said. "He just hit like a tank. That was the one thing I noticed because he scored and he worked, but he hit so hard it was remarkable, and it was frightening.
"He had body-checking down to a timing, and he's such a strong, powerful guy, and he hit some guys in juniors, you were just hoping that, you know, to deliver last rites."
Taylor saw something beyond the physicality. He was impressed with Brown's character and work ethic. The former might have been partly shaped when Brown, from Ithaca, N.Y., was cut from a USA Hockey development camp team at 15 because he wasn't deemed among the best players in New York.
"Certainly, we thought a lot of him," Taylor said. "Even when we drafted him, we talked about him being the future captain of the L.A. Kings, just the way he carried himself, the way he competed, how professional he was, how he trained."
In a remarkably fruitful 2003 draft in which eventual Kings forwards Jeff Carter, Mike Richards and Ducks stalwarts Ryan Getzlaf and Corey Perry were taken in the first round, among others, Taylor picked Brown 13th. He likened him to Adam Deadmarsh and told reporters that the 18-year-old Brown might be good enough to play for the Kings right away.
Brown did, but the honeymoon quickly faded. It took him 17 games to score his first goal, and he suffered high ankle sprain injuries that limited him to 31 games. The next NHL season was nullified by a lockout, so the then-220-pound Brown played with the Manchester Monarchs, against NHL-caliber players who migrated to the minors — and became a near 30-goal scorer.
"I think it was probably one of the more important years of my career," Brown said. "I had a tough year my first year … and then that lockout came, and it just allowed me to get one year of pro hockey. I was playing 18 to 20 minutes a night. It was an elevated league at that point. It gave me that experience at the pro level."
Brown walked into a veteran-heavy room for his first few seasons with the Kings. Ian Laperriere and Mattias Norstrom were early influences. Another veteran, Luc Robitaille, was at the end of his Hall of Fame career at 39, and he remembers that Brown would do his talking on the ice.
"He was so quiet in the room," Robitaille said. "He would just sit quietly, but you could see him play like a tank.
"I still think he's a shy guy. But it's the way he played that's the reason that he became a captain, and then he really took it upon himself to be a great leader. He went out of his way to learn to express himself. He's always been a great quiet leader."
There was a reason behind that quietness beyond his reserved personality. Brown spoke with a lisp and was reportedly bullied by former teammate Sean Avery, creating an uncomfortable locker room, on top of a losing one.
By 2008, Avery was gone, but the losing culture wasn't. Brown and the Kings endured growing pains under coach Terry Murray. Brown was named captain and he always delivered candidly when taking the temperature of the room. Sometimes that fell directly on him in the form of trade rumors and, in the summer of 2016, the decision to remove his captain's 'C' and give it to Anze Kopitar.
Brown endured through those difficult times, and responded with some of the best hockey of his career. It's further endeared him to fans. When he was introduced for a season-ticket holder event at L.A. Live last August, Brown received a standing ovation.
If Taylor was the face of the franchise, Brown is the beating heart.
"If anybody should beat that record, it's Dustin Brown," Robitaille said.
While the Sedin hit stamped Brown into Kings' lore, it's easy to forget that he scored the only goal in that Game 3 against Vancouver. It's not easy to forget everything that led up to game No. 1,112.
"I think the older I get, you realize there's a lot more that goes into it than my hard work, preparation," Brown said. "It's so many factors — the fact that I've been able to stay here through some rough times. How many players can say that they have an opportunity to finish their career with one organization?
"It doesn't happen very often. It's probably a two-way street of me committing to being here and the Kings also standing behind me in some tough situations."
The Kings will honor Brown at home on Monday, in a ceremony with Taylor. A special poster will be given to fans, although the Sedin hit is picture perfect enough.
Sign up for our daily sports newsletter »
UP NEXT
AT VANCOUVER
When: Thursday, 7 p.m.
On the air: TV: FS West; Radio: iHeartRadio (LA Kings Audio Network).
Update: Former Kings winger Tanner Pearson has five goals in 14 games with Vancouver since he was traded, for the second time this season, from the Pittsburgh Penguins. Rookie Elias Pettersson has two goals and four points in three games against the Kings.
Twitter: @curtiszupke
---
Get the latest on L.A.'s teams in the daily Sports Report newsletter.
You may occasionally receive promotional content from the Los Angeles Times.