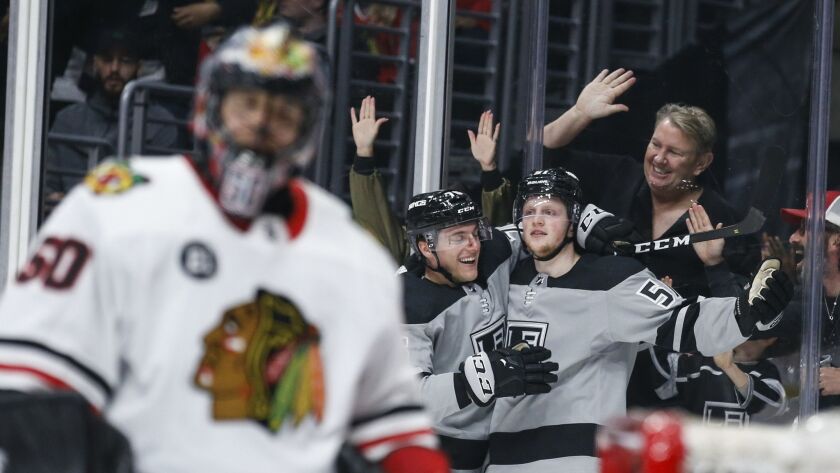 As the Ilya Kovalchuk saga turns, so do the legs of Austin Wagner.
The latter turned phenomenally fast midway through Saturday's game when Wagner shook up Staples Center with a terrific second-period goal in a 3-2 overtime win against the Chicago Blackhawks. Though the talk of the day began with veteran winger Kovalchuk again not playing, the chatter was about rookie winger Wagner playing like there's no tomorrow.
Wagner got the puck in transition from Jeff Carter and put two Chicago defenders behind him in a matter of a few strides before he beat goalie Corey Crawford with a high snap shot to tie the score 1-1 at the second intermission.
"He does it all the time, and when he does, it's a huge boost to the group, just to help out the top scorers on our team," Jack Campbell said. "That goal tonight was huge. I think it changed the game for us, and just gave us a ton of life."
It was Wagner's 12th goal in 58 games, which closely mirrors Kovalchuk's 14 goals in 60 games. Wagner said he's allowed himself to enjoy this season, but he frames in the bigger picture. In this case, it was a win because of Michael Amadio's score with 4:15 remaining in regulation on a snapped shot to the left side of the net, and Drew Doughty's winner on a slap shot on a four-on-three overtime power play to make the Kings 4-1-1 in their last six games.
"It's been fun, but we still have four games left," Wagner said. "I've just got to keep scoring, and hopefully you never know what might happen. I might be able to hit 15 [goals]. I'm just worried about the wins right now."
Campbell stopped 22 of 23 shots in the opening 40 minutes and helped kill three Chicago power plays. Chicago scored first on Alex DeBrincat's 41st goal, on a drive down the left side and a converted follow-up shot off the skate of Alec Martinez, and took a 2-1 lead on Erik Gustafsson's one-time shot from up top off a faceoff win just more than three minutes into the third period.
Kovalchuk sat out a sixth straight game and interim coach Willie Desjardins in the morning alluded to the Kings' 3-1-1 record in their prior five games without Kovalchuk when asked the primary reason for not playing the Russian winger.
"We're a team that, you look at results," Desjardins said. "You find ways to win. We've been winning a few games lately, so that's kind of what we look at."
Kovalchuk declined to comment Saturday morning through a team official, after he participated in the morning skate. He voiced his irritation on March 22, the day after he was a healthy scratch for the second time this season. Kovalchuk subsequently did not travel with the team on a three-game trip upon learning he wouldn't get playing time.
Desjardins said of Kovalchuk that "there's a good chance we'll see him pretty soon" and that he won't sit for the remaining four games of the season. Desjardins has used the same forward lineup for the last three games, even after an injury to winger Brendan Leipsic.
It's an awkward finish for the Kings to sit a player who makes $6.25 million annually and is signed for two more seasons.
"You always look at an organization, but externally, there's lots of things you can't control," Desjardins said. "I think I focus on the things I can. He's been out.It gives him a chance to skate with the group again. He won't be in tonight, but that doesn't rule him out coming up."
Sign up for our daily sports newsletter »
Twitter: @curtiszupke
---