What we learned from the Kings' 3-1 win over the Blackhawks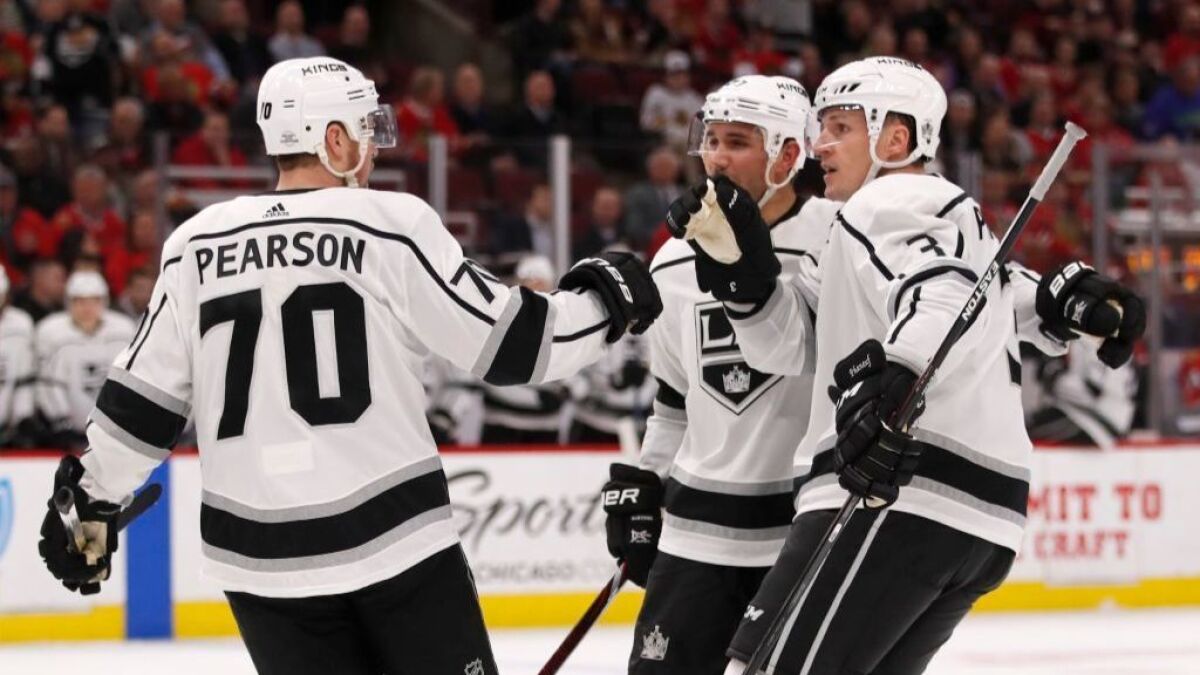 Reporting from CHICAGO —
Again, it wasn't a pretty finish. But again, the Kings walked out of the building with two points.
They were outplayed in the third period for the second straight game but managed a 3-1 win against the Chicago Blackhawks on Monday at United Center. It was balanced by one of their best opening periods of the season and, again, sustained by goalie Jonathan Quick.
Here's what we learned:
They won't criticize a win but …
These third periods are a bit concerning. The Kings were dominated by the Buffalo Sabres on Saturday, and Chicago played with the puck for most of the last half of the game Monday.
It's a disturbing trend in the backdrop of the Kings' third-period magic for most of this season. Andy Andreoff knows they have to clean it up.
"It's huge right now," Andreoff said. "These points are so crucial right now that we really need them … Every game counts. We started with a great first period and then we beared down in the third period. They were kind of putting some pressure on us. Quickie shut the door [for] us and everyone was kind of helping each other out. I think that's what works for us."
Tyler Toffoli and Tanner Pearson are due
Neither can buy a goal. Toffoli hit the crossbar in the opening minutes of the game and Pearson was stopped point blank by Anton Forsberg in the second period.
Secondary scoring is great to have, but so is primary scoring, and both players need to be more consistent in their contributions. Toffoli has 19 goals on the season but one goal in 17 games. Pearson is goal-less in 10 games.
"They're going to have to find a way to get on the scoresheet," Anze Kopitar said. "That's just the bottom line. But it's way, way easier said than done. I mean, I've been through that last year. And I know how it feels. I know those two care a lot. I sure hope not, but hopefully they're not thinking about it too much.
"Hopefully they'll get it going. I'm sure they will. Those guys are more of goal scorers than anyone else. They see a few go in, the floodgates are going to open."
These are not the dynasty Blackhawks
The ineptness and lack of energy from Chicago was disturbing because it is a team known for execution, possession and a tremendous transition game, often fed by long stretch passes.
There were three plays in the first period on which the Kings just flat out took the puck from the Blackhawks, who did come alive the rest of the game. But it's clear that Chicago is entering a new era. They do not have the depth or skill they had in the past.
Take the defensive pairings. Duncan Keith and Brent Seabrook are playing with Jordan Oesterle and Carl Dahlstrom, respectively, who have a combined 64 games of NHL experience.
The Kings can empathize.
Under the salary cap, "you lose players," Dustin Brown explained. "How the league is now, you've got to draft well, really, to stay on top. You go through ebbs and flows with teams. We haven't been very good the last few years and we're trying to get back and give ourselves a chance, and the Blackhawks are in the same boat."
---
Get the latest on L.A.'s teams in the daily Sports Report newsletter.
You may occasionally receive promotional content from the Los Angeles Times.