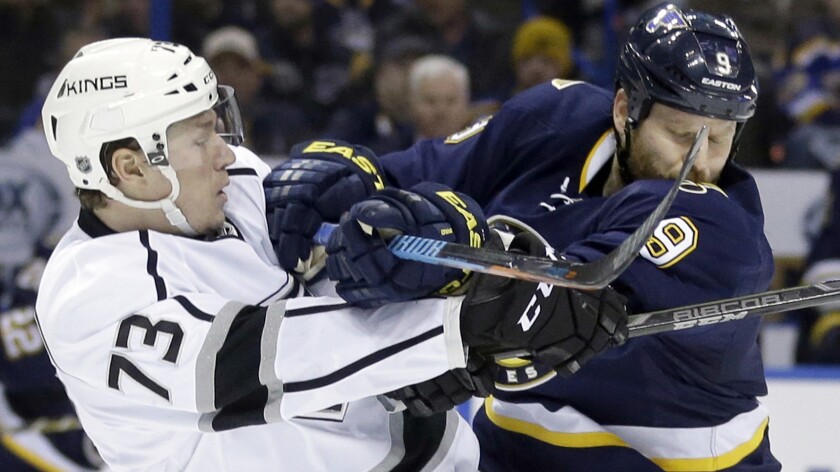 Reporting from St. Louis —
They were less than half a period from a more acceptable ending to what had been a troubling trip.
More acceptable turned truly awful for the Kings. It took only two minutes and 30 seconds to fall behind by two goals after holding a one-goal lead.
St. Louis scored three times in that third-period stretch, twice on the power play, to blow past the Kings with a surge of offense and went on to a 5-2 victory Tuesday night. In all, the Blues scored five unanswered goals.
Marian Gaborik scored twice for the Kings — his sixth and seventh goals of the season — but they had a season-low one shot on goal in the third period.
Gifted youngster Vladimir Tarasenko led the Blues with three goals and added an assist for a four-point night. It was his second career hat trick.
His third goal came via an empty-netter with 1:24 remaining after the Kings pulled goaltender Jonathan Quick for an extra attacker.
Some of the fans at Scottrade Center celebrated by tossing their hats on the ice to celebrate the hat trick.
They lost their hats. You might say the Kings lost their heads.
It was the first time the Kings have lost in regulation when they led after two periods this season. They usually show veteran poise and intelligence in the late stages. Even before the scrambling and the loss of discipline in the third, they started to stall offensively.
"They got one and a little momentum, then they got another one," Kings defenseman Jake Muzzin said. "We have the puck and we have to make plays with it and we don't and take penalties and they capitalize on the power play.
"We just have to be better on the road in the third period."
Their lone shot on goal in the third, by Jeff Carter, did not come until there was 3:47 remaining.
The third-period collapse started when Kings captain Dustin Brown took a high-sticking penalty at 10:35 and defenseman Robyn Regehr followed with a hooking penalty shortly thereafter, giving the Blues a two-man advantage for 1:32.
St. Louis didn't need that much time to capitalize as defenseman Kevin Shattenkirk's shot went off the stick blade of Kings defenseman Drew Doughty and then Blues forward Jaden Schwartz at 11:20 to make it, 2-2.
The Blues got another goal, still on the power play, by Tarasenko, at 13:00 and then scored 50 seconds later. That came off a three-on-two rush, finished off by Alex Steen for a 4-2 lead. The odd-man rush had started off a play deep in the other end when Gaborik was trying to pass to Anze Kopitar.
"It's one where I think we've got to chalk it up to ourselves," Kopitar said. "Going into the third period, being up 2-1, we've been known to close these games out. Especially on the road, you've got to make an extra effort to make that happen."
It was a tough blow for the Kings, who have won once in their last six games.
"The mood is definitely not great because this is a sour one for sure," Kopitar said. "We've got to put this one behind us. There's a new one on Thursday and we've got to make sure we're ready for that one."
Kings Coach Darryl Sutter answered a question about third-period leads and took it to an interesting place, referencing Quick. The Kings have been good at protecting the lead in the third.
"It's not the same team. It's quite a bit different team on the back end," Sutter said. "We've said it all along. We need great goaltending."
He rejected the momentum notion after the five-on-three goal.
"I really didn't see it like that," Sutter said. "We've got to get a save in there somewhere. It's frustrating."
Twitter: @reallisa
---