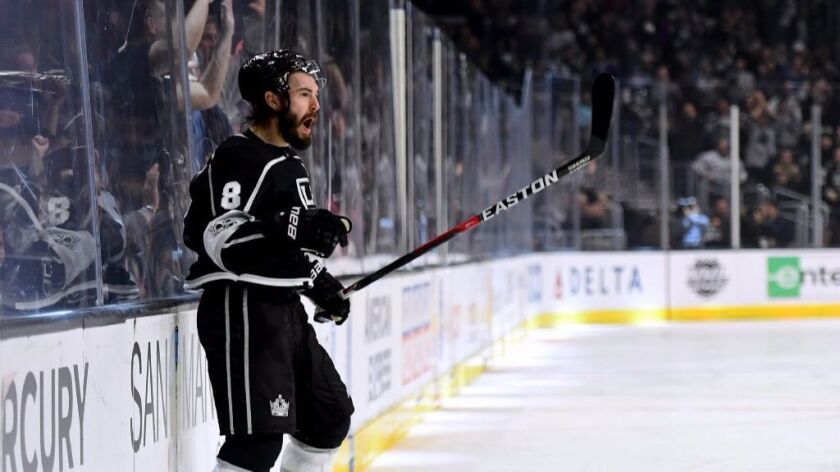 Kings coach John Stevens might want to air the latest episode of "60 Minutes" during his next film session.
The ticking clock in the opening of the show would be a swell reminder, because the description used over and over by the Kings during their four-game losing streak is that they haven't played a full 60-minute game. They've lost to skilled teams (Tampa Bay Lightning), defensive teams (San Jose Sharks and Boston Bruins) and below-average teams (Vancouver Canucks) with lapses surrounded by bursts of effectiveness.
The damage is an 0-4 start in a five-game run at home following a 2-1 loss to the Boston Bruins on Thursday.
Here's what we learned:
Execution is an issue. Boston's first goal came off a faceoff win, but also because the Bruins' David Pastrnak did a basketball-like clear-out to take a defender with him, while Charlie McAvoy went to the net untouched.
The second goal came just after a penalty expired and the Kings couldn't get the puck out.
"I just didn't think we were winning enough battles along the wall in either zone," Stevens said. "Pucks that got in our zone were getting above the goal line, and pucks that were getting to their goal line were not. To me, that was the difference in the hockey game. And then you get a faceoff play that ends up in your net. And a penalty that we got killed that we didn't clear the puck. Those are the pucks that end up in your net."
Part of this is mental. The Kings sweated the details during their 11-2-2 start. That meant having their forecheck feed their offense and moving the puck swiftly out of their zone.
It's gotten away from them, as have eight points on home ice. They've taken to the physical part of the game — Christian Folin's hit on Danton Heinen was a highlight — but consistency requires change between the ears.
"It starts with checking and competing," Jake Muzzin said. "We've had good starts. We've let them slip. We've started poorly and battled back. I think the big focus for us to come out with that urgency and that desperation for a full 60."
Jussi Jokinen earned a closer look. He started on the fourth line but was promoted to the second line, in place of Tanner Pearson in the second half of the game, and played on the first power play unit in his Kings debut. Jokinen also made a pretty assist on Drew Doughty's goal, and induced Brandon Carlo into an interference penalty.
In other words, the 34-year-old was noticeable.
"I felt good," Jokinen said. "Some key players on the power play were able to generate some chances. … I think the power play can still be better. Myself, too. I made some good plays, but some I need to execute better."
Twitter: @curtiszupke
---