Takeaways from Kings' 4-2 loss to Boston Bruins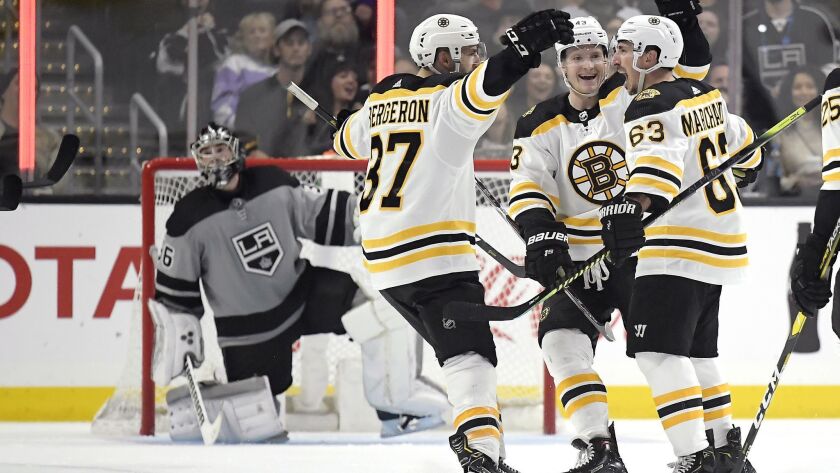 The good news for the Kings is that they won't have to play the Boston Bruins the rest of the season. Twice in one week was enough against a team that has the look of a contender.
It was also enough with arguably their shallowest defensive lineup to date because of injuries to Alec Martinez and Sean Walker. Still, the Kings gave themselves a chance to win late before they stumbled for the second straight game, a 4-2 loss that was representative of their last-place standing.
But there was plenty going on, before, during and after the game at Staples Center.
Here's what we learned:
Matt Roy gathered himself well. He got noticed in the wrong way in his NHL debut when he took an interference penalty for impeding Brad Marchand behind the net.
But Roy seemed to be steady the rest of the way. He played 11 minutes, 32 seconds, mostly with Dion Phaneuf.
"He showed some confidence, which was good," coach Willie Desjardins said. "It's always tough in your first game. You're excited. [There is] lots going on, but I thought he handled it well."
Roy walked into a unique debut with the big stage of Staples Center, which appeared to be half-full with rabid Bruins fans.
"When I talked to my dad, he told me just to take a moment, and just look where I'm at and appreciate everything, because you only get one first game," Roy said. "I did that, and it was great."
Anze Kopitar showed emotion. It's usually Drew Doughty or Jonathan Quick who smashes their stick over the crossbar, but Kopitar did so after Charlie McAvoy's shot glanced off his skate and into the net for the game-winning goal.
The captain is typically sullen after losses but this time the frustration was clear in a Kings' dressing room that also saw Jack Campbell visibly irritated. Asked if it was the cumulative effect of the season or anger at himself, Kopitar said, "All of the above."
The emergency goalie was ready. Steve Jakiel said he got a phone call from Jeff Solomon, Kings vice president of hockey operations, on his way to the arena.
"He told me just to make sure that I was ready, because [Jonathan] Quick wasn't feeling great," Jakiel said in an interview with Fox Sports West.
Quick was ill to the point where he was sent home at the start of the second period, according to a team official. That left Jakiel to back up Campbell.
A finance manager in his day job, Jakiel, 32, is a former college goalie who won the Kings' emergency goalie job in a tryout. He is required to be available in scenarios such as Saturday.
Jakiel warmed up on the stationary bike and watched the game from the NBA visitors' room at Staples Center. He said when he warmed up he felt more comfortable, however surreal the situation.
"It was exciting," Jakiel said. "It kind of felt like I was back into it for a while and just getting to see [general manager] Rob Blake come in and say, 'Hey, make sure you're ready,' it's pretty cool."
Emergency goalies are always great stories. Scott Foster, an accountant, became famous last season when he was inserted in a game for the Chicago Blackhawks and preserved a win against the Winnipeg Jets.
Jakiel didn't get into a game, but said "it ended up being a pretty memorable night."
Sign up for our daily sports newsletter »
Twitter: @curtiszupke
---
Get the latest on L.A.'s teams in the daily Sports Report newsletter.
You may occasionally receive promotional content from the Los Angeles Times.