Canucks storm past Kings in third period, 4-1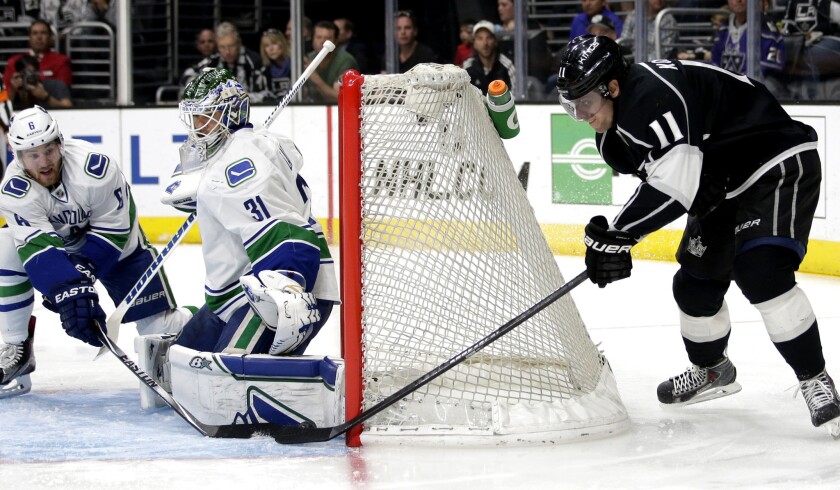 Their loss of discipline was swift as the Kings unraveled in the third period against the Vancouver Canucks and just as quickly they lost ground in the Western Conference playoff race.
Two potential points vanished at Staples Center on Saturday afternoon in a heated affair that mirrored a playoff game. Vancouver scored four unanswered goals in beating the Kings, 4-1, the first time the Canucks have defeated them this season. The lone Kings goal came from Marian Gaborik in the second period.
Of the Canucks' three third-period goals, one represented a true turning point when Radim Vrbata scored five-on-three at 4:31 to put Vancouver ahead for good.
That was set up when, in the span of 1:03, the Kings lost their usual composure: Defenseman Drew Doughty took a slashing penalty against Derek Dorsett and forward Tyler Toffoli received a five-minute major and automatic game misconduct for boarding against Alex Burrows.
That cost the Kings when Vrbata scored 26 seconds later. Vancouver would withstand the Kings' late push and scored two empty-netters in the final minute, by Daniel Sedin and Bo Horvat, the latter a short-handed goal.
Burrows was slow to leave the ice after getting cross-checked into the boards, but he later returned to the game. Toffoli spoke about the cause and effect of the major.
"Yeah, it sucks," he said. "I wish it didn't happen. I wish we won the game. It feels like it's on my shoulders right now and it's not a good feeling."
He was short on specifics of the play.
"I haven't seen the replay," Toffoli said. "I don't really know what happened. It all happened pretty quickly. I haven't seen anything yet. I don't really remember what happened.
"The way everything turned out … I came into the room and I haven't really thought about it too much."
Said Kings captain Dustin Brown: "They got a five-on-three goal, a big goal for them and we couldn't find a way to climb back."
A side note was a feisty moment or two between Kings goalie Jonathan Quick and the Canucks' Henrik Sedin in the first period. Adding to the drama, Vancouver goalie Eddie Lack skated to center ice, and he later told reporters that he would have accepted Quick's fight challenge.
But …
"I wanted to go up there and show myself a bit," Lack said. "He's probably a little bit meaner of a guy than I am."
The out-of-town scoreboard, meanwhile, didn't help the Kings, either. Minnesota, which holds the first wild-card spot, beat St. Louis and leads the Kings by five points. The Kings are four points behind the second-place Canucks in the Pacific Division and trail third-place Calgary by two points as the Flames picked up a point with an overtime loss to Columbus.Winnipeg, which holds the second wild-card spot, defeated Washington, and leads the Kings by four points.
"The bottom line is that you can't win with just one goal," said Gaborik, who gave the Kings a 1-0 lead when he scored on the power play 24 seconds into the second period. Nick Bonino tied it later in the period.
Rookies Nick Shore and Andy Andreoff have combined for one goal in 40 games and Kings Coach Darryl Sutter addressed the shortcoming at center. "You've got to produce," Sutter said. "We've got guys who have played 20-something games, and we're into the stretch part and they've got one or no goals."
Kings center Jarret Stoll, who has missed four games, has started riding the bike again, following protocol required after suspected head injuries. Kings General Manager Dean Lombardi told Times columnist Helene Elliott that center Mike Richards now could be joining the Kings in New Jersey for the start of their five-game trip.
Richards, who was sent to the minors after clearing waivers shortly after the All-Star break, has been working out in Los Angeles. He played 16 games with Manchester of the American Hockey League and in his favor is that Sutter has immense trust in veterans.
lisa.dillman@latimes.com
---
Get the latest on L.A.'s teams in the daily Sports Report newsletter.
You may occasionally receive promotional content from the Los Angeles Times.