Kings get to hang out with one of their biggest little fans while racing to fight hydrocephalus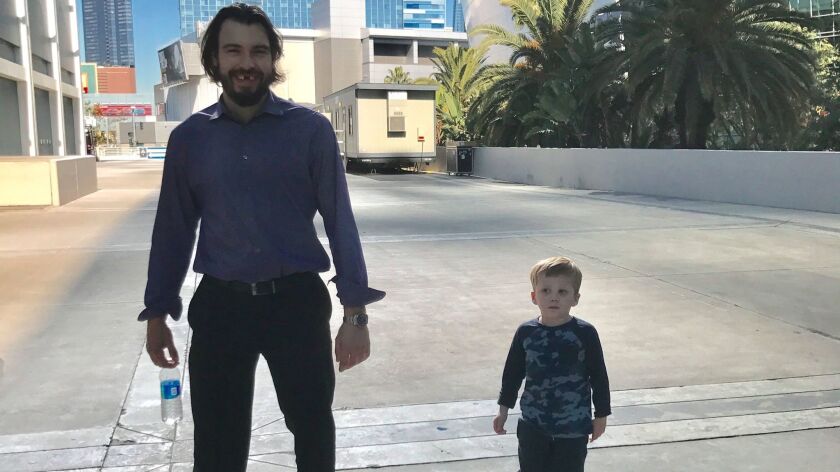 Charlie Pope might as well be an unofficial mascot for the Kings.
The players know him and high-five him when he's with his mother, Jennifer, the team's vice president of community relations. Charlie, 5, is a huge hockey fan, and this time of year is like Christmas because he gets to see the Kings at their annual 5K/10K race in Redondo Beach on Saturday.
"All he does is play hockey," Pope said. "He loves Jonathan [Quick]. Also Tyler [Toffoli]. He has pictures of them in his room. He knows all of their names."
The event raises money for the Hydrocephalus Assn. The Kings have held it for several years to fight the condition, which is characterized by an abnormal accumulation of cerebrospinal fluid within cavities in the brain.
The imbalance of fluid causes ventricles in the brain to enlarge and the pressure in the head to increase. The condition is the most common reason for brain surgery in children, according to the association.
Charlie was diagnosed with hydrocephalus when he was 6 months old and has undergone multiple surgeries. He still needs physical therapy, but Pope said he is now a normal, happy, healthy child who will soon start kindergarten, something she didn't think was possible earlier in his life.
Pope has become an outspoken voice for hydrocephalus education, and Saturday's race is an avenue to raise awareness. About 2,000 runners are expected for a cause that Pope said is gaining steam in terms of funding.
"That's why the dollars and the research [help]," Pope said. "They are making great strides."
Other NHL teams are getting involved, too. The Ducks have worn Hydrocephalus Assn. jerseys in warmups in partnership with the Kings, who are also working with the Washington Capitals on a possible fundraising event, Pope said.
Most Kings players attend the race. Many live in the South Bay, and some, like Dustin Brown, are also parents of young children, so they can relate to Charlie.
"They all know him," said Pope, who also has a daughter, Sadie, 2. "They're like his adopted uncles."
Information on the race can be found online. Registration includes a preseason ticket, T-shirt and a medal.
Twitter: @curtiszupke
---
Get the latest on L.A.'s teams in the daily Sports Report newsletter.
You may occasionally receive promotional content from the Los Angeles Times.