Kings counting on new coach John Stevens to ease scoring woes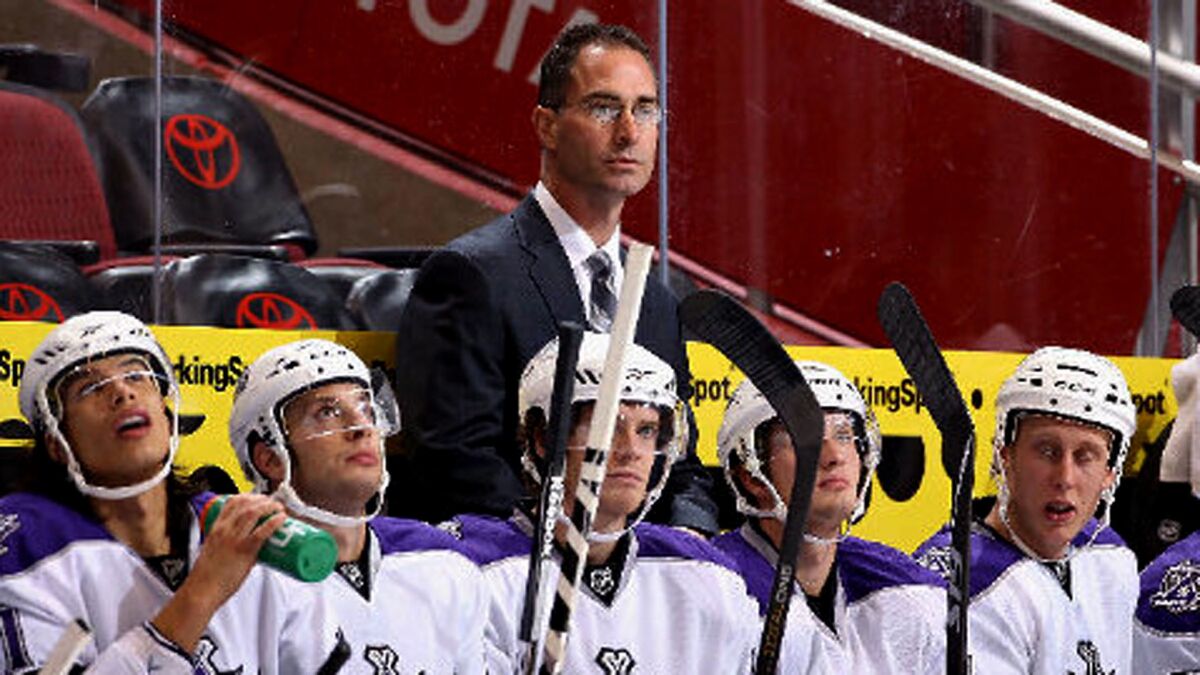 Show me the goals. Show me the creativity the Kings lacked while Darryl Sutter insisted on coaching a heavy, physical game in defiance of the NHL's trend toward speed and skill.
If John Stevens can bring a fresh approach to a team that had become physically battered and mentally stale, if he can coax more scoring out of them by loosening the reins without compromising their defensive excellence, then he won't be just the safe pick to replace Sutter.
If Stevens can awaken their dormant scoring skills and be the new voice they need, then he will be the right pick for a team that was stuck in mud under Sutter. With the right roster changes, they might have another Stanley Cup run left in them.
He can't bring more of the same stifling philosophy if the Kings expect to compete for the Cup again after missing the playoffs two of the past three seasons, a mighty fall from their historic high point of Cup wins in 2012 and 2014.
Stevens, 50, will be introduced as the Kings' 27th head coach at a news conference on Monday. It's believed his contract is for three years, though there might be options involved.
An assistant coach for four seasons, associate head coach the past three seasons and interim coach for four games in 2011, Stevens knows the Kings' personnel and what they're capable of doing. Or, in the case of their offense, what they weren't doing. He was the only person to go through extensive interviews for the head coaching job. ESPN.com reported the Kings have talked to University of Denver coach Jim Montgomery about an assistant position.
With Stevens overseeing their defense and penalty killing, the Kings finished in the top 10 in fewest goals allowed seven times and among the top 10 penalty-killing teams four times. In addition, Stevens pushed a pudgy, immature Drew Doughty to shape up and make the most of his abundant talents. Doughty won the Norris trophy in 2016 and has become a leader who carried a bigger load with young defense partners last season than most people realized.
OK, Stevens has the defensive side of things under control. But with increased scoring a priority — a point made repeatedly by new general manager Rob Blake at his first news conference — is Stevens the right coach for this team at this time?
Luc Robitaille, appointed the Kings' president and head of hockey operations in the purge that included the firing of Sutter and general manager Dean Lombardi, said Stevens made a compelling case for how he would coach both aspects of the game.
"Rob went through an intensive week of discussion with John about his vision for the way we can play. We do not want to compromise our defensive philosophy but at the same time we need to create an approach to open up our play," Robitaille told The Times. "John has some innovative and creative ideas in how he would do this, and this gave Rob the confidence to move forward with him as our coach."
In a statement released by the Kings, Blake said he focused on Stevens' plans to "implement a strategy to activate our players offensively while maintaining the defensive philosophies we have come to be known for." Blake added, "I am confident that we are both in agreement on how that can be executed. With that said, we believe John has the ideal qualities to lead our hockey club. His wide array of coaching experience, including success as an NHL head coach and his inherent knowledge of our players and those in our development system, is very appealing to us. We are confident he is the best person to lead our hockey club forward."
A glance at Stevens' coaching record with the Philadelphia Flyers shows he's not allergic to scoring. He succeeded Ken Hitchcock nine games into the 2006-07 season and the team finished with 214 goals scored and 303 against. Those numbers improved to 248 goals for and 233 against in 2007-08 and a trip to the East final. The Flyers scored 264 goals and allowed 238 in 2008-09 before losing in the first round to the eventual champion Pittsburgh Penguins. Stevens was fired 25 games into the 2009-10 season after the Flyers had lost six of seven games, but it soon became public that goaltender Ray Emery had been playing with an injury that required surgery, undermining the team's efforts.
Stevens will hire assistants to replace himself and to replace Davis Payne, who was relieved of his duties. An offense-minded aide would fit in nicely. And as noted here before, goaltending coach Bill Ranford will stay, and that's good.
It's impossible to judge this first major decision by Blake and Robitaille until the Kings take to the ice in September, but players were ready for a change.
"It certainly won't hurt us to score some more goals," center Anze Kopitar said after Sutter and Lombardi were fired. Doughty agreed. "I know I can put up more numbers. I know all of us can put up more numbers," he said. "So I'm excited to hopefully get that more offensive thing going."
Show us the goals. Show us the creativity. Show us the playoffs.
Follow Helene Elliott on Twitter @helenenothelen
---
Get the latest on L.A.'s teams in the daily Sports Report newsletter.
You may occasionally receive promotional content from the Los Angeles Times.