Kings give up a short-handed goal and power-play goal to fall to the Coyotes 2-1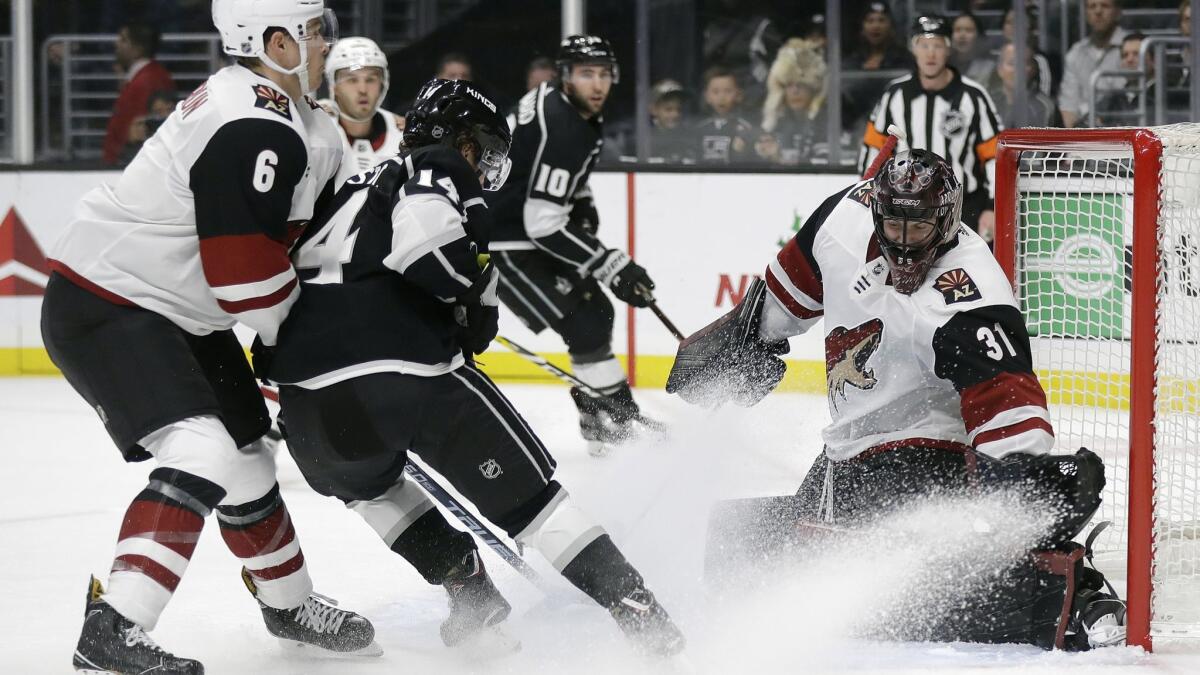 A round of laughs could be heard inside Staples Center when the replay was shown on the video board.
Jonathan Quick, known to throw an elbow or punch to those who dare crowd his net area, gave Arizona Coyotes center Nick Cousins a shove after Cousins held him behind the goal in the first period Tuesday. Quick was assessed a roughing penalty that the Kings killed off, and all could be shrugged off.
Then the game settled in and the Kings' special teams morphed the laughter into silence. They allowed a short-handed goal and a power-play goal in a 2-1 loss despite a late push.
Alec Martinez converted a deft pass by Anze Kopitar with 5:45 remaining, but it was the only goal the Kings got by 6-foot-6 rookie goalie Adin Hill. They put 26 shots on him, but "a lot of it came from late in the game," Kopitar said. "We've got to play a lot more minutes like we did the last five to seven minutes. You can tell there was desperation there.
"We've got to play like that for 60 minutes."
The Kings almost tied it in the final minute. Dustin Brown actually beat Hill, but the goal was waved off because Brown knocked the puck down with a high stick before putting it in the net.
Opposite Hill was Quick. He lost his stick on Arizona's power-play goal in the second period in a brush with Alex Galchenyuk, but Quick still saw Nick Schmaltz's shot cleanly from the right side at 5:56. Schmaltz, a recent trade addition, also created the power play when Jake Muzzin slashed him.
That was the 22nd goal given up by the Kings' 28th-ranked penalty-killing unit, which yielded 39 goals all of last season and finished No. 1.
Arizona owns the current No. 1 unit, and it got the game's first goal with its NHL-leading 11th short-handed score.
Lawson Crouse broke in on Quick and flicked the puck over his right side late in the first period, with Brad Richardson serving a slashing penalty and the Kings' second power-play unit chasing the rush.
Crouse is a fourth-line left wing, which is where Brendan Leipsic made his debut for the Kings following his arrival with fellow waiver-wire acquisition Nikita Scherbak. They are depth forwards who might be needed more than thought because Trevor Lewis underwent surgery to stabilize his fractured foot and will be out four to five more weeks from Tuesday, according to the team.
Leipsic and Scherbak are on expiring contracts, but both have speed and skill to make an impression. Scherbak was activated from the injured list but was waiting to hear on his immigration status.
Leipsic, a former 120-point scorer in junior hockey, is with his fifth NHL team.
He had a good look from the right side but couldn't get it past Hill.
"He's a big guy," Leipsic said. "It was at the end of a shift. I ran out of some gas. It was a good opportunity. You like to see those ones go in, or maybe create a rebound off that. Yeah, he played well. I think we could have made it a little bit harder on him. But he's a big guy. It's hard to screen him sometimes."
Scherbak starry-eyed
Scherbak, from Russia, remembers visiting here as a 10-year-old with his youth hockey team and being mesmerized.
"For me, back then, going to Disneyland, I was like, 'Oh my God. This is a dream. California dreaming,'" Scherbak said. "Since then, I've never been [back]. This is my legitimate first time around … I've seen all the posters in the streets [with] LeBron James. Like I said, [it's a] dream. For me, I'm living the dream right now. It's unbelievable. I'm enjoying every second."
A first-round draft pick by the Montreal Canadiens, Scherbak, 22, was stunned by his departure. Montreal coach Claude Julien told reporters that Scherbak was sent to the minors to find his game but also that Montreal wanted to keep him.
"It's a fresh start and I'm excited because I have so many people to prove wrong again," Scherbak said.
He is jazzed to meet boyhood idol Ilya Kovalchuk. Scherbak saw Kovalchuk in a charity game in Moscow and was among the kids asking for his stick.
"I remember I got somebody's stick but it was [an Alex] Ovechkin model at that time," Scherbak said. "I was freaking out. The first couple of games I was sleeping with it.
"I'm really excited to meet him. I don't know how it's going to go. Hopefully not too awkward. But I heard he's a great guy, so I think he's going to help me a little bit."
Twitter: @curtiszupke
Get the latest on L.A.'s teams in the daily Sports Report newsletter.
You may occasionally receive promotional content from the Los Angeles Times.