There might come a day when Gabe Vilardi walks into the Kings' dressing room as a man among boys.
On this day, though, Vilardi, was a wide-eyed boy wonder when he toured the Kings' practice facility in El Segundo.
"I saw Jeff Carter," he said of the Kings' all-star center. "It's crazy. I grew up idolizing this guy."
Vilardi, 17, had never been to California prior to the Kings selecting him 11th in last month's NHL draft. The beach was fairly new to him, as were the surrounding sights that lure a kid from Kingston, Canada.
"Obviously, since I'm here, I want to go to Hollywood," he said.
Vilardi quickly put his focus back on hockey, but the spotlight beckons for him and Jaret Anderson-Dolan as they head a Kings draft class that represents a welcome injection of skill into their system.
"I always have a soft spot for L.A.," said Warren Rychel, a former Kings player and general manager of Vilardi's junior team, the Windsor Spitfires.
"It's good to see it happen."
Rychel praised the Kings' scouting department before he said jokingly about Vilardi, "Just let me have him for one more year."
The Kings have not taken a player this high in the draft since 2009. They have history on their side with No.11 picks, having taken franchise center Anze Kopitar 11th in 2005 and goalie Jonathan Bernier 11th in 2006.
That may be a lot of pressure for someone not yet old enough to vote, but the potential is exciting. Vilardi is projected as a smart, possession forward with size (6-foot-3, 203 pounds) who can make plays off the rush and the cycle. Rychel said he didn't need to see much of the then-15-year-old Vilardi when he scouted him.
"My first trip to Ottawa, he stuck right out to me in his strength and ability to handle the puck down low," Rychel said of his visit to see Vilardi play. "I knew this was the guy."
Vilardi hasn't even skated in a Kings jersey yet because he's recovering from injury, so he has a first-things-first outlook.
"I don't want to look too far ahead here," Vilardi said. "I just want to enjoy this camp and learn from these guys. They're all so smart and they teach everything. I'm really happy here, just learning what I can and trying to put that in my own game. I've got to continue to work hard and get better, and hopefully in the future I can repay them for having the confidence in me."
Chosen in the second round, Anderson-Dolan is not as touted as Vilardi but became a big story at the draft because of his family background: He was raised by two mothers, Fran and Nancy, in Calgary, Canada.
"I don't think any of us expected it to blow up like it did," Anderson-Dolan said. "At the same time, I think it's really positive that we're all able to get that recognition out there and kind of voice our opinions. They've had a huge impact on my career, and I'm really to proud to have them and thankful to have them."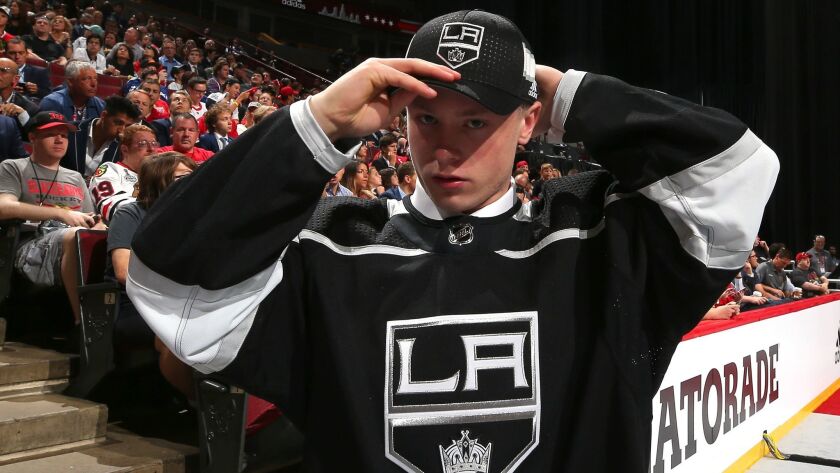 A two-way forward, he has been likened to Logan Couture of the San Jose Sharks. He was a point-per-game player, with only 22 penalty minutes in 72 games for the Spokane Chiefs of the Western Hockey League.
His coach there was Don Nachbaur, hired last month as a Kings assistant coach. Nachbaur watched Anderson-Dolan — or "AD," as he calls him — mature as a player and said his work ethic stood out.
"He's one of those kids that I never had to direct to the weight room," Nachbaur said. "I never had to ask to get on a bike or stretch. I never had to worry about him off the ice. He's got some real good habits. The bottom line is he's a real good person."
Nachbaur said he never observed any teasing of Anderson-Dolan about his parents. He took a written vote for team captain and Anderson-Dolan won out.
"Within our locker room, I think a lot of kids looked up to him — who he was and what he represented and how proud he was of that," Nachbaur said.
Anderson-Dolan's baby face belies a mature, well-spoken demeanor not common among teenagers under that kind of microscope. It's no surprise that he said he admires Pittsburgh Penguins star Sidney Crosby, much for how Crosby conducts himself off the ice. Anderson-Dolan is comfortable and proud of the surname that stretches across the back of his jersey.
"I think for me, the way I was raised, it translates to the type of player I am," he said. "Fran is a leader. She played hockey. She's a leader on most teams she played for. I learned a lot about leadership from her. And then Nancy works really hard, so I consider myself a hardworking, two-way forward who will do anything to win. I learned some traits from them, and that kind of shaped the hockey player I am today."
Unlike Vilardi, Anderson-Dolan's draft experience became more real last week when he actually donned Kings gear and skated with fellow prospects. But, like Vilardi, he sees the bigger picture.
"The end goal is to put on the real jersey, not just the practice jersey," he said.
---