Ducks' 4-3 win over Kings in Game 5 marks the dawn of a new ice edge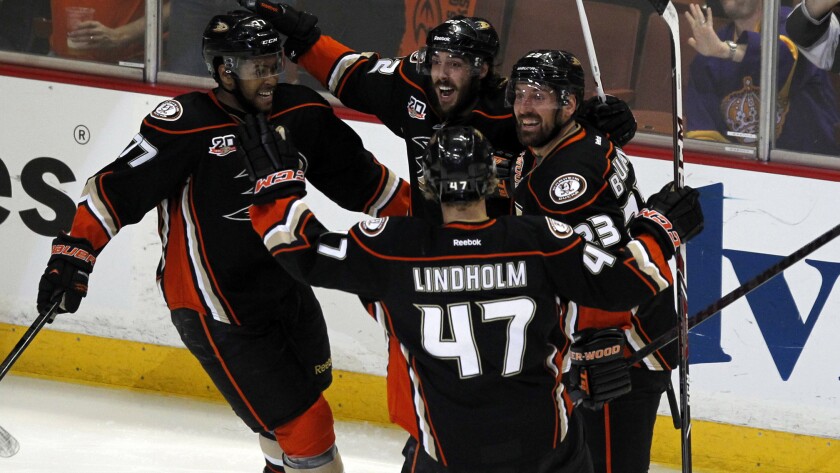 John Gibson made it sound so simple.
"We knew they were capable of coming back. We just had to get the job done and find a way," the Ducks' rookie goalie said after his team stood up to a final, furious Kings rally Monday night at Honda Center.
The Ducks and their 20-year-old goaltender hung on for a 4-3 Game 5 victory — the first win by a home team in hockey's freeway series — to take a three-games-to-two lead in the Western Conference semifinals, with a chance to clinch Wednesday night at Staples Center.
Behind Gibson's 39 saves and two goals from forward Devante Smith-Pelly, another late-season minor league call-up, the Ducks burned off the final 5 minutes 48 seconds after Kings forward Marian Gaborik scored his second goal of the game and eighth of the postseason.
Ducks Coach Bruce Boudreau and some of his players said they expect even more intensity in Los Angeles.
"Toughest job our team's ever had," Boudreau said.
"So strong and confident, with a lot of character . . . they just don't give up," Ducks forward Andrew Cogliano said of the Kings.
That said, the Ducks didn't blow the lead as they did in losing Game 1 in Anaheim, and they flexed offensive muscle at will when they had to in building a three-goal lead in the second period.
"We faced a lot of their best punches," Cogliano said.
Ducks center Nick Bonino scored his fourth playoff goal 2:15 into the game to give Anaheim a 1-0 lead.
The Kings answered with their first goal in 69 minutes 43 seconds when forward Trevor Lewis scored at 9:12 of the first.
Then the Ducks erupted for three goals in the first 8:23 of the second, threatening to turn it into a rout.
Smith-Pelly's first goal made it 2-1; he was credited for getting a toe on a shot by center Mathieu Perreault, who missed Game 4 with a lower-body injury. With the Kings' Justin Williams in the penalty box after a hooking call, Ducks forward Teemu Selanne slid a pass through the crease to set up the goal that beat Kings goalie Jonathan Quick.
Just 1:23 later, Smith-Pelly, 21, did more heavy lifting. Center Ryan Getzlaf swiped the puck from Kings defenseman Alec Martinez and passed it to the rookie, who deked Quick, beating him with a backhanded flip for his fifth postseason goal and third in two games.
Quick, who was replaced in Game 4 after going down 2-0 in the first period, soon found himself trailing 4-1, the Ducks scoring on their 17th shot of the game when forward Jakob Silfverberg rebounded a Cogliano shot off Quick's pads.
A roar of "Beat L.A.!" rang in Anaheim.
Minutes after Kings defenseman Drew Doughty shoved Smith-Pelly from behind, Smith-Pelly smacked Doughty in the face with a high stick, drawing a four-minute double-minor penalty that Doughty helped sell by showing the official that the underside of his lip was bleeding.
Game 1 hero Gaborik pulled L.A. to within 4-2 with a point-blank shot on net with 1:18 left in the second.
"That third period . . . I think we sold a lot of season tickets for next year," Selanne said. "We've got to learn from this."
But Gibson then stopped a Gaborik backhand early in the third, and after Gaborik made it 4-3 with a deflection that bounced off Ducks defenseman Sami Vatanen's skate, the goalie made a pad save on Dustin Brown and extended his right foot to deflect another Kings shot.
Gibson is now 2-0 in the playoffs, including his 28-save shutout win in Game 4.
"He's the best goalie I've ever seen," Kings Coach Darryl Sutter said afterward, sarcastically, sending a message for Game 6. "A lot of pressure on him, though."
---
Get the latest on L.A.'s teams in the daily Sports Report newsletter.
You may occasionally receive promotional content from the Los Angeles Times.