Carl Grundstrom's second goal in his second game is the difference for Kings in victory over Ducks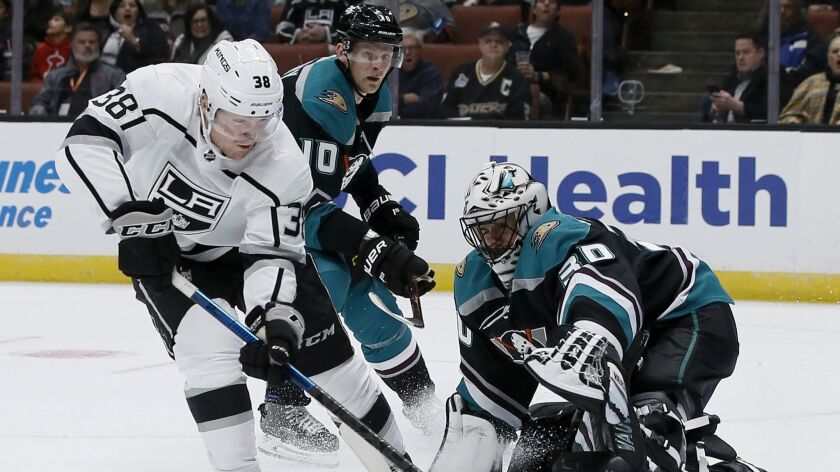 The thought of Jack Hughes in a Kings uniform might dance through the heads of Kings' fans this time of year, but Carl Grundstrom dancing around defenders isn't a bad reality.
Grundstrom was one of six rookies played by the Kings and Ducks combined on Sunday as the two worst teams in the Western Conference resumed their rivalry, which could be seen as a competition for selecting projected top draft pick Hughes in June.
And it was Grundstrom who continued to shine when he became the second Kings player to score in each of his first two NHL games, in a 3-2 win at Honda Center. Grundstrom's feat was triggered on consecutive nights, and he concurred his adrenaline is still flowing.
"Pretty much, of course," Grundstrom said. "I've probably got to settle down after a while."
Grundstrom continued to click with center Adrian Kempe, who carried the puck to the far right side and laid out a pass that Grundstrom backhanded past Ducks goalie Ryan Miller in the first period for the winner.
The Kings won for only the second time in 15 games, while the Ducks regressed after they got it to 3-2 in the third period on Jakob Silfverberg's goal. Kyle Clifford, who contributed his career-best eighth goal, playfully conjured up an old Darryl Sutter phrase when asked about grinding out the win.
"Classic Kings' hockey, 3-2," Clifford said.
The Kings' three goals in the opening 17 minutes were as many as they scored in the previous three games combined. Clifford scored with a shot under Miller's left arm. Dustin Brown scored a rare goal away from the net area when his shot from above the circles made it through for the game's first goal.
It worked out in the end after Kings coach Willie Desjardins went with a wonky 11-forward, seven-defensemen lineup with enforcer Kurtis MacDermid back in the lineup, while Brendan Leipsic was scratched for the first time since Leipsic joined the team as a waiver pickup in December.
Desjardins before the game cited Leipsic's play in the defensive zone but also said it was a tough decision. Leipsic earlier in the week said he thought he was building a case for a job. He has six goals and 21 assists in 58 games.
"I've been given a nice opportunity since I came here," Leipsic said. "I feel like I've carved out a bit of a niche for myself in the league and I'm just trying to finish these [13] games strong and [make] a good impression. Hopefully I'll be a part of the future here. I'd love to be here again."
For all the focus on the prospects and job seekers, it was easy to forget the matchup between Miller and Jonathan Quick, two of the top four all-time win leaders among U.S. goalies. Miller was charged with three goals on his first 10 shots, but the Ducks came out flat in front of him with only five shots on Quick in the first 33 minutes.
"[For the] first half of the game, not even close to good enough," Silfverberg said. "We've been playing pretty good, but that was a step way back. We got flat-footed against a team that wanted it more."
The Ducks, who scored 17 goals in their previous four games, had trouble keeping the puck in their zone in a second period that kept the home crowd quiet. Their first goal occurred when Quick strayed from his net and had his rim-around try broken up by Ryan Getzlaf. The puck squirted out front, where Daniel Sprong pounced on it for an open-net score.
The Ducks gave it a hairy ending with an extra attacker, but they couldn't get back the first half of the game.
"I think we tried to do a little too much with the puck early on, when it wasn't available," Miller said. "We didn't get a whole lot going for ourselves. We took some penalties. We were reaching for things. We didn't play the right brand of hockey in the first half of the game, that's for sure."
The last Kings player to score in his first two NHL games was Brian Boyle in 2008.
Sign up for our daily sports newsletter »
Twitter: @curtiszupke
---
Get the latest on L.A.'s teams in the daily Sports Report newsletter.
You may occasionally receive promotional content from the Los Angeles Times.