A long way from Wisconsin, Hults brothers find themselves on opposite sides of Kings-Ducks rivalry
Mitch Hults only has to scroll through the photos on his phone to remind himself how far he and his younger brother, Cole, have come.
In one picture the two are posed together holding sticks in front of the net, both left-handed, with shiny blond hair and smiles. It's from their boyhood in Stoughton, Wis., where they spent harsh winter days going to the local hockey rink and where they still meet to play golf.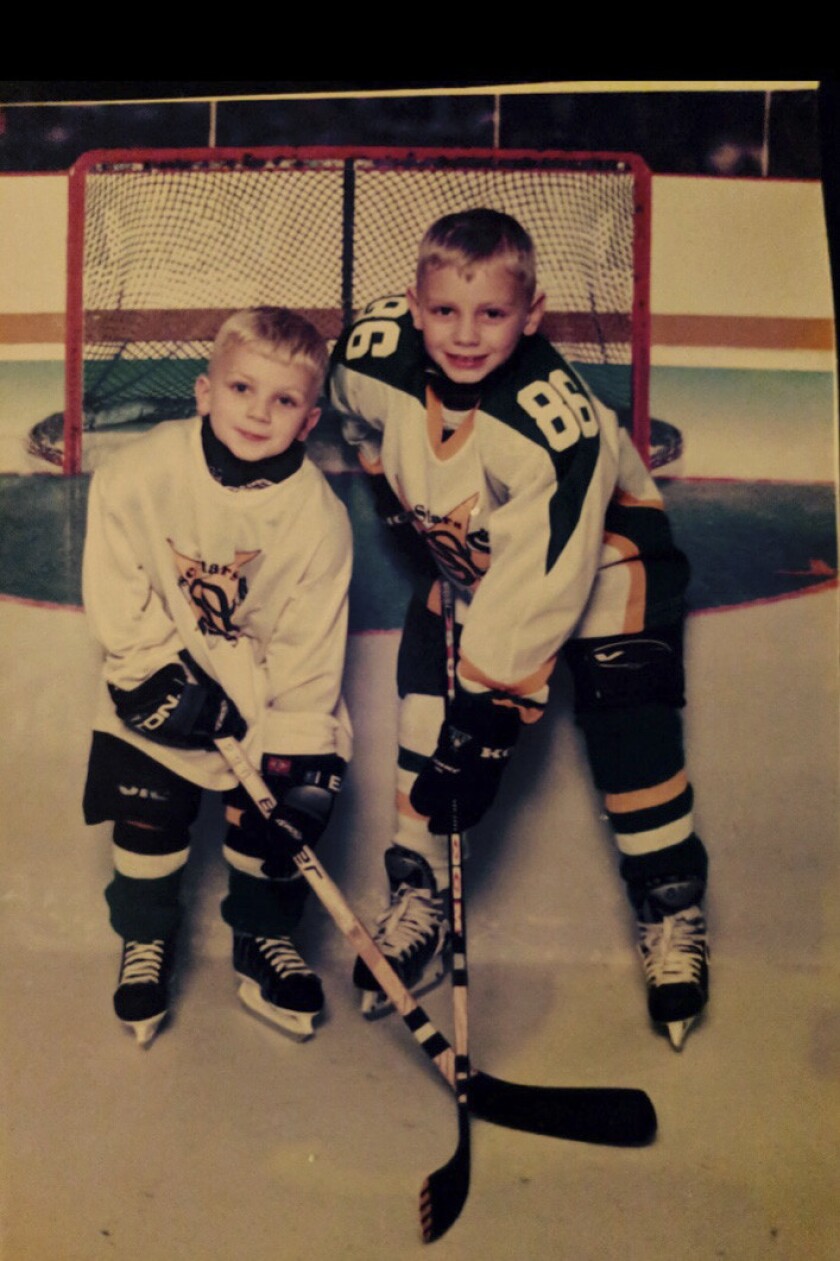 "We do everything together, practically, in the summer," Mitch said.
Neither could have predicted that both would be in NHL organizations at the same time, let alone with the Kings and Ducks.
"Not two kids from Stoughton," Mitch said. "That's for sure."
Said Cole: "Absolutely not. If you look at everything, we came out of a small town in Wisconsin. Nobody [from there] has gone on to play pro. My parents had a love for the game and they put us in a position to be successful. You look back at it, it's pretty incredible."
It became reality last year when, in a four-month span, Mitch, 23, signed as a free agent with the Ducks, and Cole, 20, was drafted in the fifth round by the Kings. Mitch is a forward. He always has been. Cole is a defenseman. He always has been.
"I have more skill than him," Mitch said jokingly. "That's why."
To be on opposite sides seemed natural to Mitch because he and Cole grew up fighting for the puck, along with a third brother, Matt, in the driveway, street and rink.
"We kind of joke around about it, but I think for the most part, we're still competitive," Cole said.
Still, the uniqueness of them on opposing teams makes for a fun family dynamic. It also gave their parents, Brad and Sheri, a reason to travel.
"My dad loves California," Mitch said. "He couldn't believe that we both ended up out here. He was always saying how he always wanted to move out here. It took both his kids to get out here to maybe push him to come."
Brad drove out with Mitch from Stoughton for this week's rookie tournament in Las Vegas, featuring the Ducks, Kings and four other NHL teams. Cole is enrolled at Penn State for his sophomore season but was in Los Angeles this summer for his second Kings' development camp.
The attention paid to Cole picked up last December when he became the first Penn State player invited to the World Junior Championship camp, according to the school. The 6-foot-2, 195-pound Cole prides himself on making a good first pass out of the zone. He had 20 points in 38 games as a freshman.
"He showed up at Penn State last year and really opened up some eyes," said Sean O'Donnell of the Kings' player development staff. "He really played well offensively. He's a big guy, strong guy. He has kind of a man's body."
Mitch just finished his first full pro season, with the San Diego Gulls. The 6-2, 205-pound center had 10 goals and 24 points in 53 games, but was minus-10 in plus. Gulls coach Dallas Eakins said it was an eye-opening season, instructive and motivational.
"I could see, halfway through the year, him going, 'OK, I get what this is going to take, and I'm going to work at this because this is serious stuff,' " Eakins said. "Everything's there for him. He skates well enough. He's got good size. He can rip the puck. He sees the ice well. It's just going to be a matter of can he put it all together?"
It didn't come together as desired for Mitch or Cole out of Stoughton, a town of about 13,000 people, which wouldn't fill Staples Center or Honda Center. Both wanted to play for Wisconsin. They were regulars at Badgers games. But "they wouldn't take us," Mitch said. "We offered to walk on and everything."
Mitch landed at Lake Superior State. He was scouted by Ducks assistant general manager David McNab and signed without visiting Anaheim. Cole would have followed Mitch at Lake Superior but Mitch turned pro after his sophomore year.
Both have already made memories. Last season, Mitch scored against the Kings in a preseason game and netted the "Teddy Bear" goal for San Diego, a charity event in which fans hurl teddy bears on the ice for the Gulls' first goal. Cole exacted some revenge on Wisconsin with an assist in a win.
Neither has thought much about the possibility of playing against each other in the NHL, in Southern California, far from the Stoughton winters.
"It'd be weird," Mitch said. "I don't know how it would be to line up against him in a real game. I think that would be kind of interesting … we'd probably look at each other, smile, and be like, 'OK, who's going to win today?' "
Competitiveness aside, they show sides that run against their workman-like Wisconsin accents. In a player introduction video clip, Mitch blew a kiss and winked at the camera. Cole likes to paint in his spare time.
They cite the nine-game stint they spent as teammates for the junior hockey Madison Capitols as a favorite hockey memory. The highlight for Cole was when he and Mitch were simultaneously ejected from a brawl-filled 6-0 loss to Sioux City.
"He jumped off the bench to get a guy off me when I got into a fight," Cole said.
They presumably left the ice together, their blond hair tousled from the fight and their smiles straight out of Stoughton.
Twitter: @curtiszupke
---
Get the latest on L.A.'s teams in the daily Sports Report newsletter.
You may occasionally receive promotional content from the Los Angeles Times.