Column: Kings and Ducks renew heated rivalry while going in different directions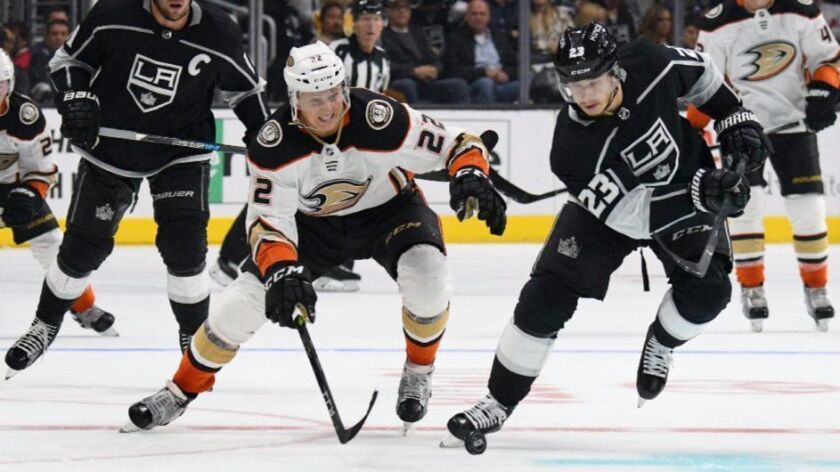 At first, Drew Doughty said he didn't understand why many oddsmakers and experts had predicted the Ducks would outperform the Kings this season. But he reversed course in mid-sentence to agree it was reasonable to have expected better things from the Ducks, who have won five consecutive Pacific Division titles, than from the Kings, who didn't reach the playoffs last spring for the second time in three seasons.
"I guess I do see why," the dynamic defenseman said Monday, after the Kings prepared for the teams' first encounter this season. "They were better than us the last few years."
The Kings have demolished those ominous predictions by sprinting to a 10-2-2 start, earning the division lead and the third-best point total in the NHL. The defensive play that was their foundation — and became their only trick — under former coach Darryl Sutter hasn't suffered since new coach John Stevens granted them freedom and encouraged them to be aggressive in the offensive zone. Jonathan Quick, who sat out most of last season because of a groin injury, has provided stellar goaltending and a feisty attitude that fuels his teammates' confidence.
So much for the experts.
"We saw what those people were saying and we knew we had a better team than everyone thought," Doughty said. "We're pretty proud of how we've showed it so far but we have a lot of work left.
"We're having so much fun. I haven't had this much fun playing hockey since we won the Stanley Cup last, so that's a long time," he said of their 2014 triumph. "I'm a guy that likes to have fun and I find fun in all sorts of different ways, and if I'm not having fun that means probably no one's having fun."
The Ducks haven't had so jolly a time. Thinned by injuries to key defensemen and missing the leadership and experience of injured centers Ryan Getzlaf and Ryan Kesler, the Ducks have lost three consecutive games and are 6-6-2, sixth of eight teams in the Pacific. The grumpy side of Randy Carlyle, hidden behind a mellow persona for most of his second stint as Ducks coach, has resurfaced lately and with good reason.
Tuesday's game at Honda Center looms as a good test for both teams but is potentially pivotal for the Ducks, who need a boost from the passions that are triggered when these teams meet no matter where they are in the standings.
"Ducks-Kings will be good for us right now because it's an emotional game. It's the battle of the 405 and both teams usually get up for it," Ducks defenseman Kevin Bieksa said. "This team plays better when we're emotional. That's no secret.
"The Kings are playing good hockey now. A little bit different team with the new coaching staff. A little bit more offensive puck possession, so we'll have our work cut out for us."
Carlyle said he welcomes the intensity of a rivalry matchup.
"I don't think you can play this game without emotion," he said. "We have to make sure that we contain the emotions to a level where we're doing the right things. You play with emotion and you initiate, you don't retaliate."
Like Doughty, Kings defenseman Alec Martinez ignored those who doubted the team could rejoin the ranks of the NHL's elite. But while he shares Doughty's opinion that "hockey is fun again," Martinez isn't celebrating anything yet. The Kings haven't faced much adversity so far besides losing center Jeff Carter to a foot injury, a loss that has been minimized by the development of forward Adrian Kempe.
"I know what we have here. We've had a good start and we've showed that," Martinez said. "But that said, there's still, what, high-60- something games left. We can look back and look at the start and say, 'Yeah, it's good,' but we've got a long ways to go and we've got to build on it."
Kings center Brooks Laich will participate in this rivalry for the first time, though he said having played for Washington against Pittsburgh in the playoffs gave him "experience with serious disdain for another team." He added: "We need to show up with hard games. They're physical, there are puck battles one on one, and usually it's the team that has the most will that's going to win out."
That team will have fun — and two points.
Follow Helene Elliott on Twitter @helenenothelen
---
Get the latest on L.A.'s teams in the daily Sports Report newsletter.
You may occasionally receive promotional content from the Los Angeles Times.