Kings get a scorer, Ducks defensive help during second day of NHL draft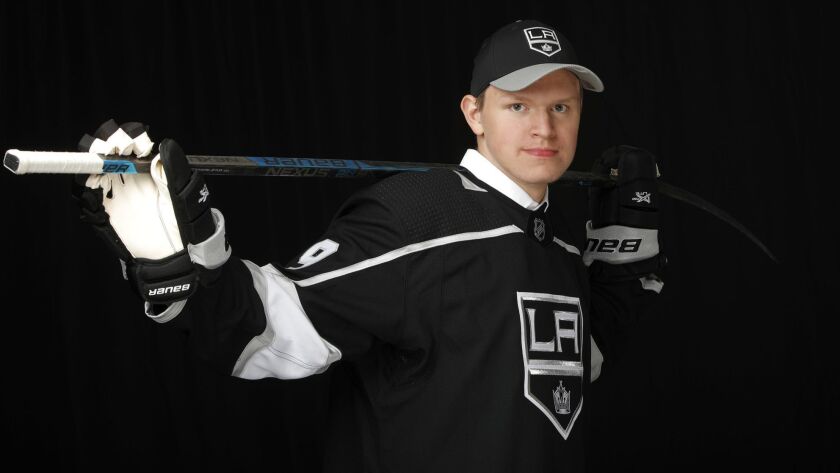 Reporting from vancouver, canada —
For a general manager whose first draft pick of the day carried considerable risk, Rob Blake wore a look of relief at Rogers Arena.
Blake and his staff were not only glad to get Arthur Kaliyev, one of the younger players in the NHL draft labeled with competitive issues, they were happy with how they re-stocked their system when the draft ended Saturday.
These are different times for the Kings and Ducks, who quietly filled organizational needs on a day that began with two blockbuster trades between other teams.
Blake's second-day haul was led by wingers Kaliyev and Samuel Fagemo, taken 33rd and 50th, respectively, following his first-round picks of Alex Turcotte and Tobias Bjornfot. The Ducks picked four defensemen among their five picks Saturday, starting with Jackson LaCombe at No.39.
"I think we were really in unison, as a group, probably more than I had been in the past," Blake said. "I think we did a good job, and the way we set it up … the first three picks are guys that we had targeted in the first round, and we came out with that. That's why Kaliyev is important."
The Kings landed a super-scorer in the Uzbekistan-born Kaliyev, who racked up 51 goals and 51 assists in 67 games with the Hamilton Bulldogs of the Ontario Hockey League. He was the 11th ranked North American skater by NHL Central Scouting, and some mock drafts had him as a first-round pick. But he's been dogged by the consistency and competitive questions. Blake said he got good reports on him and said, "you score 50 goals, I'm not sure you can do that without competing." Mark Yannetti, director of amateur scouting, said the reward trumped the risk at No.33.
Sign up for our daily sports newsletter »
"Our view is that he's a 17-year-old kid who sometimes acts like a 14-year-old," Yannetti said. "He's not going to be the first one who does that, [and] he's not going to be the last. Our view is, when he matures, those perceived things that pushed him down get fixed."
Kaliyev, who turns 18 on Wednesday, patterns his game after Rick Nash. He is perceived as a one-dimensional player, but he has time to grow his game. Saturday was a time to think back on his young career path, from Europe, to New York, Michigan and soon L.A.
"It feels unreal, of course," Kaliyev said. "I've been working to this point since I started playing hockey. It's a great feeling."
The Kings traded their third- and fifth-round picks to the Montreal Canadiens to get Fagemo, who is from Gothenburg, Sweden, the same hometown of former Kings defenseman Christian Folin and Dallas Stars defenseman John Klingberg. But Fagemo never considered playing defense.
"I love to shoot the puck and score goals," said Fagemo, who has one more year remaining on his Swedish club contract.
Lukas Parik of the Czech Republic, the third-ranked European goalie, was taken by the Kings in the third round, followed by defensemen Jordan Spence and Kim Nousiainen in the fourth round.
The Ducks opted for an offensive-minded defenseman in LaCombe, an Eden Prairie, Minn., product with ties to Southern California. LaCombe followed his father, Chris, a hockey agent, to the area and played briefly for the Jr. Kings. He lived in Manhattan Beach and attended Kings-Ducks games. He never thought he could one day play for one of the teams.
"I would have said, 'You're crazy,'" LaCombe said.
Joining LaCombe on defense is Henry Thrun, a product of a stacked U.S. national development team. The Ducks also chose defensemen Will Francis and Mathew Hill.
Martin Madden, the Ducks' director of scouting, said they chose the best available players but that they also wanted to address the defense in the system, even though the teenaged players are years away.
"It's a first step," Madden said.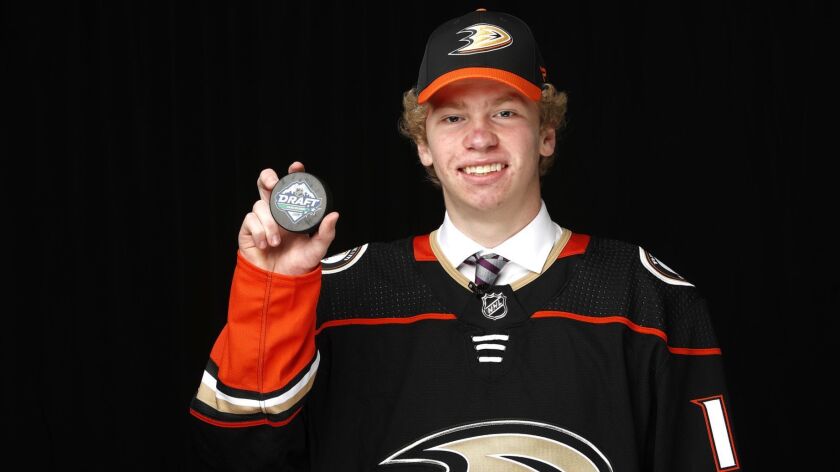 Madden said the Ducks had a "plan in place" Friday to secure a mid-first-round pick, but it fell through. They looked at moving down to get a third-round pick Saturday, but Madden was concerned about missing out on the players they wanted.
"As we were getting closer to that [No.] 39 pick, we figured we could not be happy with what would be left at [No.] 48," Madden said. "The way it went, I'm glad we took the pick where we took it, because we would have lost a bunch of the guys we were looking at. We're happy."
Before the draft started, the Nashville Predators traded defenseman P.K. Subban and his $9-million salary to the New Jersey Devils for Steven Santini, Jeremy Davies and two draft picks. The Toronto Maple Leafs also dumped salary when they traded forward Patrick Marleau to the Carolina Hurricanes in a package deal for draft picks.
The new salary cap was set at $81.5 million, which Blake said does not impact the rebuilding Kings. Both local teams are in a different mindset that has more to do with changing mentality than money numbers.
Said Yannetti, "Our culture needs a re-boot, and one of the ways we can affect it is from the ground floor up."
Twitter: @curtiszupke
---
Get the latest on L.A.'s teams in the daily Sports Report newsletter.
You may occasionally receive promotional content from the Los Angeles Times.