Dustin Brown says losing Kings captaincy is a 'bitter pill to swallow'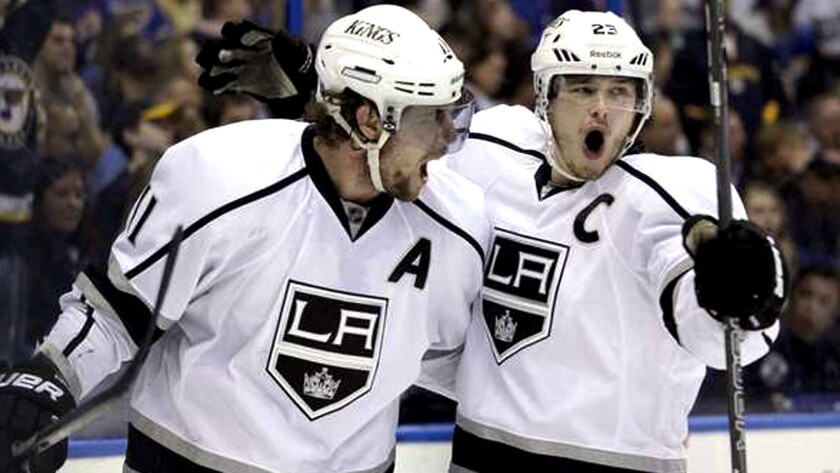 He could have resorted to empty words and clichés after losing his Kings captaincy following a long tenure that included two Stanley Cup championships.
Instead Dustin Brown made it clear that the decision to replace him with Anze Kopitar following the Kings' first-round playoff loss was "a bitter pill to swallow."
"It was a management decision, not like the players voted on it or anything like that," Brown said Thursday during a conference call with reporters. "Quite honestly, it would have been a lot harder if it was my teammates doing this."
Brown, whose productivity has dropped in recent seasons, said he knew team officials were trying to trade him, though it was unclear to him for how long they might have been shopping him.
"It's one of those things where that's their job, to figure out if they want me to be part of this team, and if they don't, then to find a way to move me," he said. "My job is to play hockey."
News about a pending change leaked out when Brown was still in the process of meetings with Kings General Manager Dean Lombardi and Coach Darryl Sutter to "get on the same page" and "reconnect."
The timing of the leak made it a "very awkward and stressful" few weeks for Brown
And what of his relationship with management, considering he has a long-term contract?
"That's a tough question," Brown said. "I'm not going to say it's rosy … but my responsibility and my job and what I ultimately care about is performing and playing well for my teammates. … I obviously don't see eye-to-eye with this decision, but I respect it."
Brown gave his support to Kopitar, his longtime friend and teammate.
"It's a pretty big honor and a pretty big day for him personally, and I wanted him to have the spotlight," Brown said. "I didn't want to be answering these types of questions on a day when it should be about the new guy.
"That's part of the problem I've had with this whole situation."
---
Get the latest on L.A.'s teams in the daily Sports Report newsletter.
You may occasionally receive promotional content from the Los Angeles Times.