Column: Kings' scouting and development system is key to recent run of success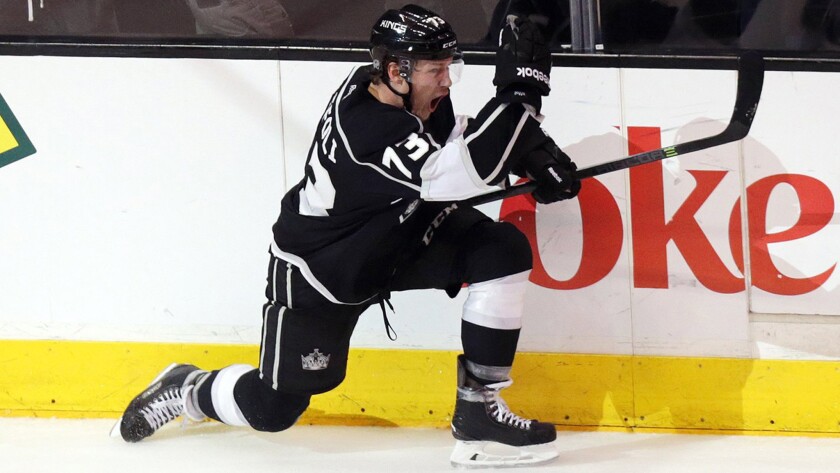 A couple of Michael Futa's buddies had talked up a kid they'd coached who was a natural scorer despite being a poor skater, so Futa, then the general manager of Owen Sound of the Ontario Hockey League, wanted to see the kid for himself.
"He was playing for the junior Canadiens and just scored and scored, and there was always the knock that he scores but he's not very fast doing it," Futa said. "In the Ontario Hockey League I continued to watch him score and score and score, and still everybody questioned his conditioning and his speed."
When Futa became the Kings' director of amateur scouting in 2007, he remembered Tyler Toffoli's instinctive scoring knack. Futa, who had gotten to know and like Toffoli's family, debated his NHL potential with fellow amateur scouting director Mark Yannetti.
"Does he have the makeup of a kid? Does he need it enough? Does he want it enough? We always talk about doing the things necessary where his natural ability to just put the puck in the net will be translatable if he gets himself in the proper shape and gives himself a chance," Futa said.
Toffoli slipped unclaimed through the first round of the 2010 entry draft. The Kings, gambling that Toffoli had the drive to compete with the big boys, made a trade with Colorado to move up and choose him 47th.
Toffoli has justified the Kings' faith, another gem mined by a scouting and development system that has been the lifeblood of the club's rise since General Manager Dean Lombardi arrived in 2006. Longtime fans accustomed to seeing the Kings ruin talented kids or trade them for declining veterans might well weep over this new embarrassment of riches.
"Dean brought us in as a group and told us, 'We're not going to put any Band-Aids on this. We've got to draft well. We've got to develop well,' " Futa said Sunday. "He said, 'One day you're going to walk in and turn on the TV and you're going to see the guys you drafted and then you're going to feel an all-encompassing satisfaction.' "
That day arrived when the Kings won the Stanley Cup in 2012, but Futa's satisfaction continues to grow.
Toffoli has combined with 2012 draft pick Tanner Pearson — whose fitness and work ethic also were questioned — to flank center Jeff Carter and form a trio that's fast, able to make slick plays, and is a consistent scoring threat. Toffoli and Pearson were two of 11 home-grown players in the Kings' lineup for their 4-3 victory over the Chicago Blackhawks on Saturday in Game 3 of the Western Conference finals. Two others — defenseman Jake Muzzin and goaltender Martin Jones — were signed as free agents out of junior hockey after being spotted by Kings scouts.
Futa's success hasn't gone unnoticed. The Buffalo Sabres wanted to talk to the 46-year-old Toronto native about their general manager's job in December, and the Vancouver Canucks came sniffing around a few weeks ago. To fend them off — and reward him — Lombardi appointed Futa to the new post of vice president of hockey operations and player personnel and signed him long-term.
"I think he is the perfect guy for the job," Lombardi said.
Scouting remains an imperfect science. The kid who scores 100 points in juniors might be too small to succeed in the NHL, just like the can't-miss baseball prospect who is fooled by major league curveballs and soon needs a new career plan.
The Kings have been unable to capitalize on some prime picks during Lombardi's tenure — Thomas Hickey as No. 4 in 2007 and Colten Teubert as No. 13 in 2008 come immediately to mind — but they found Alec Martinez as No. 95, Dwight King as No. 109 in 2007 and Kyle Clifford as the 35th pick in 2009.
They traded useful winger Wayne Simmonds, drafted 61st in 2007, and promising forward Brayden Schenn, No. 5 overall in 2009, to Philadelphia for Mike Richards, a key to their Cup triumph.
Futa said there are many more top prospects in the pipeline, continuing Lombardi's mandate.
"You don't want to be good for just one year. ... You want to be good every year," Futa said. "There's going to be years it's going to be tough. Look at our conference. We could have been gone. We were down, 3-0, to San Jose.
"A lot of things have to be right but this team has the ability to compete for quite some time with the young guys we have ready to come up and fill holes. So it's pretty cool."
And pretty successful.
---
Get the latest on L.A.'s teams in the daily Sports Report newsletter.
You may occasionally receive promotional content from the Los Angeles Times.