Kings goalie Jonathan Quick gets some rest to keep him fresh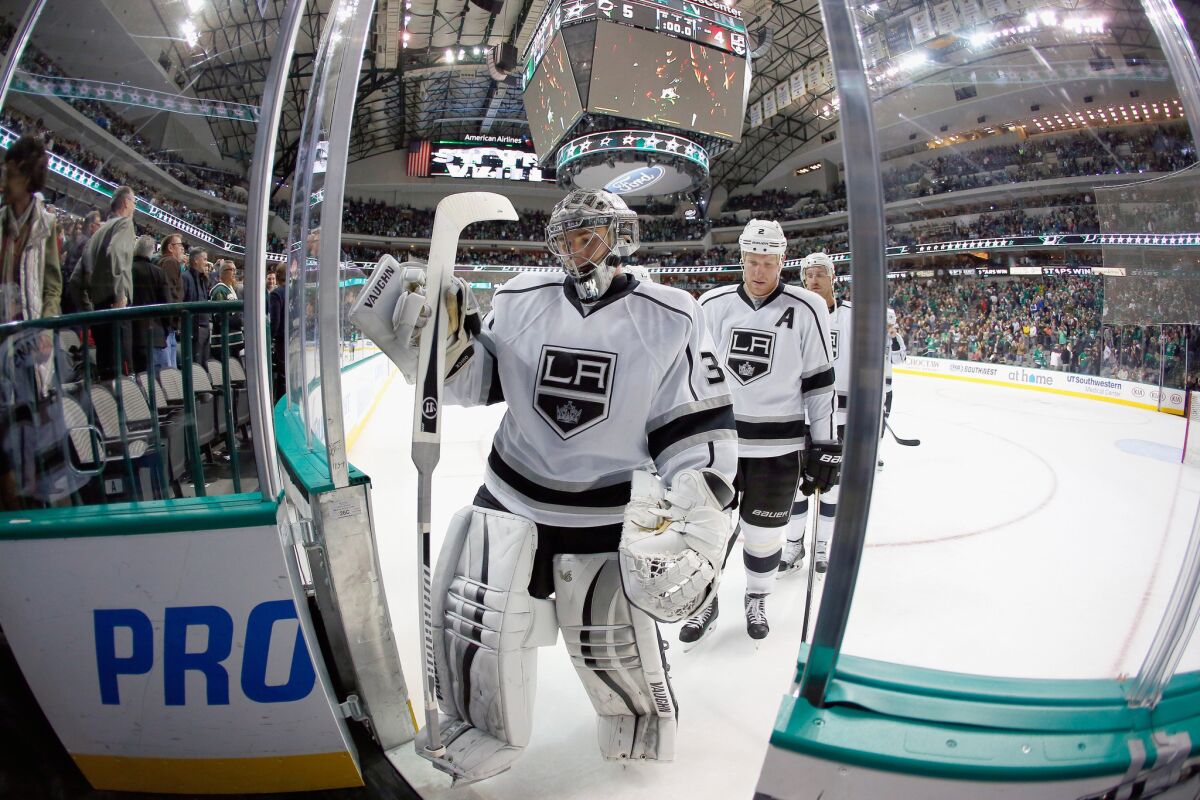 Goaltender Jonathan Quick thrives on a heavy workload, so it's strange for him to go nearly a week between starts while he's healthy.
Quick played at Dallas last Saturday before backing up Martin Jones in a shootout loss at Nashville on Tuesday and Jones' 28-save shutout at Minnesota on Wednesday. Quick is expected to start against the Chicago Blackhawks on Saturday at Staples Center, ending a break that's designed to help keep him fresh next spring while the Kings drive for a second consecutive Stanley Cup championship.
"You always want to play but I thought it was good for the team," Quick said Friday. "Joner played well and that's good for him. We get three out of the four points in two pretty tough buildings. That was important."
Quick started 18 of the Kings' first 21 games. His .932 save percentage ranked third in the NHL through Thursday's games and his 2.22 goals-against average ranked ninth. Coach Darryl Sutter has given him enough work to keep sharp but not so much that he's exhausted.
"I think we've been lucky. We've been home a lot. Compared to the rest of the league, we've probably played the least amount of road games," Quick said. "It's always good as far as the wear and tear on your body and sleeping in your own bed and not having to travel as much. But it also means we're going to have a good amount of travel coming up.
"I think Darryl's trying to do what he can to keep everybody in rhythm and rested as well as possible. I think he's doing a good job of that."
Martinez's return still open
Defenseman Alec Martinez, who broke his left pinkie finger Nov. 13 and had surgery to repair the damage, fully participated in the team's up-tempo practice Friday. However, it's likely he will sit again Saturday and return Tuesday against the Boston Bruins.
"He's starting to shoot. The next part is being able to shoot it with some power," Sutter said. "It's almost got to be 100%. If you break the wound then you're waiting for it to heal again."
Martinez said he has been shooting for a few days. "I feel good. Getting better every day. That's all I can really ask for," he said.
But he wouldn't project a return date. "Hopefully soon," he said. "Just got to let the human body do its thing, let it heal."
---
KINGS VS. BLACKHAWKS
When: 7.
On the air: TV: FS West. Radio: 790.
Update: This will be the teams' first meeting since last season's Western Conference final, won by the Kings in seven games. Sutter said he's looking forward to it. "I said afterward it was the best series I'd coached in the playoffs, and I coached a lot of playoff series," he said. "That was, I thought, the best one in terms of it could have gone either way and going the whole distance, going into the overtime part of it…. They're still such a benchmark. Even though we're in different divisions, they're such a benchmark." This game ends the Blackhawks' six-game "circus trip," on which they are 4-1.
Follow Helene Elliott on Twitter @helenenothelen
---
Get the latest on L.A.'s teams in the daily Sports Report newsletter.
You may occasionally receive promotional content from the Los Angeles Times.