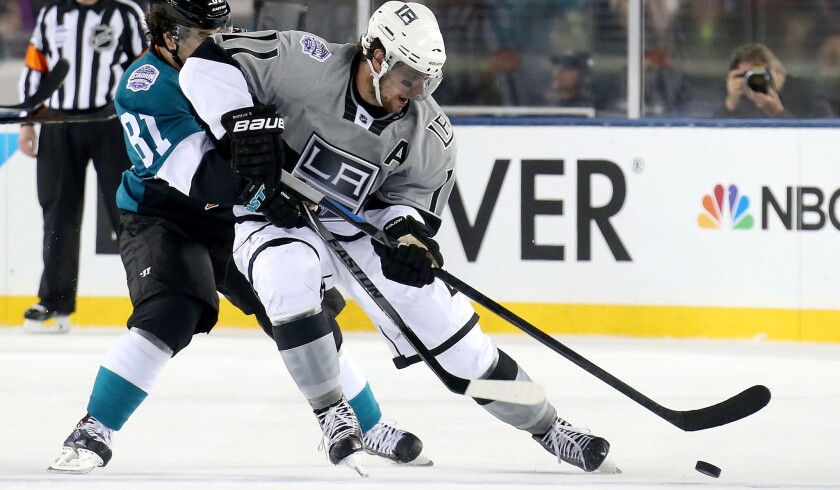 Reporting from Santa Clara, Calif. —
Now comes the hard(er) part: The Kings are being pursued, not just pursuing.
They have come back from the brink with a long winning streak, returning to a playoff position with a 2-1 victory over the struggling San Jose Sharks on Saturday in the Stadium Series game at Levi's Stadium in front of 70,205.
Winger Marian Gaborik scored the game winner at 4 minutes 4 seconds of the third period, his 17th goal this season and first in seven games, as the Kings took advantage of a Brent Burns turnover in the neutral zone. Jeff Carter's assist on the goal pushed his point streak to six games, one short of his career high.
------------
FOR THE RECORD:
Kings hockey: In the Feb. 23 Sports section, a photo caption with an article about the Kings' return to playoff contention said that Marion Gaborik scored the winning goal against San Jose on Saturday with 4 minutes 4 seconds left in the game. Gaborik scored 4 minutes 4 seconds into the third period. —
------------
Postgame fireworks signaled the end of the latest outdoor experiment, one with a distinctly different vibe than the Kings-Ducks game at Dodger Stadium last year.
For the Kings, it is back to scoreboard watching and heavy lifting. They've won a season-high seven consecutive games to regain a measure of control over their fate with 24 games remaining in the regular season. Their winning streak is their most-successful run since they won eight games in a row last season, from Feb. 6 to March 10.
"We have 14 road games and 12 division games, so I wouldn't put too much emphasis on where we are right now," Coach Darryl Sutter said. "In fact, I'm going to put money on it that we have more points this year at this time than we did last year after this."
Sutter knows his numbers.

After 58 games last season, the Kings had 66 points. They have 68 through 58 games this season and are three points behind second-place Vancouver in the Pacific Division.
The Kings have three games remaining against the Canucks, at Vancouver on March 12 and April 6, and at Staples Center on March 21.
Their winning streak was preceded by a rough spell before and after the All-Star break. They won once in eight games before this winning streak.
Gaborik spoke about their inconsistent ways and the recent turnaround.
"We want to take it all in with this win, and have a good day off and get ready for Detroit," he said of Tuesday's game against the Red Wings.
Their turnaround started at Tampa Bay on Feb. 7.
"With this team, we've got a lot of good leadership in here," forward Trevor Lewis said. "It brought the group together. It seems like when our backs are against the wall, this team finds a way to pull out of it."
Against the Sharks, it was a combination of shot blocking — center Anze Kopitar and defenseman Robyn Regehr combined for 10 — and continued excellence on the penalty kill. Also, defenseman Drew Doughty, who is leading the league in minutes per game, logged 32 minutes Saturday, an NHL record for an outdoor game.
San Jose was 0 for 3 on the power play and the Kings have given up only one power-play goal in their last eight games. The last time the Kings gave up more than one power-play goal in a game was Jan. 21 against the Sharks.
For the Sharks, the game represented a familiar stumble against a familiar opponent. After they blew a 3-0 series lead against the Kings in the playoffs last season, many predicted there would be changes. Now there are renewed questions after they have won three times in their last 11 games.
Putting on a successful outdoor game was a bright point in an inconsistent season for the Sharks.
"I think our city and Northern California has to be extremely proud. You take Mr. [George] Gund 25 years ago had a vision of bringing a team here, and brought it here," Coach Todd McLellan said of the team's former owner, who died in 2013.
"And a quarter century later we're playing an outdoor game with 72,000 people in a brand-new football stadium. Who would have ever thought that could happen?"
Twitter: @reallisa
---