Kings Coach Darryl Sutter makes his points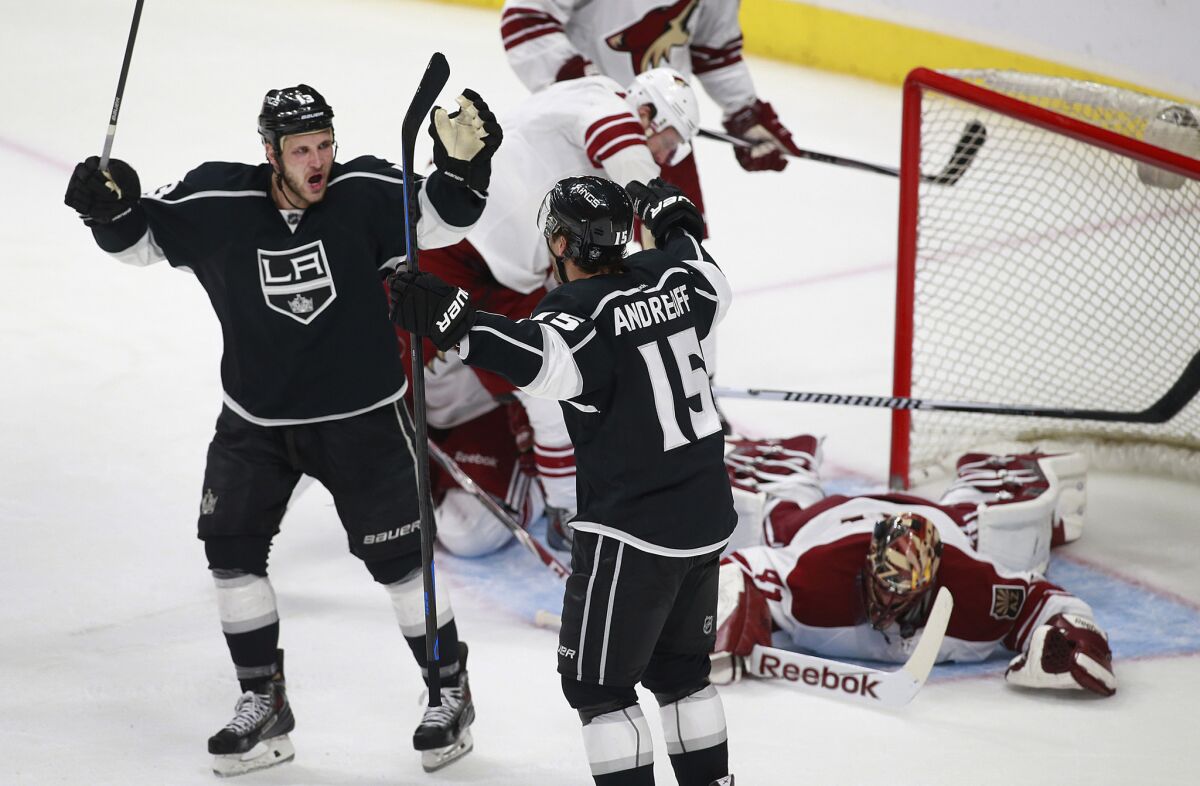 There are 13 games remaining in the regular season for the Kings — including one on Wednesday night against their Southern California rivals, the Ducks — so a little more edge was not surprising.
After all, Kings Coach Darryl Sutter often lifts his game when expectations increase.
He was at his sharpest, humorous best in a session with reporters after practice Tuesday. Center Jarret Stoll is still out but defenseman Alec Martinez stayed on afterward for extra work and could possibly be ready later this week.
Sutter, meanwhile, got in a shot at analytics and those who emphasize them when asked about his goalie, Jonathan Quick, saying: "Basically, those are the people that don't want somebody to do well…. Now with all this newfound data that you can use when you lose, instead of use when you win."
Later, he took issue with the story line of rookie center Andy Andreoff having a tough year. Andreoff scored the only goal in the Kings' win over the Arizona Coyotes on Monday night, the first of his NHL career. He has appeared in 15 games.
"We're trying to win," Sutter said. "We're not here to say, 'Oh, he's a nice guy. Oh, he scored a goal.' We're trying to win. Quite honestly, there's a lot of organizations he would have played 65 games in the American [Hockey] League already.
"You say he's had a tough year. I wish somebody paid me $700,000 to break a sweat for an hour a day. I don't think it's tough here. He should be very thankful for the environment he's in."
Bring on the playoffs
Of course, there is the matter of making the playoffs. The Kings have been in, and they've been on the outside looking in. Before Tuesday's games the Kings held the eighth spot in the West. It is all changing on a nightly basis.
This was why Kings forward Marian Gaborik wasn't caught up with the notion that had the playoffs started Tuesday the Kings would be playing the Ducks.
"Playoffs [don't] start today, so I'm not going to even think about it," Gaborik said. "We have to play every game like it's a playoff game and get points to get to play. That's our goal right now.
"You can't look at it that way: Who would you play? We need to look at it if we are in the playoff picture or not. We want to be there and we're going to do everything we can to get there."
Gaborik was impressed with Andreoff's enthusiasm after the rookie scored his first NHL goal.
"It was great. I don't think I've ever seen anybody smile, have a big smile on the face like Andy did, to score the first goal," Gaborik said. "Especially a huge goal for us."
Gaborik's first NHL goal came against the Ducks in the 2000-01 season when he was with Minnesota. The then-18-year-old rookie scored the first-ever goal for the Wild franchise.
"It was a pass from behind the net," said Gaborik, who has 368 regular-season goals. "It was actually in Anaheim against [goalie] Guy Hebert. My first-ever Wild game. Fifteen years ago. A pass from Scott Pellerin from behind the net. Low blocker."
Twitter: @reallisa
---
Get the latest on L.A.'s teams in the daily Sports Report newsletter.
You may occasionally receive promotional content from the Los Angeles Times.