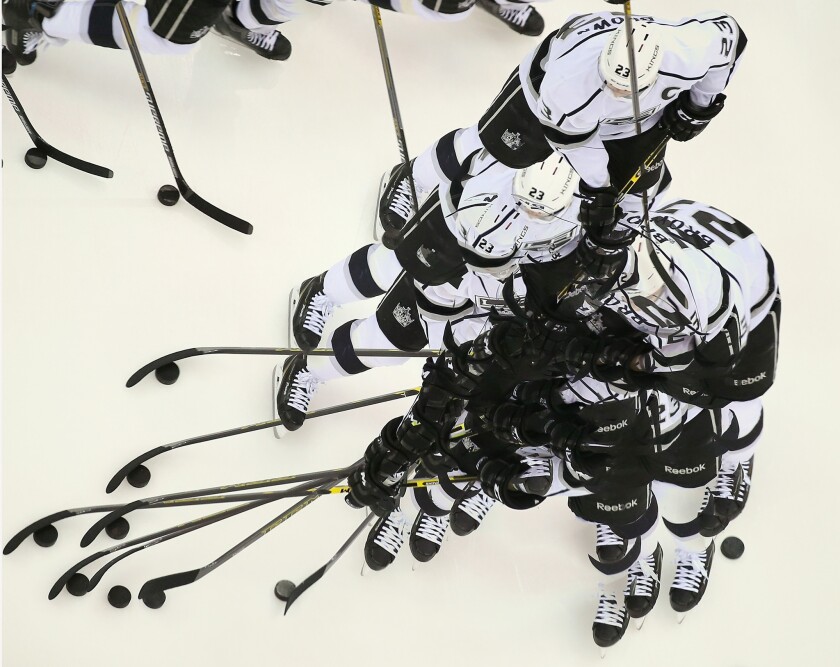 Reporting from CHICAGO —
So much has happened since the Kings lost, packed up, left Minnesota and headed to Chicago.
Little of it positive.
First off, in the late game on Saturday night, Vancouver scored with 1:32 remaining to push the game into overtime against Dallas, and despite losing in overtime, the Canucks picked up a point. The second-place Canucks lead the Kings by three points in the Pacific Division.
On Sunday afternoon, the Kings fell out of a playoff spot when the Calgary Flames won at Nashville and retook third place in the Pacific Division, moving ahead of the Kings by a point. The Kings have seven games remaining and the Flames six.
Then later on Sunday, the Kings got some help when Chicago beat Winnipeg, keeping the Kings two points behind the Jets for the final wild-card spot with a game in hand.
The playoff jockeying is almost dizzying. Hockey's version of a double espresso.
"Every year goes faster than the next for me, I find," Kings forward Justin Williams said. "Every year.
"It seems like we just ended the playoffs, and now we're upon them again. It's my 15th year, and everyone said in my second year that it would go by quick."
Were they right?
"I didn't believe them," Williams said, chuckling.
The Kings are coming off a 4-1 loss to the Wild in which the Mikko Koivu line was able to neutralize the Kings' No. 1 line. Kings center Anze Kopitar's five-game point scoring streak ended, and he and linemate Marian Gaborik were a combined minus-five.
Now comes a marquee matchup against a familiar rival, the Blackhawks.
At this juncture, the Kings are attempting to find their second wind. Or would that be their third wind?
"You kind of get used to it," Kings captain Dustin Brown said. "Once you've been in the league long enough, you understand how the season plays out. I think I'm still learning every year, a better way to manage.
"Again, for a lot of the guys in this room, what we've been through the last three, four years, this is when guys get excited to play, quite honestly."
Martinez impact
Defenseman Alec Martinez returned for the start of this trip having been out since early February because of concussion-like symptoms. He sparked the Kings with two assists against the New York Islanders on Thursday.
"You have to weather the storm when guys like that are out," Brown said. "We didn't have Reg [Robyn Regehr] earlier. When you lose a guy like Marty, when they get back, you realize that they're going to help us.
"He goes a little underrated on this team. On a lot of other teams, he's not a fourth [defenseman] — he's a third or a second on some teams. Probably the best case example of that is [Marian] Hossa on Chicago, really underrated.
"No one really talks about him in Chicago because of the other guys they have there. They get all the attention."
KINGS AT BLACKHAWKS
When: Monday, 5:30 p.m. PDT.
Where: United Center.
On the air: TV: NBC Sports Network. Radio: 790.
Etc.: This is the Kings' lone regular-season appearance in Chicago. The teams split the two meetings in Los Angeles with the Kings winning the most recent game, on Jan. 28. The Kings fell behind by a goal and rallied three times as center Jeff Carter scored twice and added an assist.
Twitter: @reallisa
---