Marian Gaborik will play in 1,000th NHL game when Kings visit New York Rangers on Friday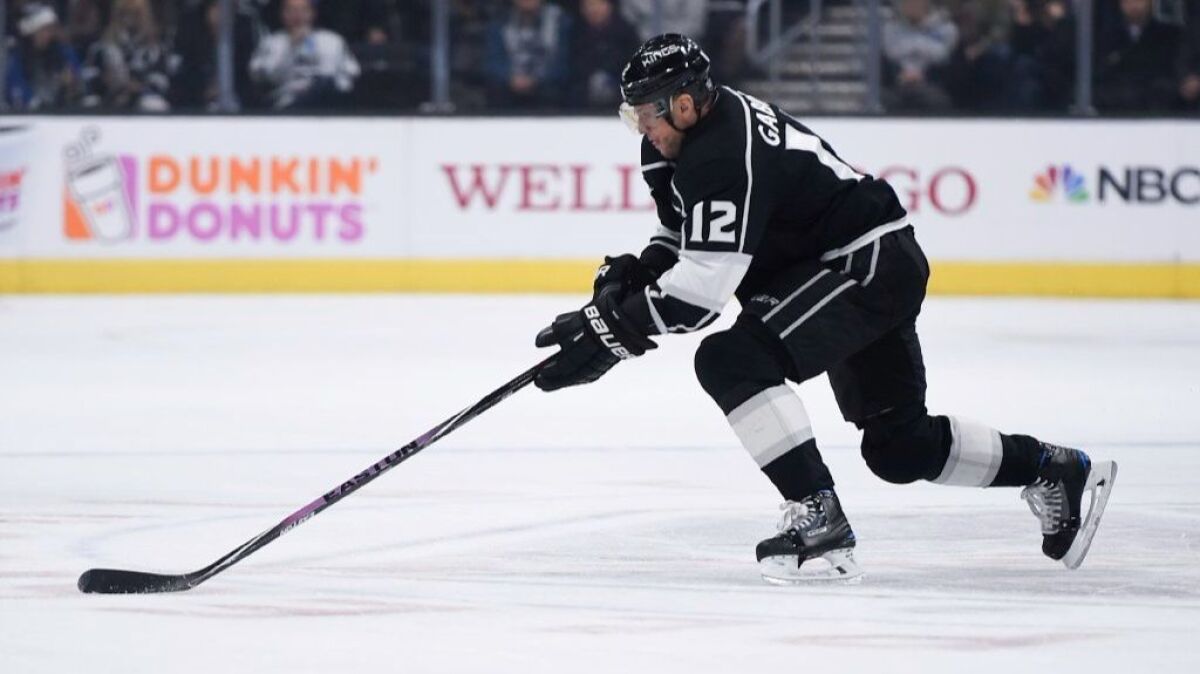 Reporting from NEW YORK —
Nicknames are usually given to hockey players early on, and they are stamped with them the rest of their career.
Marian Gaborik has always been known as "Gabby," but at this stage of his 17-year career, he's lately been called "Ferrari," to reflect his affinity for sports cars and perhaps his acclaimed turbo speed on skates.
Gaborik thinks former teammate Robyn Regehr gave him the name, and he almost shakes his head that it's been resurrected. That's because this "Ferrari" has undergone serious repairs over the years, mainly foot and chronic knee injuries that have prevented the winger from playing a full season each of the past five years. But by simply stepping on the ice Friday against the New York Rangers, Gaborik will play in his 1,000th game, high maintenance and all.
"It's going to come to a point where some emotions will come, but it will be probably before the game," Gaborik said. "I'm going to try and treat it like any other game ... but the emotion and everything, I'm sure, will be there."
There was creeping doubt about how long it would take Gaborik to get there when his recovery from an offseason knee procedure extended into November. It was the second straight season that Gaborik missed the start of a season because of injury, lending further scrutiny to the seven-year, $34-million contract he signed in 2014. The extra time appears to have paid off. He has four goals in his first 10 games back, plus admiration from teammates.
"You've got to dedicate your life to the game, especially away from the rink, your preparation in the summer and throughout the season pretty much needs to be perfect to reach that threshold," center Torrey Mitchell said. "It's a testament to how well he's prepared over his career."
Whether Gaborik was willing to be effective at 35 was why Kings coach John Stevens met with Gaborik over the summer. Gaborik was on crutches, and Stevens wanted to know if he was going to prepare and still had the passion to "pay a price to be a good player."
"To me, those are the two elements with any player, but certainly with an older player who's been a really good player in the league, you can't live on your past laurels," Stevens said. "You've got to make that deal with yourself and with your team. And he was pretty adamant about his answer. He wanted to do the work, wanted to get back, still felt like he had a lot to offer, and I think he does."
Gaborik's milestone arrives with some nostalgia. It's almost 10 years to the day from his five-goal game against the Rangers, as a member of the Minnesota Wild. He also played parts of four seasons with the Rangers and still keeps a residence in the Tribeca neighborhood. The place is still dear to him.
"It's one of the best places to play in the world," Gaborik said. "It's an amazing atmosphere, the vibe, the energy, the city itself and obviously the Garden — the most famous arena in the world. It's definitely fun to play there."
The Kings will host Fire Relief Night on Jan. 6. A portion of the proceeds from a raffle and silent auction will benefit local fire victims, and local firefighters will be recognized before and during the game.
AT N.Y. RANGERS
When: 4 p.m. PST, Friday.
On the air: TV: FS West; Radio: 790.
Update: Pavel Buchnevich is second on the Rangers in scoring in his first full season in the NHL. The Rangers are the only NHL team with 14 players with at least 10 points. They outscored the Kings 6-2 in a two-game season-series sweep last season.
Follow Curtis Zupke on Twitter @curtiszupke
---
Get the latest on L.A.'s teams in the daily Sports Report newsletter.
You may occasionally receive promotional content from the Los Angeles Times.