Kings' Carl Hagelin recalls glory days with the Penguins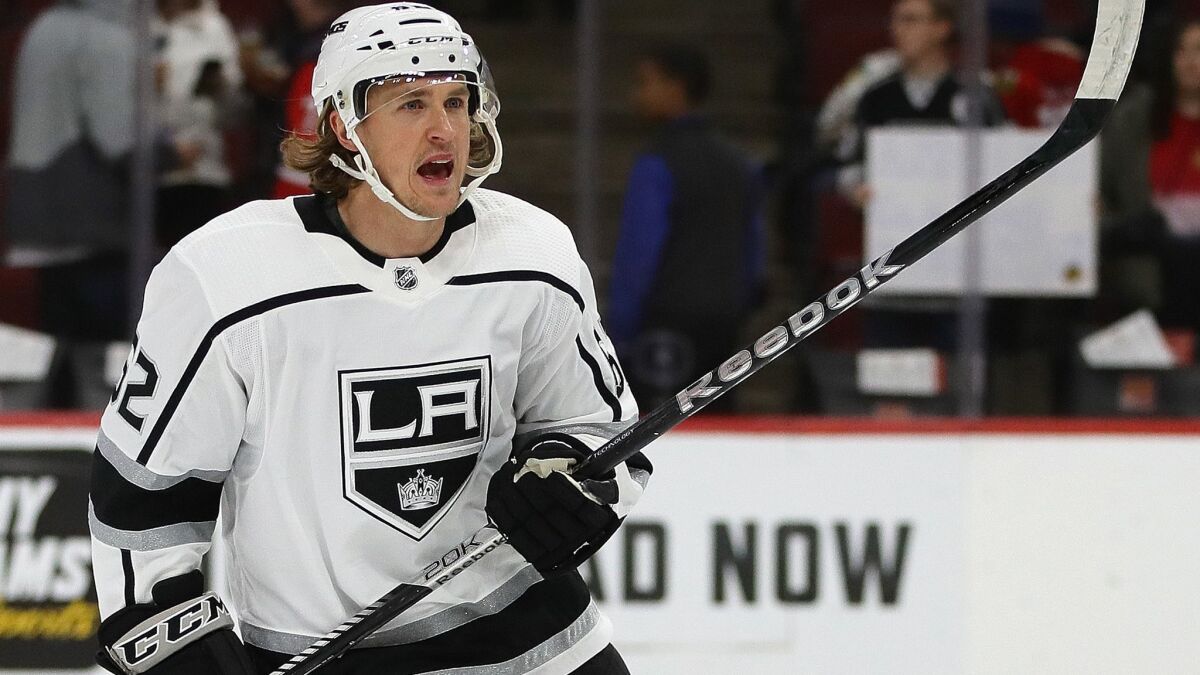 In a fairly short time spent in Pittsburgh, Carl Hagelin compiled a lifetime worth of precious moments.
He was a member of the back-to-back Stanley Cup-winning Pittsburgh Penguins, in 2016-17, and lifted the trophy with Sidney Crosby and Evgeni Malkin, among other star teammates. Hagelin played in 48 playoff games in three seasons.
On a personal level, the city was where Hagelin's daughter, Blanche, was born last year, as his family lived in the quiet suburban area of Wexford, Pa.
"I was there for three years, but it felt like a decade," Hagelin said. "So many fun times. A lot of good things happened to me and my family. All those memories make it feel like I was there for a lot longer than I was."
With that backdrop, it's understandable that Hagelin's first game against Pittsburgh with the Kings carried more sentimentality Saturday. Hagelin was unable to play in the Dec.15 game in Pittsburgh because of a knee sprain, so he planned on seeing his former teammates in the hallways of Staples Center.
"I have a lot of good memories with Pittsburgh," Hagelin said. "A lot of my best friends are on that team. It'd be a fun game to play, though. I've done it before. I've played against former teams before. It's always special."
That theme worked two ways because Saturday also represented the return of former Kings winger Tanner Pearson, traded to Pittsburgh in November in a one-for-one exchange for Hagelin that got Pearson's contract off the Kings' books.
Drew Doughty said before the game of playing Pearson again that "it's whatever" and "it's another game we've got to win. It doesn't matter who's on their team." But Pearson, a member of the Kings' 2014 Cup team, received warm cheers when he was recognized with a video tribute during the first television timeout.
The 26-year-old was scoreless in his final 30 games with the Kings and admitted he had lost confidence. He regained it in new settings and, playing with Malkin as his center, had eight goals in his first 28 games with Pittsburgh, including four goals in a five-game stretch going into Saturday.
One of his scores was an incredible play at Pittsburgh's PPG Paints Arena in which Pearson skated past Doughty, with the help of a hand on Doughty's shoulder, and drove in and deked around Jonathan Quick.
Hagelin probably won't have those kinds of highlight for the Kings. His impact on the Kings can't be measured in goals. He's built a career on speed and forechecking, and the former was a big reason why the Kings brought him on board.
Hagelin was twice a 17-goal scorer for the New York Rangers, though, and he still sought his first goal with the Kings, although he had three assists in eight games.
The knee injury interrupted his integration, but he's developed an identity with Adrian Kempe on the third line. How long his Kings career will last is another question because Hagelin is on an expiring contract. The Kings are his fourth team in five years, but of course three of those years have been profoundly successful.
Hagelin took the Cup to his hometown rink in Sodertalje, Sweden, in the summer of 2016 and presented it to the locals.
"A lot of kids were able to touch it and get some pics and autographs with it," Hagelin said. "I remember myself, as a kid, that was the dream, and when they saw it, they were all, 'This is for real.' They had a lot of questions. It was cool to see."
Twitter: @curtiszupke
---
Get the latest on L.A.'s teams in the daily Sports Report newsletter.
You may occasionally receive promotional content from the Los Angeles Times.