Overtime goal gives Kings eighth consecutive win despite losing a late two-goal lead to the Carolina Hurricanes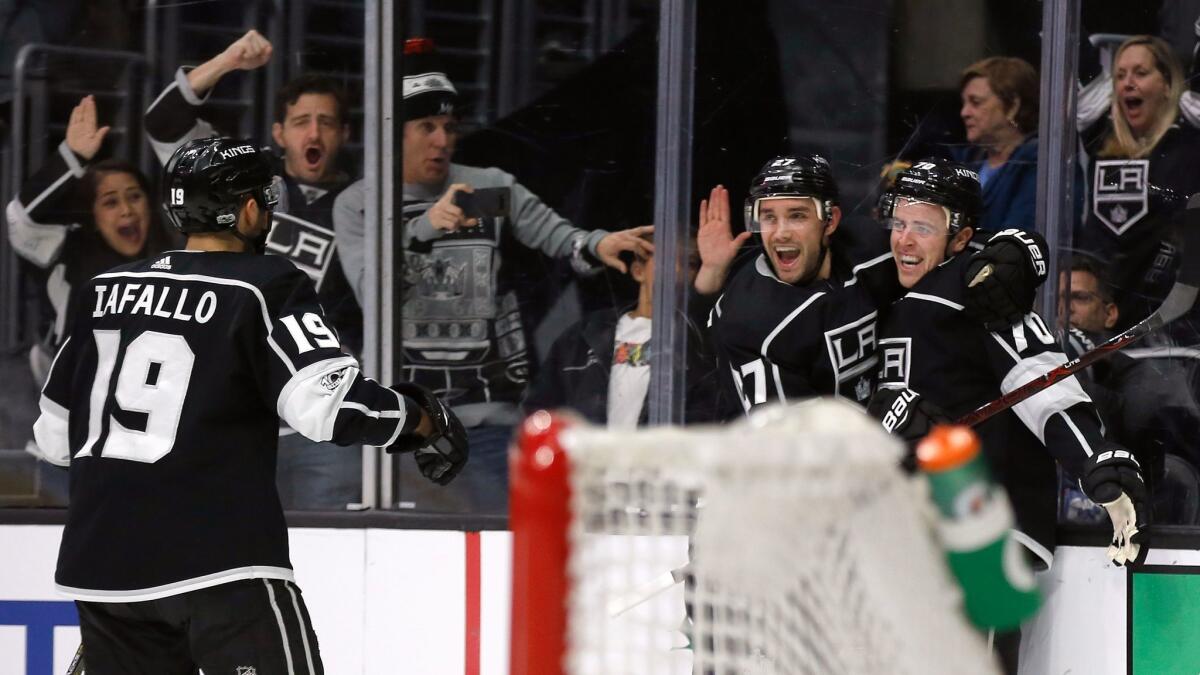 If ever there was moment during this streak where the Kings were ripe to fall, it was in the opening minutes of overtime Saturday.
Anze Kopitar, Tyler Toffoli and Drew Doughty got stuck on the ice during three-on-three for what seemed like eternity against the Carolina Hurricanes.
"That had to be one of the longest shifts," Tanner Pearson said. "What was it? Two-and-half minutes?"
The trio somehow got through it, and Pearson could speak with relief after his overtime goal lifted the Kings to a 3-2 win in front of 18,230 at Staples Center that extended their winning streak to eight games.
Pearson followed up his own shot from the right side and lifted it over Hurricanes goalie Scott Darling with 20 seconds left in overtime, the Kings' second straight win in the extra session. They lost a 2-0 lead late but achieved their longest winning streak since they won eight in a row in February 2015.
"I think giving those ones up in the third period isn't the way [we want to win]," Pearson said. "But we're a pretty confident group. It wasn't the best victory, but we'll take it, for sure."
Carolina controlled the final 10 minutes of the third period and got goals by Victor Rask and Elias Lindholm. Rask gave the Hurricanes' 29th-ranked power play a conversion with a one-timer with about seven minutes left in regulation. Carolina struck again on a delayed penalty when Lindholm collected the puck across the crease and scored with 2:20 left in the third period.
Early on, the Kings were on an easier path to victory with the new line of Kopitar, Toffoli and Pearson. Kings coach John Stevens has tended to adjust his lines during games, and he did so with Kopitar centering Toffoli and Pearson for much of Saturday. The line factored into their first two goals, both scored on the rush against a team ranked among the top in the NHL in even-strength goals against.
Kopitar and Toffoli combined for a give-and-go play on a rush that resulted in Kopitar's fourth goal in five games.
Kopitar passed the puck just over a defender's stick to Toffoli, then reached out and tipped Toffoli's shot-pass between Darling's legs for a 2-0 lead about halfway through the second period.
Toffoli looked shaken up by a collision, but he got to his feet and went to the net to backhand Kopitar's pass at 6:27 of the second period. Kopitar and Pearson drew attention from defenders long enough for Kopitar to send a pass that was partially broken up by Jordan Staal on its way to Toffoli for his 14th goal.
"When I got up, I saw Kopi and Pearse going the other way," Toffoli said. "So I just kind of jumped in the rush. It kind of just came right to me. It wasn't much, but … I'll take it."
Stevens had said Carolina's forecheck was among the best in the league, and it led to the best chances of a scoreless first period. Jonathan Quick stopped Sebastian Aho and Brock McGinn with his glove.
Toffoli is close to the 16 goals he scored in 63 games last season because of injury. This season he's on par with the career-high 31 goals he scored two seasons ago. But he's more focused on this latest wave the Kings are riding.
"I think we're just working really hard and finding ways to win," Toffoli said. "I think we've been winning games in different ways, and it's one of those things when you stick together like we've been sticking together, winning or losing, we're a tight group."
Twitter: @curtiszupke
Get the latest on L.A.'s teams in the daily Sports Report newsletter.
You may occasionally receive promotional content from the Los Angeles Times.