What we learned from the Kings' 2-1 loss to the Jets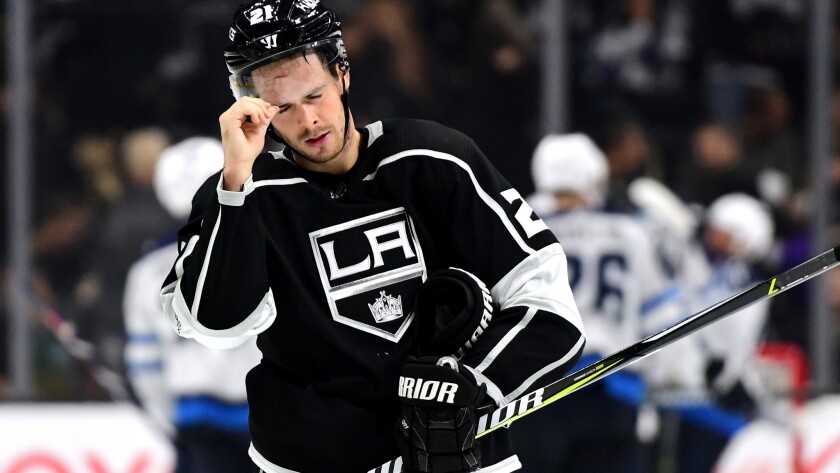 Stop. Kings fans have heard this before:
A lack of scoring, or, really, a lack of finish. Big opportunities missed despite a mostly sound defensive effort. The Kings have reverted back into the same issues that have plagued them during recent years in a 2-1 loss to the Winnipeg Jets that dropped them out of first place in the Pacific Division.
They have scored nine goals in their last six losses. This, after a bevy of goals placed them among the NHL's leaders in the early season.
Here's what we learned:
They don't have many answers
The clichés of bearing down and executing were thrown around liberally postgame, and that's usually indicative of a team that's either frustrated or simply not playing well enough to win.
The Kings played well in spurts but the consistency continues to evade them, and they'll have to work it out unless a roster shakeup — rare this early in the season — is made.
"We've just got to keep working as a group," Tyler Toffoli said. "No letdown, no getting down on ourselves if we make tough plays or we don't make the plays that we want. We've got to find it within and nobody's going to help us."
John Stevens isn't sounding the alarm yet
The Kings coach molded his team into an aggressively forechecking unit in front of Jonathan Quick in the beginning of the season, and he isn't ready to stray from that formula during this slide. Stevens liked a lot of chances they created and tried different line combinations to spark the offense. He's not ready to reinvent the wheel.
"Let's not get carried away here," Stevens said. "We're not going to throw all the work that's been done out the window here. We lost a 2-1 hockey game here. We've got to dig in a little bit and come up with a few more situations where we keep the chances away from our net and put the puck in their net."
It was a rough night for Adrian Kempe
Kempe was writhing in pain on the bench after a hit from Nikolaj Ehlers, although he didn't miss a shift.
Kempe continues to struggle with faceoffs, though, and he lost eight of 10 on a night when the Kings got more favorable matchups at home. There stands to be nights when Kempe can't grasp the consistency and that figures to be a work in progress for the 21-year-old in his first full NHL season.
---
Get the latest on L.A.'s teams in the daily Sports Report newsletter.
You may occasionally receive promotional content from the Los Angeles Times.