Goaltender Jonathan Quick has made his presence felt on the ice and behind the scenes for the Kings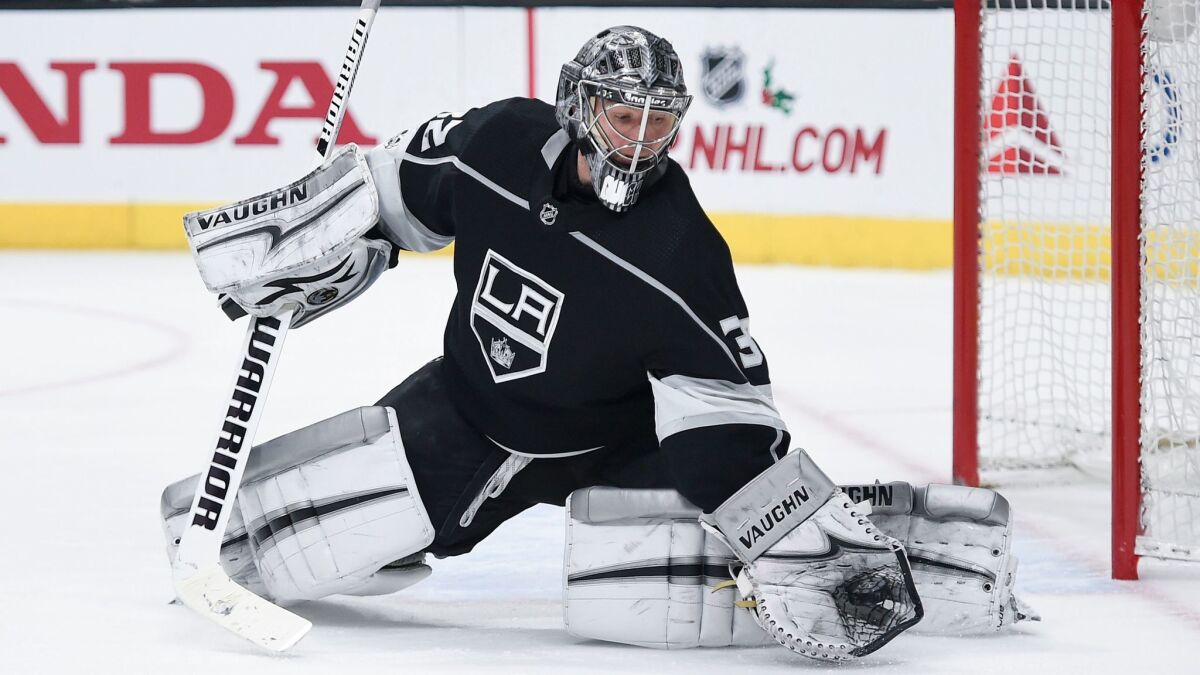 Reporting from NEWARK, N.J. —
Kings general manager Rob Blake notices it the most away from the ice.
It could be between periods or at practice. Blake will pick up on the mood when he makes his way through the hallway or passes through the Kings' locker room. There, in those closed-door moments of preparation or rest, Blake sees where Jonathan Quick truly makes a difference.
"I think we missed him in the room, his leadership, his voice, his demeanor between periods, all the stuff that fans never see," Blake said. "This team missed that direly last year. We understand what he does on the ice. We see it every night, but I think the whole package of what he brings to this team, we missed that last year. The team missed it for sure."
Quick's steadying presence is back in all forms. More than a year after an opening-night groin injury sent him to the sidelines and the Kings spiraling toward another playoff-less spring, Quick has morphed back into elite status and made an early case for his first Vezina Trophy, given to the goaltender judged to be the best at his position. Through Sunday, Quick was third in the NHL with a 2.18 goals-against average and .930 save percentage. He takes a personal six-game winning streak into Tuesday, with a 1.46 goals-against average in that run.
Deeper than the statistics is the way Quick has stolen games. He's consistently kept the Kings upright while they've worked through parts of a newer offensive approach that sometimes results in more defensive lapses. Quick's athleticism and ability to cover the bottom of the net still impresses. Rookie Alex Iafallo marvels at some of Quick's saves.
"I have friends back home texting me, saying, 'Oh, wow. How cool was Quickie's save in person?' " Iafallo said. "It gives us energy on the bench seeing that. It gives us momentum. It's a huge factor in some of our wins."
Quick and the Kings like to talk about last season as much as they like finding a thumbtack in their skate. But Quick concedes that being able to play in the final portion of last season was a fine starting point for a rebound.
"Injuries happen," Quick said. "I think I was fortunate to be able to play a month and a half, two months of last year. We were still kind of in the mix. You kind of think about that … You try to learn from what we did wrong, the mistakes that we made and try to get better."
Quick also said there is an underlying drive behind him and teammates that stems from their recent early summers. Those failures came to a head when former coach Darryl Sutter was fired. Quick says the aftermath carried over to the players.
"It's on us," Quick said. "We knew we had to be better."
Quick has more than held up his end following the second major groin injury of his career. He's on pace to play in about 70 games, perhaps fewer if Darcy Kuemper continues to provide excellent backup work. With more than 500 games played, Quick knows how to manage his body more than ever. And it helps that goaltender coach Bill Ranford has been there throughout Quick's career.
"I've been lucky having Billy all 10 years I've been with the team," Quick said. "He knows me really well — when to push me, when to cut back a little and get my legs back under me. It's good."
If Quick perceives any slights, he won't let on. But his statement games suggest otherwise. Quick has beaten Vezina winners Carey Price, Sergei Bobrovsky and Braden Holtby in head-to-head matchups this season.
Ducks goalie Ryan Miller, who played on two U.S. Olympic teams with Quick, said the competitive part of Quick's personality snaps into place with his position.
"He found the right outlet for him — to be a goalie," said Miller, second behind Quick for the most shutouts among U.S.-born goalies.
"It just seems like his battle level is high, and I think that's the difference between a lot of goalies in this league: Are you able to work through? Are you able to keep pushing?
"It's not always going to be a clean play or work out in your favor. It seems like Quickie just kind of keeps going. If he gets frustrated, it turns toward the puck and not his teammates; sometimes the other team here and there."
That's a nod toward Quick's well-known simmer. He's also known as a consummate teammate, one who invited rookie Iafallo to his house for a Thanksgiving dinner.
"He's a nice guy," Miller said. "He's not a complete animal."
On this day, Quick was at his most relaxed. It was a morning skate for a game he wouldn't start, a rare time to reflect on this stage of his career. He's 31, a father of two and playing some of his best hockey in his 10th NHL season.
He's a long way from where he started beside teammates Dustin Brown and Anze Kopitar.
"We all still feel young some days," Quick said. "Some days, you feel a little older."
Quick unstrapped his pads and glanced toward their lockers. They were gone, but Quick's words and presence easily filled the empty room.
KINGS UP NEXT
AT NEW JERSEY
When: 4 p.m. PST, Tuesday.
On the air: TV: FS West; Radio: 790.
Update: Nico Hischier is New Jersey's second-leading scorer with 20 points in 29 games, and fellow rookies Jesper Bratt and Will Butcher also rank among the top 10 in NHL rookie scoring. The Devils have lost three of five since they traded Adam Henrique, Joseph Blandisi and a draft pick to the Ducks for Sami Vatanen and a draft pick.
Twitter: @curtiszupke
---
Get the latest on L.A.'s teams in the daily Sports Report newsletter.
You may occasionally receive promotional content from the Los Angeles Times.