Column: Kings are counting on Ilya Kovalchuk to rekindle youth to help with championship run
In the five years since Ilya Kovalchuk abandoned his contract with the New Jersey Devils to play for SKA St. Petersburg in his native Russia, the NHL has trended toward a style driven by youth and speed. Kovalchuk, 35, will not bring youth or speed to the Kings, who signed him to a three-year, $18.75-million contract as a free agent this month and expanded their already sizable stockpile of 30-somethings.
"Obviously it's changed," Kovalchuk said of the league's new up-tempo game. "Time's running and I'm not getting younger. We'll see."
At least he's not making any promises he might find difficult to keep.
The Kings, still clinging to the theory that the players at the core of their 2012 and 2014 Stanley Cup championship teams can lead them to another Cup run, hope to see something close to the old Kovalchuk. Or, at least, the Kovalchuk whose deadly shot helped him score 31 goals in 2010-11 and 37 goals in 2011-12, his last full seasons before he left $77 million on the table to play in the Kontinental Hockey League. He said he hasn't yet discussed his role with coach John Stevens, but it's logical to figure Kovalchuk will get a chance to fill a longstanding hole at left wing alongside center Anze Kopitar and will be heavily counted upon to boost a power play that ranked 17th in the NHL last season.
Deploying defenseman Drew Doughty to set up Kovalchuk along the boards on the power play could lift a team that has won only one playoff game since its 2014 title and barely made the playoffs last season despite a career year from Kopitar, a strong rebound from Dustin Brown and a solid effort from goaltender Jonathan Quick at the center of the NHL's stingiest defense. Kovalchuk can bring a new element to an offense that has grown stale, though he might struggle defensively.
Asked whether he's a different player than he was before he "retired" from the NHL, Kovalchuk shied away from answering. "I don't know," he said during a conference call with reporters on Saturday. "I can't say about myself anything. You guys will see and write whatever you think."
It's not realistic to expect spectacular numbers from him next season, and not only because his body has five more seasons' mileage. He scored 120 goals over the last five seasons but the KHL isn't as good as the NHL. In addition, his most-valuable-player feats at the Pyeongchang Olympics must be viewed in the context of a tournament that was played at a modest level because NHL players weren't allowed to participate. He scored five goals and had seven points in six games as the team known as Olympic Athletes from Russia won gold. Playing in the Olympics, he said, was one reason he remained in Russia last season. Another reason was that it allowed him to complete his KHL contract and pass his 35th birthday, making him an NHL free agent.
Kovalchuk was wooed by several teams but liked what he heard from Kings President Luc Robitaille and general manager Rob Blake, and liked what he saw of the roster. "They have guys who know how to win and they're really hungry to win," Kovalchuk said. It didn't hurt that the Kings gave him a three-year deal, a year longer than other teams were willing to go. According to capfriendly.com he has a no-move clause in each season and a modified no-trade clause in the final season, when he will be nearly 38 and his contract could be an albatross.
"I wanted to go to the place where I have a chance to win the Cup, and the Kings are definitely one of the teams," he said. "And when I met with Luc and Rob we had a great meeting and they showed me how they're going to use me as a player. I will try to bring all the best that I got."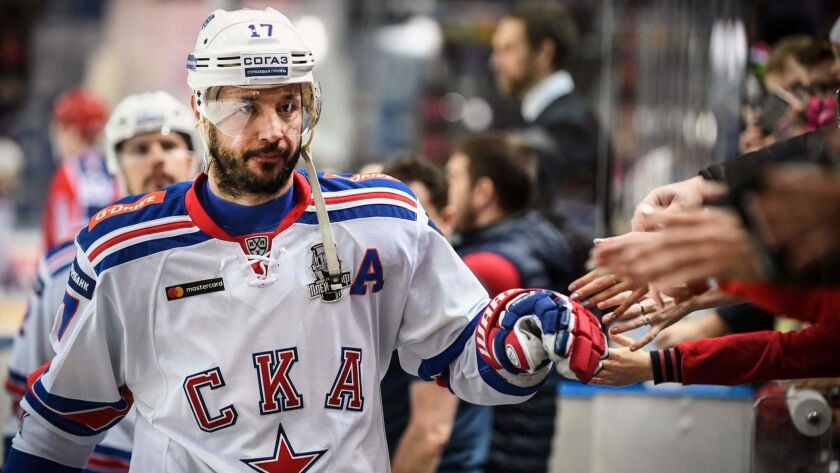 At his best, he was among the NHL's most prolific goalscorers — leading the Kings to pursue him as a free agent in 2010 — and he twice exceeded 50 goals for the Atlanta Thrashers. In 816 games he collected 417 goals and 816 points. His point-a-game days probably are behind him but he should help the goal-starved Kings.
"I have no doubts he can score 25 goals this season. He is in great shape and still can skate really well," said former NHL defenseman Jon Blum of Ladera Ranch, who played the last three seasons in the KHL. "Playing for a team like L.A. that is always a playoff team and contending for a Stanley Cup will only motivate him more to win."
Kovalchuk said he discussed the speedy NHL with several players, including Alex Ovechkin of the Washington Capitals and Evgeni Malkin of the Pittsburgh Penguins, "and I think I'll be OK. Like I said, all the best players are playing here, and it's another challenge for me to come back and be who I am and play at the level of where I can play."
Is that a 30-goal level? Again, he resisted being pinned down. "I can't predict anything right now. I can't predict the future. I'm a young 35 and we'll see," he said.
As Kovalchuk said, time is running for him. It's also running for the Kings' title hopes with this group. For now, as he said, we can only wait to see whether his return to the NHL will lead to the Kings' return to Cup contention.
Follow Helene Elliott on Twitter @helenenothelen
---
Get the latest on L.A.'s teams in the daily Sports Report newsletter.
You may occasionally receive promotional content from the Los Angeles Times.