Kings' leaders struggle to come up with answers for team's hardships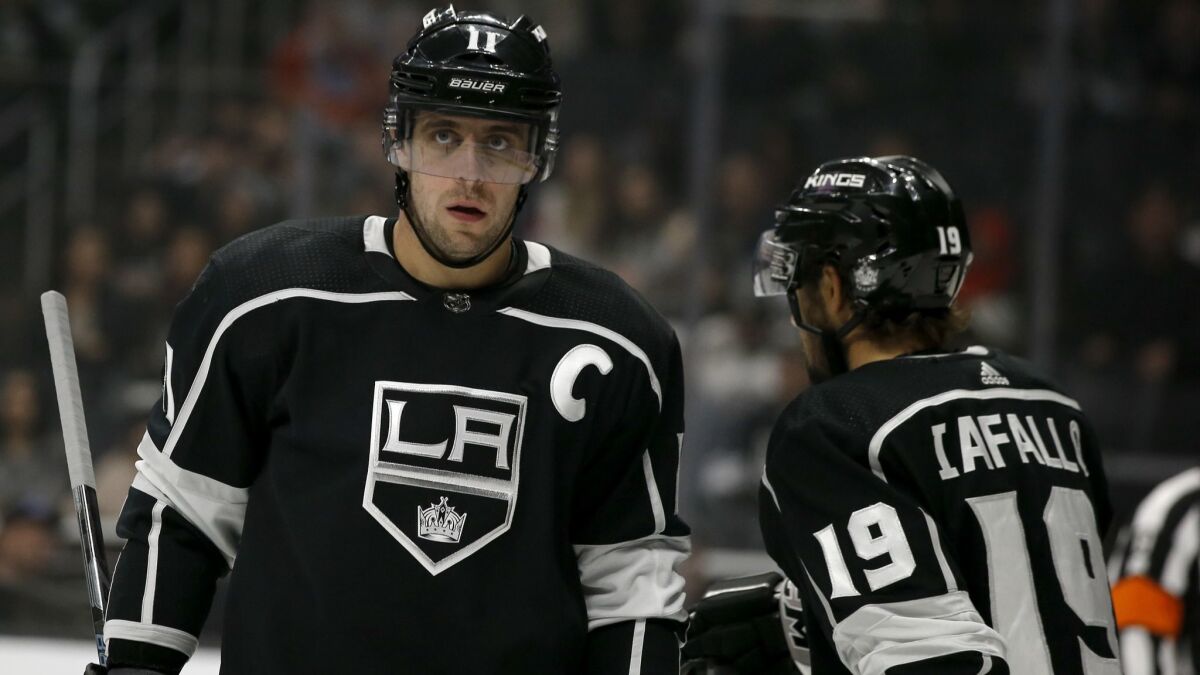 The scene has played out time after time in the Kings' dressing room, a sad tableau of their season.
Anze Kopitar sits at his locker, waiting glumly to speak to reporters, as his teammates pack up their equipment around him. As captain, Kopitar is the one player obligated to speak, particularly after losses. And there have been 19 of those through 30 games.
"It's definitely not easy," Kopitar said. "I think being a captain is a special honor. It's very easy to be captain when things are going right. It's not the greatest job in the world when things are like this.
"But you come and show up. I've always been a bit more of a quiet guy. I'm not the loudest guy in the room. I try to lead by example and work hard every day and come with a smile on your face every day, because if you don't do that, you spiral pretty quick."
The Kings have already spiraled enough to get coach John Stevens fired, and have sunk into irrelevance amid a rash of injuries and an irate fan base. Kopitar and alternate captain Drew Doughty acknowledged that this much adversity has challenged their leadership in ways they never anticipated.
"Sometimes I feel like I'm just running out of things to say to try to get us going," Doughty said. "But that's how you become a better leader. When you go through times like this you learn how to get the most out of your teammates, the most out of yourself and the most out of your team. It's been a learning process for me my entire career to become a leader, and I think I'm getting better at, but I still think I've got a lot more room to improve."
The ultra-competitive Doughty hasn't hid from his feelings as the losses pile up. Under interim coach Willie Desjardins, the Kings are 7-10 and tied with the Chicago Blackhawks for last with 23 points. Their 2.20 goals per game rank last.
Doughty can't tolerate it, nor can he let go of it when he leaves the rink.
"[It's] much harder, and the reason for that is you get added pressure," said Doughty, who signed an eight-year, $88-million extension in July. "You get older. You feel more responsibility. I used to be able to go home after games, whether I played well or played bad, or if the team lost or the team won, I kind of had the same mentality. I kind of forgot about it and went on with my next day.
"Nowadays, I'm still thinking about the things I could have done differently in the game last night … you dream about it. You think about it all night. It's hard. It's a whole different life in the NHL as you get older."
Kopitar and Doughty are among the Kings veterans who experienced losing early in their careers, then two Stanley Cup wins, to this steep drop-off. They try to set the example on not getting too down, while knowing when to confront the underachievement.
Alex Iafallo, who has already seen more losses than in any of his four seasons at Minnesota-Duluth, said the veterans have been a rock.
"It'd be nothing in here without the leaders," Iafallo said. "It starts with them. They've been awesome ever since I've been here. I've learned so much from them. They're always there. I ask questions. Even if it's off-ice stuff, they're always there to help. I look up to those guys."
That would include alternate captain Jeff Carter, former captain Dustin Brown and Jonathan Quick, who has broken a stick or two this season. But Kopitar is aware of maintaining morale.
He pointed to Doughty as the vocal yin to his quieter yang. The dynamic played out again Saturday, with Doughty as his candid self, post-game. Kopitar spoke later in the Kings' room. But it was after a win. For one day, his job was easier.
"Obviously you have to get [ticked] off," Kopitar said. "That's just the way it is … but at the same time, you have to enjoy it. You can't just be miserable the whole time."
Clifford, Vilardi hurt
Kyle Clifford did not travel because of an upper-body injury suffered Saturday, on a hit to the head from Pierre-Edouard Bellemare of the Vegas Golden Knights. Austin Wagner was recalled.
Gabriel Vilardi did not play for the Ontario Reign on Saturday because of an injury and will be evaluated Monday, General Manager Rob Blake said. It is not known if it related to his ongoing back injury. Saturday was supposed to be the final game of Vilardi's conditioning assignment.
UP NEXT
AT DETROIT
When: 4:30 p.m. PST, Monday
On the air: TV: FSW; Radio: iHeartRadio (LA Kings Audio Network)
Update: Detroit's Dylan Larkin has equaled the franchise single-season record with three overtime goals and is two short of the NHL record. The Red Wings share the league lead with five multi-goal comeback wins this season.
Twitter: @curtiszupke
---
Get the latest on L.A.'s teams in the daily Sports Report newsletter.
You may occasionally receive promotional content from the Los Angeles Times.