Justin Williams helps Kings end slide with 4-2 win over Tampa Bay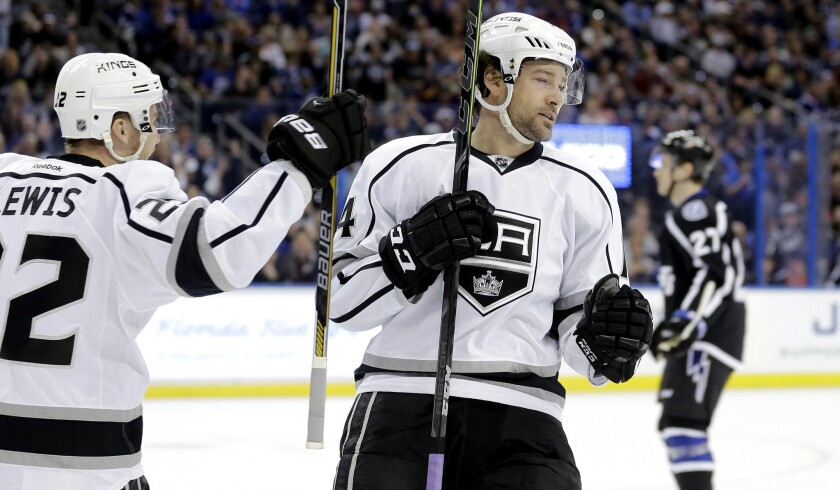 Reporting from Tampa, Fla. —
Did Mr. Game 7 save the Kings' season?
Maybe right wing Justin Williams, the playoffs hero, pulled them out of the regular-season culvert with the Kings mired in a truly ugly stretch of road hockey.
In other words, he made their playoff scenario become slightly less dire. His two goals helped the Kings defeat Tampa Bay, 4-2, on Saturday night at Amalie Arena for their first win in four games and stopped the Lightning's 10-game home winning streak. Still, the Kings remain five points out of a wild-card playoff spot following Vancouver's win over Pittsburgh.
"Well, it shouldn't put a huge smile … put a little smirk on our faces, slowly building," Williams said. "We know where we're at. It's certainly nice to get a win, especially against a good team like Tampa.
"We need to close this out to salvage this trip, in Columbus."
His second goal, which made it 4-2, at 7:46 of the third slowed Tampa Bay's momentum. The Kings had led, 3-0, on goals by Tyler Toffoli, Williams and Drew Doughty in the first period. But the Lightning got a lift at the start of the second by going to No. 2 goalie Andrei Vasilevskiy who replaced starter Ben Bishop and pulled to 3-2 by early in the third.
It was the first Kings' win on the road since Jan. 1 and only their sixth overall this season as they are 6-12-6. Their victory was not only impressive because of Tampa Bay's league-leading home record but because the Kings were without defenseman Alec Martinez after the 6:27 mark of the first period.
Martinez suffered what the team called an upper-body injury absorbing a massive hit from Tampa Bay's Cedric Paquette along the end boards. He did not return. Kings General Manager Dean Lombardi indicated that the team would probably know more Sunday after the appropriate protocol was followed.
The loss of Martinez meant the Kings played with five defensemen the rest of the way. Big minutes are no big deal for the likes of Doughty, who scored the Kings' third goal, to make it 3-0. Doughty played a team-leading 29 minutes 30 seconds.
But defenseman Robyn Regehr, who had two assists, played a season-high 29 minutes. The struggling Jake Muzzin logged nearly 26 minutes of ice time, his most ice time since the middle of last month in a game against the Ducks.
"I thought the D were phenomenal," said Doughty, who was particularly effective himself. "It's not easy to play that many minutes, especially guys that aren't used to playing that many minutes. It's extremely tough. Especially in a game like that where the D are just blocking shots, making hits.
"Sad to see Marty go down, but the boys stepped up."
Still, the impact of the extra minutes isn't necessarily felt right away.
"It's the second time this year we've done it on the road and we managed to win tonight, so hopefully it doesn't affect us the next game," Kings Coach Darryl Sutter said.
"... You're supposed to play with some urgency. If you play 10 minutes, if you play 30 minutes, you should have some urgency in your game."
Williams has that edge and urgency, scoring the big goal in the big game, usually in Game 7 of the playoffs. In this case, it happened to be two goals, his 14th and 15th of the season. The first one came off a slick pass from linemate Trevor Lewis and the third-period goal was a shot from the right circle.
They were his first since Jan. 14, ending a seven-game scoring drought. Oddly enough, Williams felt his game was not that great.
"To be honest, I scored a couple of goals, I don't think I played all that well," he said. "Sometimes, it's the way it goes. You play good, you don't get much.
"You score two goals when you don't think you played that great. The first one was a great play by Trevor. I don't get that goal if he doesn't make that great play. The second one, I just shot the puck.
"As I said, it was a big goal for us at the time to get us some breathing room from a team that was pushing in the third."
Twitter: @reallisa
---
Get the latest on L.A.'s teams in the daily Sports Report newsletter.
You may occasionally receive promotional content from the Los Angeles Times.