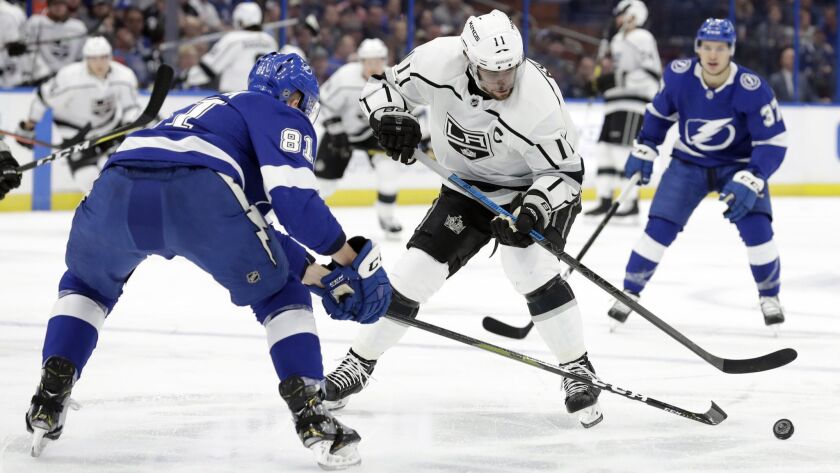 Reporting from Tampa, Fla. —
The Kings looked as if they were freed from a chain. They skated around Amalie Arena with renewed purpose and caginess, from players young and old. It was as if they had nothing to lose.
They took the NHL's best team deep into Monday night in a 4-3 shootout loss to the Tampa Bay Lightning, and it wasn't a coincidence that it happened hours after the trade deadline passed with only one player, Oscar Fantenberg, gone from their locker room.
The Kings were a much looser outfit on the ice. But they were aware that they do have something to lose.
"We're all playing for jobs here," Jeff Carter said. "We've still got a lot to play for."
Dustin Brown said it was a relief to get past Monday, but he echoed Carter that there is a shadow growing over this summer.
"The deadline's passed, but if you want to be a King, you've got to play like a King," Brown said. "I think it's more of an individual thing right now, and if everyone's better individually, then we'll be better as a team. It's one of those things where, [it's] 20 games until the end of the year, but [it's] 20 games until the end of a bad season where there will be changes regardless."
General manager Rob Blake made one secondary change, trading Fantenberg to Calgary for a conditional fourth-round draft pick in 2020. He indicated he wasn't close on anything else.
"We talked about a lot of different things here the past few days," Blake said. "But it hasn't worked out. This is what took place … the ones that we have in place right here now."
Monday's lack of activity suggests that the Kings' major moves will be made at the draft and in free agency. The market didn't tilt in their favor Monday when, in theory, Blake had leverage over desperate teams.
"It's hard to tell if you wait, [if] you get more," Blake said. "We just felt that we had asking prices for individuals on our team and when they were met, we get those deals. ... It's not a quick process. It's not an easy process."
Fantenberg, an impending free agent, went through growing pains in his rookie season but showed he could be an NHL regular on the back end. Blake said he tried to sign him but "nothing came to fruition on that."
Fantenberg's departure left the Kings' defense even more shallow, but it made it all the more impressive that they erased a 2-0 deficit with goals by Alex Iafallo, Jonny Brodzinski (in his season debut) and Austin Wagner.
Tampa Bay's J.T. Miller tied the score 3-3 and the Lightning prevailed in an entertaining shootout, which featured beautiful backhands by the Kings' Ilya Kovalchuk and Anze Kopitar.
On that note, Blake said the veterans aren't "getting off the hook here" with the organization looking at younger players. Brown knows the message and the outlook from here on out.
"I think everyone's had a tough season, and it comes down to your personal pride essentially — what you want to be like as a player," Brown said.
"It's easy to be good teammates and good players when things are going well. It's when things are not going well, that you kind of really have to see what you're made of. ... It's important for guys to respond in the right way and understand how they play now can impact not only their future but what happens individually and as a team collectively."
UP NEXT
AT CAROLINA
When: 4 PST.
On the air: TV: FS West; Radio: iHeartRadio (LA Kings Audio Network).
Update: Carolina has won five of its last six games and is 9-3 in February. ... Former Kings winger Justin Williams is third in Hurricanes scoring with 17 goals and 41 points. ... Kings defenseman Alec Martinez could return from an upper-body injury in a week.
---