Dean Lombardi motivated to work hard by hard-working Kings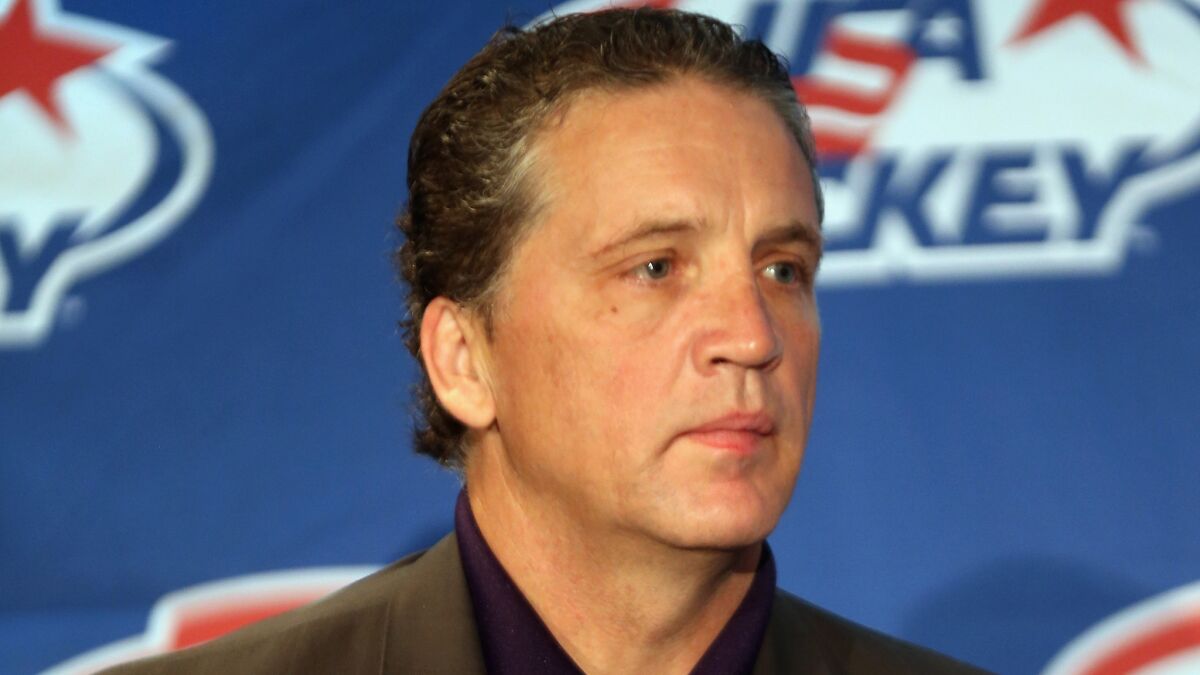 Praise is being heaped upon general manager of the year finalist Dean Lombardi now that his resilient, hand-crafted Kings have won a third consecutive Game 7 road playoff game to advance to the Stanley Cup Final against the New York Rangers.
Discussing the state of the Kings and how they've reached a second Stanley Cup Final in three years, Lombardi turned the attention back to his players Monday.
"The price they're paying, the hits they're taking to make those little plays to get pucks out … when I'm up there watching them, you say, 'If they're going to work that hard, we better work that hard,' " Lombardi told reporters in a conference call.
"The hallmark of this group is that they care about the right things and they care about each other. It all starts from there. They're not choir boys, usually, but they have the wherewithal to be great teammates. It's a simple formula of caring, and then you can go from there and push them. That's a daily occurrence."
The Kings — who open the series at home Wednesday — are nearly 2-to-1 favorites in Las Vegas to win the Stanley Cup. In his eighth season with the Kings, Lombardi has assembled a high-character group that has repeatedly produced and remained calm in high-pressure environments.
Lombardi said in addition to the example-setting poise of veterans Justin Williams and Jeff Carter, the Kings have been boosted by the development of young forwards Tyler Toffoli and Tanner Pearson, and defenseman Jake Muzzin.
Further, the rise into hockey's stratosphere by center Anze Kopitar and defenseman Drew Doughty also has been driven by veteran Coach Darryl Sutter's finest work, Lombardi said.
"Staying even-keeled, staying focused, he sets the tone," Lombardi said of Sutter. "The beauty about Darryl … he's fully cognizant that players win. He leads 'em, but they have to execute and the players appreciate that."
The Kings have steadily confronted watershed moments, like a 1-8-1 skid and a need for another scorer.
Lombardi said being surrounded by scouts and others in the organization who embrace "keeping the pedal to the metal" ensured that slumps weren't followed by hasty decisions that would compromise the team's philosophies.
"We don't want to sacrifice our identity, sell our soul, to get a quick fix," Lombardi said.
Instead, the Kings advanced with developing youth — Toffoli and Pearson have combined for 11 goals and 14 assists in the playoffs — and masterful trade-deadline acquisition Marian Gaborik, who leads the NHL with 12 playoff goals.
Lombardi said Gaborik was targeted because the forward had once studied at the foot of another defense-minded coach, Jacques Lemaire. But it was just as important that the players embraced Gaborik, as Williams did when he met his new teammate for breakfast in Winnipeg upon his arrival.
While some saw adding a sniper to a defense-first team that allowed the fewest regular-season goals as an odd fit, Lombardi reasoned, "[Gaborik] was coached by Lemaire; he knew what to do defensively, was trained in defensive priority. … [It was], 'Certain things have to be done, now go do your part of the game, the things that make you special.'"
Something special definitely happened to the team that lost its first three playoff games before rallying to win three series with Game 7 road victories.
"This is again where Darryl and those coaches — in those moments, on the front lines — their ability to take what happened in those first three games [and] keep that level state of mind, just watching tape, divorced of any emotion and asking, 'What's happening here?'" proved momentous, Lombardi said. "We weren't doing what we were capable of. At the critical moment, they took emotion out of it. … It translated to the players."
The irony is the Kings' transformation from a cautious, protect-the-goalie approach to a team with 73 playoff goals that knocked out the high-scoring Sharks, Ducks and defending champion Blackhawks in succession.
Now comes New York goalie Henrik Lundqvist, who has given up just 2.03 goals per game in the postseason.
"To be in the position to be special for a long period of time, you need to be tops in all areas," Lombardi said. "It starts from the back out — defense wins championships — but you want to have all the weapons.
"We can score goals here, but we still have to maintain that identity that we're going to stop you when we have to. You can see that they believe they can score, and Darryl won't let them forget that [we] have to play defense regardless."
---
Get the latest on L.A.'s teams in the daily Sports Report newsletter.
You may occasionally receive promotional content from the Los Angeles Times.