On a day Drew Doughty and Anze Kopitar win major awards, biggest news for Kings is Milan Lucic's likely departure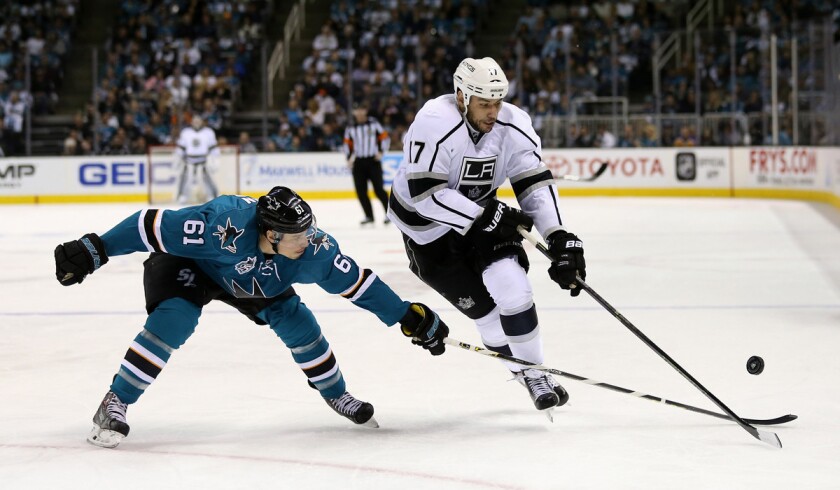 The Kings' likely loss of left wing Milan Lucic to free agency overshadowed their triumphs Wednesday at the NHL awards show, where Drew Doughty won the Norris Trophy as the league's top defenseman and center Anze Kopitar won the Selke Trophy as the best defensive forward and the Lady Byng for sportsmanship and gentlemanly conduct.
General Manager Dean Lombardi told The Times he felt a deal with Lucic was close a month ago. However, it's believed they disagreed over the length of the contract, and Lucic told club officials he will test the free-agent market. Lucic had 20 goals and 55 points in 81 games last season. The story was first reported by Pierre LeBrun of espn.com.
Losing Lucic would be a blow to the Kings, who acquired him from Boston last June for goaltender Martin Jones, a first-round draft pick and a prospect. It would be the second straight season they gave up a first-round pick for a player who left without compensation; they gave Carolina a 2016 first-round pick last year for defenseman Andrej Sekera, who signed with Edmonton.
Doughty beat defending Norris winner Erik Karlsson of Ottawa, 1,254 points to 1,020, with Brent Burns of San Jose third at 619. Doughty, also voted a first-team All-Star, said he's sad to lose Lucic but knows the game has a business side.
"Looch was a great teammate and I loved playing with him," Doughty said by phone from Las Vegas. "He's a great guy and he played well for us but if things can't work out, then they're not going to work out. That's just how the hockey world goes."
Doughty said he was glad Norris voters looked beyond scoring totals. "I think I really made people pay attention to how well I play hockey defensively, and not only when I have the puck," he said.
Kopitar didn't attend the event. He beat defending Selke winner Patrice Bergeron of the Boston Bruins, 1,145 to 996, with Ryan Kesler of the Ducks third with 424 points. Kopitar had only 16 penalty minutes while playing 1,690 minutes and 12 seconds, tops among forwards. He won the Lady Byng by a large margin over Sasha Barkov of the Florida Panthers.
Patrick Kane of the Chicago Blackhawks became the first United States-born-and-trained player to win the Hart Trophy (MVP), earning 121 first-place votes and appearing on all 150 ballots cast by members of the Professional Hockey Writers' Assn. for 1,395 points. Sidney Crosby of the Pittsburgh Penguins, named on 145 ballots, was second at 800 points. Kane also won the Art Ross Trophy for leading the NHL in scoring with 106 points, 17 ahead of Dallas forward Jamie Benn.
John Gibson and now former Duck Frederik Andersen received the Jennings Trophy for allowing the fewest goals. Gibson also was named to the league's all-rookie team.
Artemi Panarin of the Blackhawks won the Calder Trophy as rookie of the year, ahead of Philadelphia's Shayne Gostisbehere and Edmonton's Connor McDavid. Braden Holtby of the Washington Capitals won the Vezina Trophy (top goalie), with Jonathan Quick of the Kings third. Capitals Coach Barry Trotz won the Jack Adams Award as coach of the year, and Pittsburgh's Jim Rutherford was voted the general manager of the year. Jaromir Jagr, Florida's 44-year-old marvel, won the Masterton Trophy for perseverance, sportsmanship and dedication to hockey.
helene.elliott@latimes.com
Twitter: @helenenothelen
---
Get the latest on L.A.'s teams in the daily Sports Report newsletter.
You may occasionally receive promotional content from the Los Angeles Times.