Kings' defense fails to offer much protection for goalies Peter Budaj and Cal Petersen in loss to Maple Leafs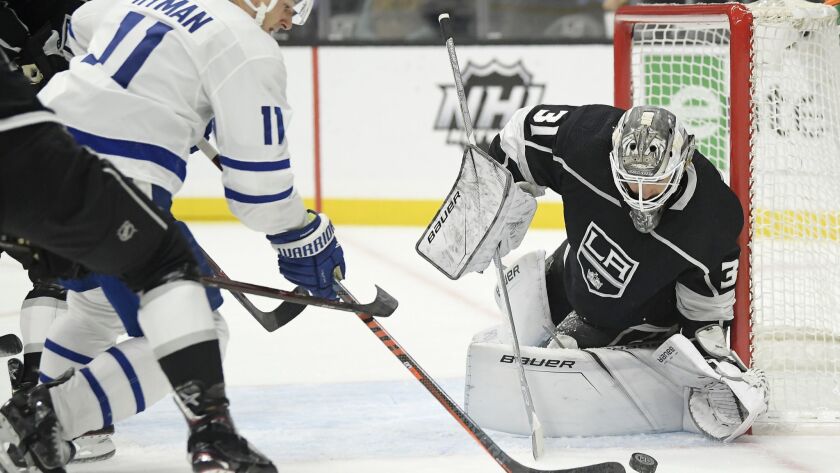 Drew Doughty swung his stick in disgust and made that irritating skate back to the bench after the puck was fished out of his net. For the fifth time.
It perfectly captured the state of the Kings, whose defensive disarray against an offensive buzzsaw proved to be a combustible mix Tuesday. Doughty and his teammates could not properly shield goalies Peter Budaj and Cal Petersen from the Toronto Maple Leafs in a 5-1 loss at Staples Center.
They gave up two goals in the first seven minutes, both on the power play, and Toronto poured in three more in the second period, capped by Nazem Kadri's second goal of the game to trigger Doughty's ire. Anze Kopitar cited several issues that were also present before the Kings fired coach John Stevens.
"It was a lack of desperation, work, energy, emotion, whatever," Kopitar said. "That kind of effort, it's unacceptable. We're running out of time here. I mean, there's 65 games left. Maybe on the outside it seems like there's plenty of time, but it's really not. We've got to pull our stuff together in a hurry and get it going."
Interim coach Willie Desjardins, joined by new assistant Marco Sturm, talked about the team dynamic after the loss dropped the Kings to 5-11-1.
"It's throughout the lineup," Desjardins said. "The young guys are kind of thinking the old guys are going to carry them, and they can't, but that's not fair. And the old guys, they're better than that. They have to play better. They know that."
Petersen was thrown into his NHL debut after Budaj gave up four goals on 19 shots, and he immediately faced a four-minute power play against one of the best units in the league. Kadri converted it on a tap-in with Alex Iafallo serving a double-minor high-sticking penalty, on a bloodied Mitch Marner.
Petersen stopped 15 of 16 shots.
"I had some nerves going in there, but I think once I got my first saves under my belt, it felt good and I was able to settle in," Petersen said. "Obviously, it's a very good hockey team over there."
Adrian Kempe scored for the Kings late in the first period. His deflection of Dion Phaneuf's shot was only his second goal in his last 50 games, and it was aided by an up-the-middle turnover by Igor Ozhiganov.
In their first game since Jack Campbell joined Jonathan Quick on injured reserve, the Kings largely left Budaj and Petersen exposed. Morgan Rielly beat Budaj cleanly on the third goal, only after the Kings couldn't get out of their end. Andreas Johnsson made it 4-1 on an easy goal in which four Kings players were chasing the play.
"They can't hang their heads," Kyle Clifford said of Budaj and Petersen. "It's on players. It's on the D. It's on the forwards."
A local story unfolded before the game when Toronto recalled forward Trevor Moore, from Thousand Oaks. Moore did not make his NHL debut but he was able to spend time with his family in the aftermath of the recent mass shooting.
Moore said that he has been to the Borderline Bar and Grill, site of the tragedy.
"I was glad I was able to get back here and see my family," Moore said. "It just makes you realize how important that is."
Sturm arrives
Sturm arrived after a 12-hour flight from Germany. Desjardins said they'll map out a specific area for Sturm, widely regarded as an NHL coaching candidate through his time as the German national coach.
Sturm is immediately concerned with the Kings' transition game. As far as his own style, Sturm prefers a hybrid system that leads to offense.
"I'm a pretty good mix," he said. "As a player, I've seen both sides — the old style and the new style, and I think that definitely helped me coaching. I'm a structured guy. I love structure. I think you've got to be structured to be successful, but on the other side, I was a forward, too. I like to score goals."
Twitter: @curtiszupke
---
Get the latest on L.A.'s teams in the daily Sports Report newsletter.
You may occasionally receive promotional content from the Los Angeles Times.