Kings trade Jake Muzzin to Toronto, set sights on future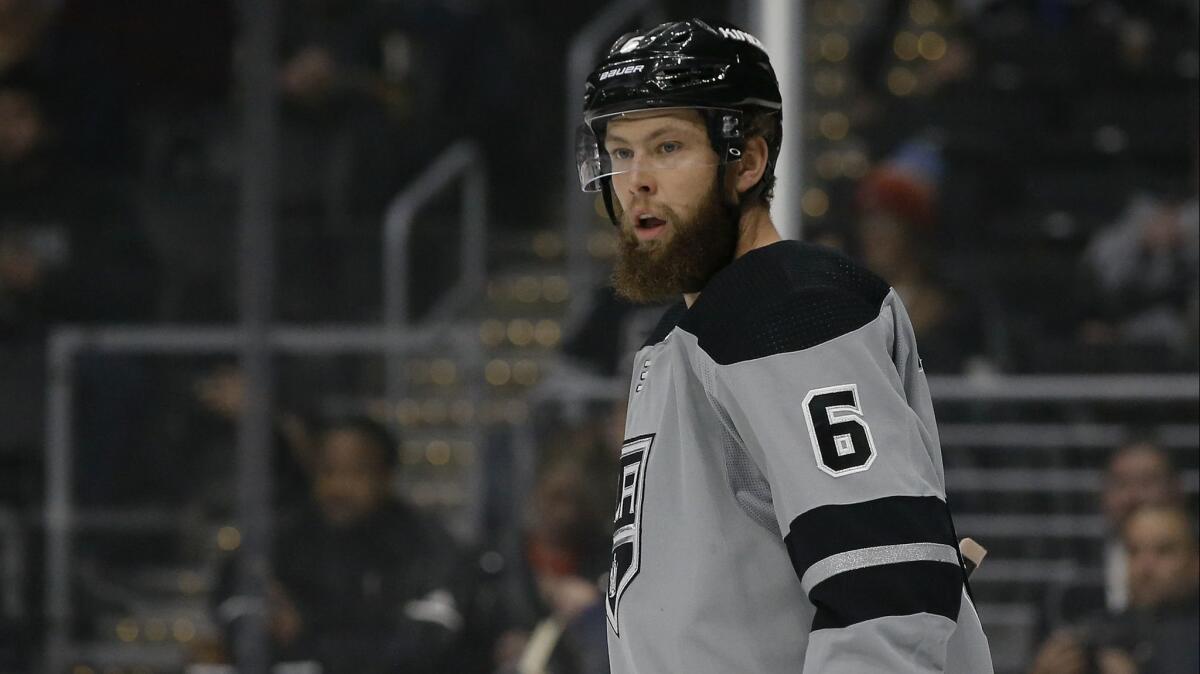 Two words kept coming up when Kings general manager Rob Blake spoke after the first step of an expected overhaul of the team:
The future.
Blake and the Kings knew they would have to transition their nucleus out, and the trade Monday of defenseman Jake Muzzin to the Toronto Maple Leafs was their first significant move ahead of the Feb. 25 trade deadline.
In shipping out perhaps their best all-around defender this season and one of their glue players in Muzzin, the Kings acquired Toronto's first-round draft pick in June, forward prospect Carl Grundstrom and defenseman prospect Sean Durzi.
Blake said the deal portended similar moves he is looking at when asked about possibly trading players with longer-term contracts, or veterans from their Stanley Cup-winning era.
"I don't want to get into specifics of players, but we are actively looking at making moves for the future of the organization, yes," Blake said.
Muzzin's name appeared in trade talk since the Kings' horrible start made it obvious that their pivot to the future needed to be accelerated. They traded Tanner Pearson in November to free up salary. They sit in last place in the Western Conference and Blake reiterated that they're not happy about it.
"We don't like the position we're in at all, so we're going to try to do things to help this organization," Blake said.
Blake confirmed that the Kings will not retain any of Muzzin's $4-million annual salary. His contract runs through next season and he immediately provides Toronto with a top-four defenseman as it tunes up for the playoffs.
Muzzin, from Woodstock, Canada, said Monday that "it's kind of funny how life works. Here we are and I'm coming back home to play for the team I rooted for growing up."
Muzzin, 29, was probably the team's best, most consistent defenseman in his physical, shutdown role with Alec Martinez. Muzzin helped rookie Sean Walker adjust to the NHL when the two were partnered during Martinez's injury.
A Pittsburgh Penguins draft pick who endured struggles as he grew into his role with the Kings, Muzzin partnered with Drew Doughty during the Kings' 2014 Cup triumph and became a strong voice in their dressing room.
"[He] took a huge step in leadership over the last few years here," Blake said. "Very difficult day here for us."
Grundstrom will be assigned to minor league Ontario, although the 21-year-old Swede is thought to be close to being an NHL-ready forward, with some edge. He was a second-round pick in 2016 and has 13 goals and 29 points in 42 games with the Toronto Marlies. Grundstrom led rookies in playoff scoring in the American Hockey League last season and played with Kings forward Adrian Kempe in Sweden.
"His compete, his effort and his work have been mainstays," Blake said. "His sense and his poise is above average and [he's] a strong skater."
Durzi, 20, was a second-round pick in 2018. He plays for the Guelph Storm of the Ontario Hockey League in Canada, and Blake rated Durzi's hockey intelligence high.
Blake has plenty of time for more roster shakeups. The Kings don't resume play until Saturday, and they will do it with 44 points. That's eight points out of a playoff spot, and Blake was direct when asked about their outlook at the break.
"We're at the bottom of the league," Blake said. "We made this deal for the future of the organization going forward."
Sign up for our daily sports newsletter »
Twitter: @curtiszupke
Get the latest on L.A.'s teams in the daily Sports Report newsletter.
You may occasionally receive promotional content from the Los Angeles Times.