After all these years, Kings defenseman Dion Phaneuf still inspires teammates and irritates opponents
A search of Dion Phaneuf's name on Twitter is enough to confirm that he's tailor-made for social media.
He's amusing and provocative. He's hated and embraced.
The latest example was a bit of both, from a recent game against the Calgary Flames. During a break in action, a close-up of Phaneuf showed him staring mockingly at a player, with a slight smile as he asked, "What do you want me to do?"
Nobody does rhetorical quite like Phaneuf.
"He'll be the first to tell you that he probably has a lot of enemies around this league," fellow Kings defenseman Alec Martinez said. "But he's certainly a great guy to have in our room. You don't necessarily like playing against him."
Phaneuf's penchant to rattle opponents is one of the few positives for the Kings, and it speaks to Phaneuf that his agitation began before social media took hold and is going 13 years strong. Set to play in his 1,000th regular-season game on Saturday, Phaneuf allowed for some appreciation that he's been in opponents' faces for this long.
"It's definitely something that I'm proud of," Phaneuf said. "It definitely does put things into perspective. You definitely look on things and you reflect. For me, this game's given me a lot in my life and I love it."
Phaneuf, 33, is the first to admit he's had a mediocre season. He didn't get his first point until Tuesday, and he is a minus-12 through 17 games. There are times when he's looks like Exhibit A of a Kings team deemed old and slow. But Phaneuf can play a basic, hard-nosed game that might remind Kings fans of Matt Greene in his prime.
Ultimately, there is that edge that not many other Kings bring.
"He's for real, the way he plays," Toronto Maple Leafs defenseman Morgan Rielly said. "Very physical. He likes to get in battles with guys. That's what you love when you're a teammate. In practice, you'd be battling with guys. His teammates would be laughing because he's working so hard."
Phaneuf took Rielly under his wing in Toronto and showed him "countless things," Rielly said. That included a week-long stay with Phaneuf at Phaneuf's summer home in Prince Edward Island, Canada, two years ago.
"He's a very, very good friend of mine that I keep in touch with still, and I really appreciate what he did for me when I was younger," Rielly said. "I feel like I was over at his house a lot, cooking dinner and spending time [with him].
"But what he taught me and the rest of our team about how to handle yourself off the ice and how to treat people and how to be a good person are things that I learned and I'll keep with me for a long time. Because I think the way that he handles himself and the way he treats people and the type of teammate he is, he's world class."
As difficult as it is to imagine, Phaneuf was once a fresh-faced kid like Rielly. It was 2005 and the NHL installed rules titled toward offense after the previous season's lockout. Phaneuf was a rookie for Calgary and eager to learn from elder defensemen Roman Hamrlik and Bryan Marchment.
"Both guys had played over 800 games at that time," Phaneuf said. "I actually got the opportunity to be partners with [both] of them for their 900th game."
Phaneuf watched them get bandaged and iced just to play the next game, through blocked shots and punishing checks. Game after game.
"They showed me how to be professional," Phaneuf said. "They showed me how to come and do your job every day. I learned a lot from those guys."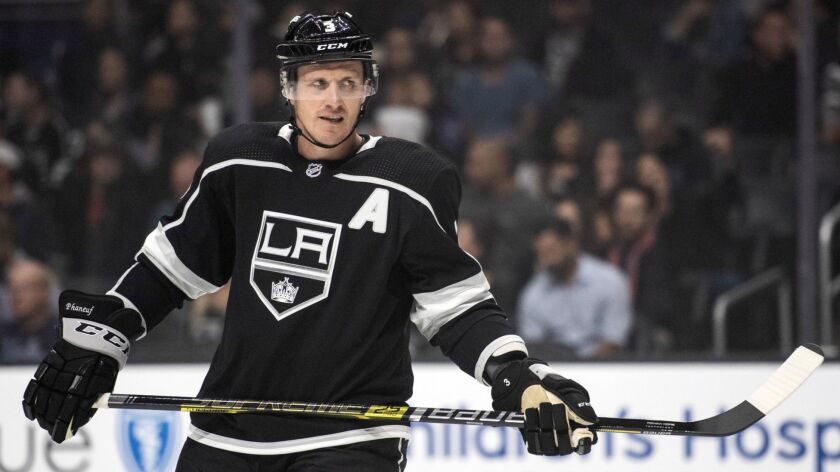 Thirteen years later, Phaneuf is setting that example. He's been paired with Paul LaDue, Oscar Fantenberg and Sean Walker in a mentor role that extends from the ice, down the tunnel to the locker room.
"He's always fired up," LaDue said. "He's always the one getting the boys going before the game … he's the one who's jacked up to play every day. We need that. He's a great locker room guy."
Phaneuf's 1,000th game would be the second of a back-to-back set against the Chicago Blackhawks and Nashville Predators. It's a grueling test every NHL player endures. It's also a bell that Phaneuf has answered his entire career, having missed fewer than 50 games.
Phaneuf has said he wants to play as long as he can. He's contracted through the 2020-21 season at $5.25 million annually, a head-scratcher for a salary-cap tight team that needs to get younger and faster. But his acquisition last season shed the Kings of chronically injured Marian Gaborik.
Besides, Phaneuf can still play a tough, safe game, and even at this stage of his career, there's another level to reach.
"I love the game and I love the competition, and when I started I wanted to continue to get better, and my goal hasn't changed," Phaneuf said.
UP NEXT FOR THE KINGS
AT CHICAGO
When: Friday, 5:30 p.m. PST.
On the air: TV: FS West; Radio: iHeartRadio (LA Kings Audio Network).
Update: Chicago, like the Kings, has lost three of four since it fired its coach, Joel Quenneville. Brent Seabrook is two goals short of joining Doug Wilson and Bob Murray as the only defensemen in franchise history to score 100 goals.
Twitter: @curtiszupke
---
Get the latest on L.A.'s teams in the daily Sports Report newsletter.
You may occasionally receive promotional content from the Los Angeles Times.